10+ Best Juice Recipes for Weight Loss
This post may contain affiliate links which won't change your price but will share some commission.
Making homemade juices that are low in fruit and high in vegetables can help promote weight loss, especially if you replace sugar-sweetened beverages with your healthy green juice. This article includes the best juice recipes for weight loss, with an emphasis on vegetable-based juices that taste great and aid in fat-burning.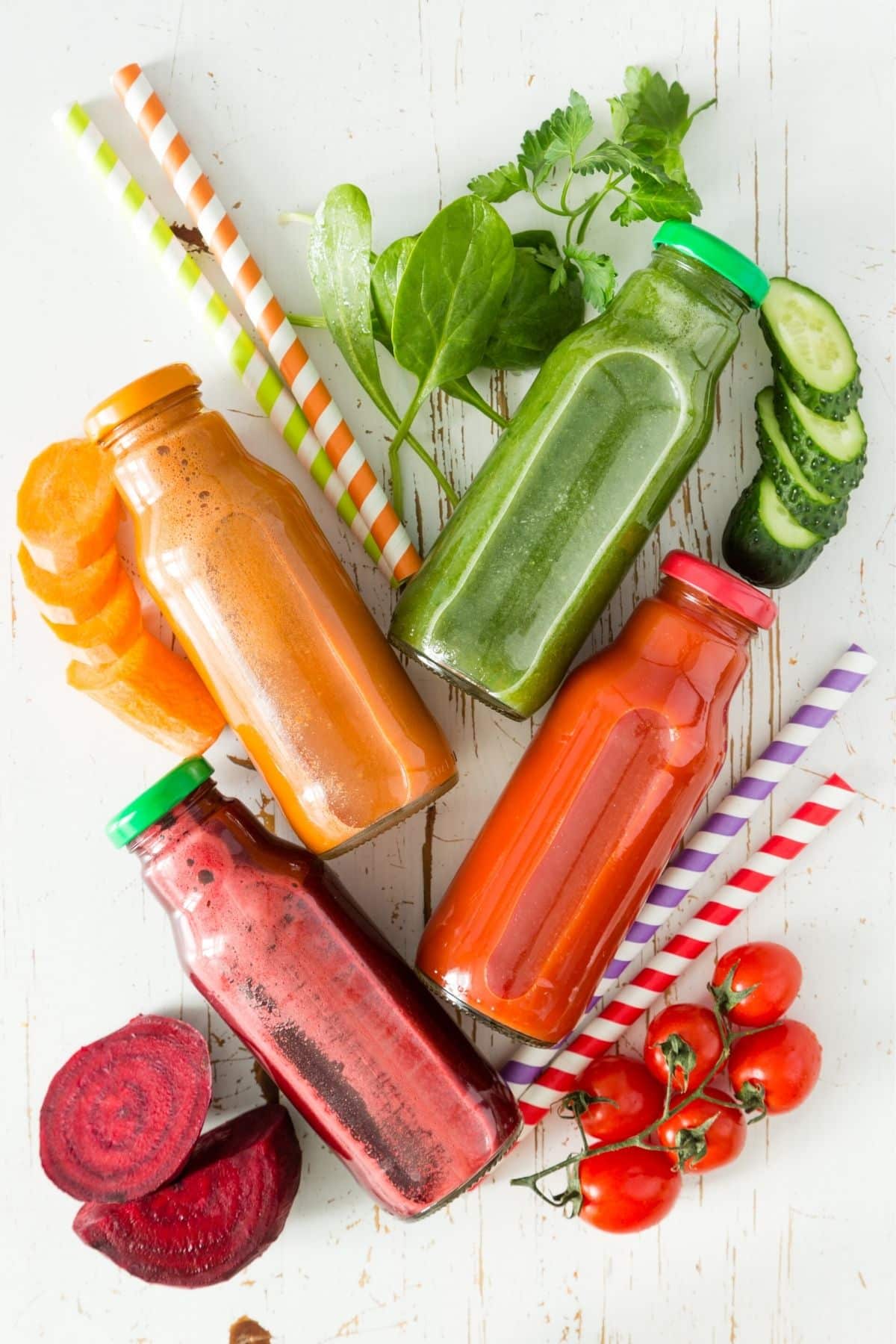 From celery juice to beet juice to cucumber juice to parsley juice, there are a number of healthy vegetable juices recipes that can help with weight loss.
Even better, this article includes the best tasting fat burning juice recipes so that you don't feel deprived and hungry when you're trying to lose a few pounds.
Juicing and Weight Loss
While some people use juice fasts to lose weight fast, you don't have to go so extreme (see why fasting can be dangerous for women).
In fact, if you just swapped sugar-sweetened beverages with a homemade vegetable juice, you would already be making huge strides for both your health and your weight loss efforts.
Homemade vegetable juices aid fat loss in several ways.
First, most homemade green juices are low in calories. This is because the fruits are kept to a minimum which reduces the natural sugars in the juices.
Homemade green juices are hydrating, high in nutrients, and can help satisfy a sugar craving (see all my tips for doing a sugar detox diet).
As mentioned above, vegetable juices when made at home are much lower in calories than other types of drinks, especially sodas or other drinks that have added sugars.
Another way that green juices can aid in weight loss is by replenishing your body with electrolytes and other nutrients.
If you include at least one vegetable-rich juice in your diet a day, then you'll be getting vitamin C, vitamin K, some fiber, potassium, antioxidants, and more. Green juices have no fat.
See my related articles with the best vegetables for green juice, best smoothies to lose stomach fat, and how to use juicing to reduce bloating.
Equipment Needed
If you're getting started with juicing, it's best to consider your options when it comes to equipment.
Most juicing veterans would urge you to get an expensive juicer, but they can run upwards of several hundreds of dollars! The benefit of having a nice juicer is that it can save you time and money.
Masticating juicers are ideal for people who juice since they are easy to use, easy to clean, and they extract the most juice out of your vegetables. To learn more about juicer options, be sure to check out my articles on the best Omega Juicers and the best Breville Juicers.
Additionally, you might consider using a blender to make juice. I have other articles on the Best Juicer Blenders and How to Juice with a Vitamix.
Juicing for Weight Loss FAQs
What is the best juice for weight loss?
There are tons of juice recipes that can aid in your weight loss efforts. Try picking a recipe that includes several green vegetables like celery, cucumber, or parsley, and does not include a lot of fruit. Green juices without fruit are generally low in calories and natural sugars.
Do I need to do a juice fast to lose weight?
I generally do not recommend juice fasts, as you'll most likely just lose water weight. For more long-term weight loss success, try drinking one green juice a day instead of any sugary beverages. See my related article on healthy weight loss tips for women.
Best Juice Recipes for Weight Loss
Here are the best homemade vegetable juice recipes to help with your weight loss efforts.
Celery juice has been studied for its role in detoxification and helping improve health. This recipe includes a lime to help improve the flavor. If you only make one recipe on this list, make this one!
Beets are another great vegetable for juicing. They have some natural sugars, but they are also incredibly nutritious. This recipe includes other vegetables to help balance the flavors.
Cucumbers are so hydrating and they are low in calories and natural sugars. This recipe is really tasty and makes a great snack when you're feeling hungry.
Don't be afraid of cabbage juice! This recipe is mild in flavor and is so tasty and refreshing.
If you want to use up a lot of vegetables, try this Detox Juice that includes greens and lots of other nutritious and satisfying vegetable flavors.
Celery and cucumbers go great in this homemade veggie juice recipe.
This green juice has lemon and ginger which make it taste bright and fresh.
Parsley is energizing and really good for you. This recipe is very green, but also very delicious.
Carrots are another vegetable that have natural sugars, but also lots of nutrients. This recipe includes a little bit of orange and ginger to help make it a delicious option.
This delicious kale juice recipe is bright and tangy! It's also energizing and full of nutritition.
Try this easy apple cider vinegar and lemon juice recipe that can help reduce blood sugar levels.
Carrots and celery are also a winning combination in this healthy juice recipe.
Bonus Juice Recommendations
If you don't feel like drinking a big glass of juice, you might also like my wellness shot or smoothie recipes!
Don't Miss These Juicing Resources
More Clean Eating Kitchen Favorites
Conclusions
Juicing can help with weight loss, especially if you stop drinking sugary beverages and you trade them for homemade vegetable juices. This article shares ten of the best juice recipes for weight loss. You might also like my article on the Best Juice Recipes for Beginners or my entire index of Anti Inflammatory Juices.
If you like this post, consider following me on social media so we can stay connected. I'm on Facebook, Pinterest, Instagram, and YouTube!
About the Author: Carrie Forrest has a master's degree in public health with a specialty in nutrition. She is a top wellness and food blogger with over 10 million annual visitors to her site. Carrie has an incredible story of recovery from chronic illness and is passionate about helping other women transform their health. Send Carrie a message through her contact form.
Note: this post is for informational purposes only and is not intended as medical advice. Please consult your healthcare provider for recommendations related to your individual situation.
This post may contain affiliate links which won't change your price but will share some commission. We are participant in the Amazon Services LLC Associates Program, an affiliate advertising program designed to provide a means for us to earn fees by linking to Amazon.com and affiliated sites.