I don't have a green thumb at all, but growing broccoli sprouts on my kitchen counter is a technique I've mastered! Once you have the right tools, you'll see how easy and budget-friendly it is to grow these cancer-fighting powerhouses at home.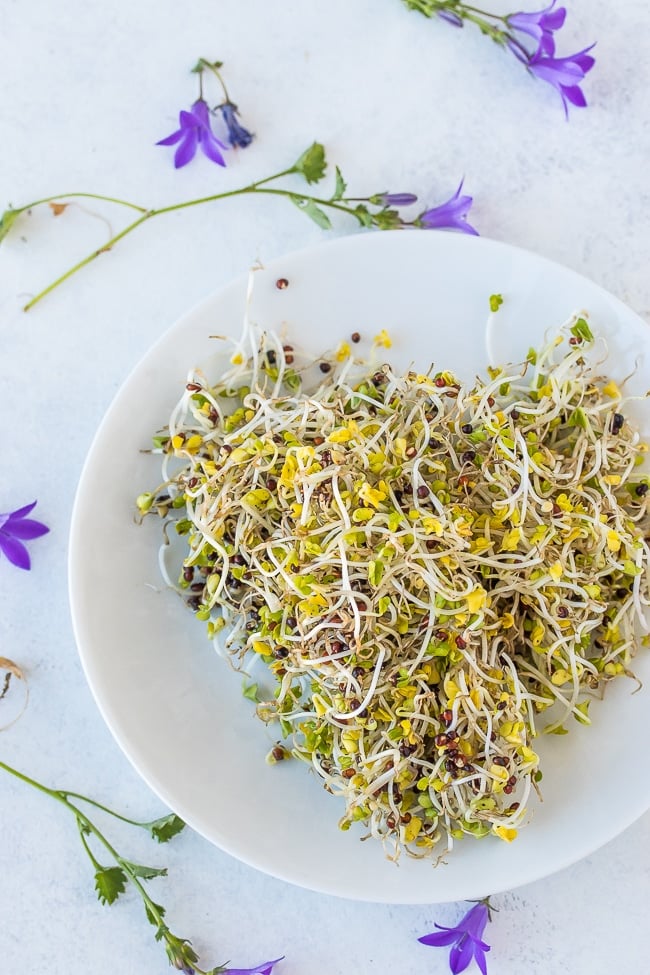 My interest in growing broccoli sprouts all started with this 2-minute video from NutritionFacts.org. The title is "Biggest Nutrition Bang for Your Buck" where Dr. Michael Greger states that "growing your own broccoli sprouts is one of the most cost-effective ways to improve one's diet." Wowsa! How could this admitted health-food junkie pass on a statement like that?
Dr. Greger advises to use a Mason jar with a strainer lid to grow the sprouts, but I've tested a few different methods. One way is to use a Victorio sprouter (updated with BPA-free plastic and 4 trays).
The sprouter kit came with alfalfa seeds, but I passed on those and used broccoli seeds from my friends at NOW Foods:
I am so mechanically un-inclined that I was a little nervous about screwing up the sprouter, but it really wasn't that hard to figure out and the guide from Victorio was very helpful and easy to follow. I soaked my seeds overnight in a bowl of water and strained them before placing a tablespoon of the seeds on each tray:
The directions have you "washing" the seeds twice a day. Using the sprouter, that simply means to pour more fresh water into the top tray and let it siphon down to the bottom reservoir (you will see how this works if you have your own. It's easy: I promise!). I was like a kid doing my first science experiment when I discovered the seeds actually sprouted the next day:
I think it might take up to 5 days to get fully-grown sprouts, but here's how they looked this morning after 48 hours:
All up close and personal: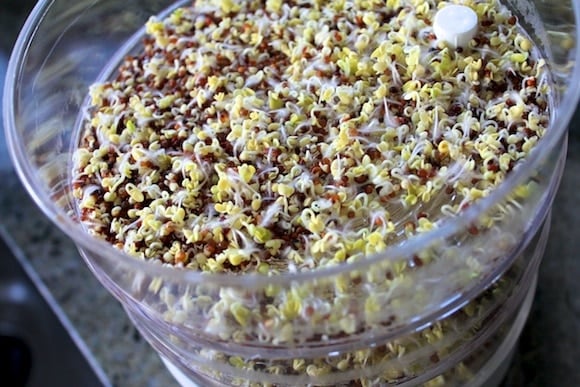 I moved them to a slightly lighter part of the kitchen to see if that helps along the process, although the directions say they shouldn't be in direct sunlight. Also, you should know that the little fuzzy parts of the sprouts are TOTALLY NORMAL. They're micro "hairs" meant to help draw moisture into the sprout, and it's not mold. That said, you should let your nose tell you if your sprouts have gone moldy. Any kind of sour smell is not normal and means that they're probably not safe to eat. I've only had this happen once in about fifty times, but it can happen.
Items recommended for growing broccoli sprouts (affiliate links included):
Recipes using broccoli sprouts:
Don't miss a recipe! Join my weekly newsletter list to get all the latest news and recipe links delivered directly to your inbox.
Sign up now and unsubscribe at any time. I will never sell your name or spam you, I promise.