This post shares an easy, step-by-step guide for growing broccoli sprouts at home, right on your kitchen countertop. There's no dirt required to grow these cancer-fighting sprouts!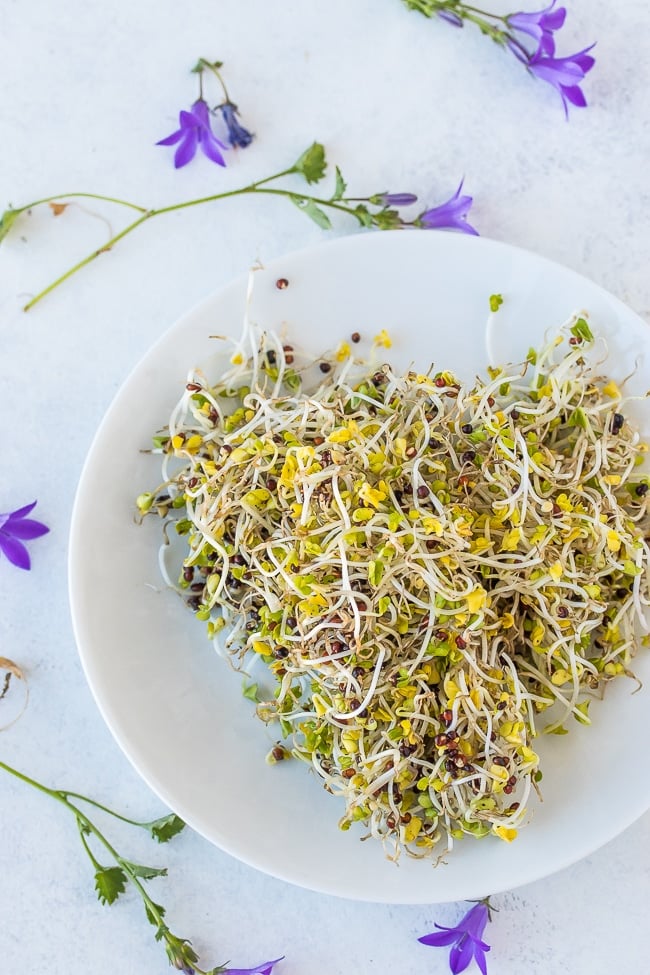 Even if you don't have a green thumb, you can easily learn how to grow broccoli sprouts. Once you have the right tools, you'll see how easy and budget-friendly it is to grow cancer-fighting broccoli sprouts at home.
I'll show you how easy it is to grow broccoli sprouts right on your kitchen countertop. Best of all, there's no dirt required! Growing broccoli sprouts at home is as easy as these five steps:
Soak the seeds overnight.
Transfer the seeds to a sprouting vessel and place in a dark, well-ventilated room.
Rinse the seeds daily.
Move the sprouts out of the dark once the seeds have started to sprout and grow.
Harvest the broccoli sprouts once they reach the desired length after about 4-5 days.
Here's a short video showing the steps for how to grow broccoli sprouts at home:
My Experience Growing Broccoli Sprouts:
My interest in growing broccoli sprouts started back in 2012 with this 2-minute video from NutritionFacts.org. The title is "Biggest Nutrition Bang for Your Buck" where Dr. Michael Greger states that "growing your own broccoli sprouts is one of the most cost-effective ways to improve one's diet." Wowsa! How could this admitted health-food junkie pass on a statement like that?
My Step-by-Step Guide for How to Grow Broccoli Sprouts at Home:
Dr. Greger advises to use a Mason jar with a strainer lid to grow the sprouts, but I've tested a few different methods. My favorite way is to use a Victorio sprouter (updated with BPA-free plastic and 4 trays).
The sprouter kit came with alfalfa seeds, but I passed on those and used organic broccoli seeds from my friends at NOW Foods:
I am so mechanically un-inclined that I was a little nervous about screwing up the sprouter, but it really wasn't that hard to figure out and the guide from Victorio was very helpful and easy to follow. I soaked my seeds overnight in a bowl of water and strained them before placing a tablespoon of the seeds on each tray:
The directions have you "washing" the seeds twice a day. Using the sprouter, that simply means to pour more fresh water into the top tray and let it siphon down to the bottom reservoir (you will see how this works if you have your own. It's easy: I promise!). I was like a kid doing my first science experiment when I discovered the seeds actually sprouted the next day:
I think it might take up to 5 days to get fully-grown sprouts, but here's how they looked this morning after 48 hours:
All up close and personal: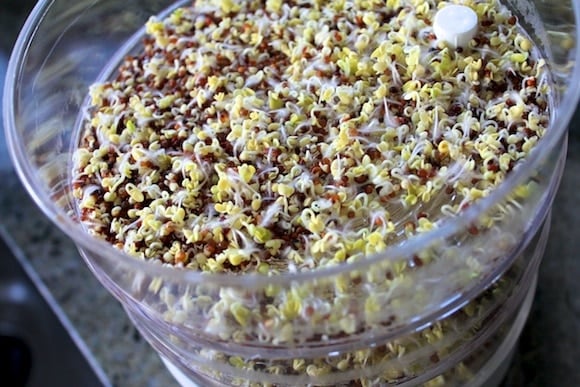 I moved them to a slightly lighter part of the kitchen to see if that helps along the process, although the directions say they shouldn't be in direct sunlight.
Also, you should know that the little fuzzy parts of the sprouts are TOTALLY NORMAL. They're micro "hairs" meant to help draw moisture into the sprout, and it's not mold. That said, you should let your nose tell you if your sprouts have gone moldy. Any kind of sour smell is not normal and means that they're probably not safe to eat. I've only had this happen once in about fifty times, but it can happen.
Items recommended for growing broccoli sprouts (affiliate links included):
Commonly-asked questions about growing broccoli sprouts:
Where can i get broccoli sprouts? If you don't want to grow them at home, you can most often buy broccoli sprouts at natural food grocers or at your local farmers' market. But, they are usually really expensive. It is much more cost-effective to grow broccoli sprouts at home!
Are broccoli sprouts good for you? Yes! In fact, broccoli sprouts might be one of the healthiest foods you can eat. You don't even need a lot, just a few tablespoons of fresh broccoli sprouts a day will supplement you diet with important antioxidants, including sulfuraphane including everything from cancer tumor suppression to autism to bowel habits.
How long does it take to grow broccoli sprouts? Taking into account both the soaking time (12 hours) and sprouting time (3 days), you're looking at a total of about 3 1/2 days.
How long do the sprouts last after they're finished growing? You can keep them in the fridge for about a week after you harvest them.
What are the health benefits of broccoli sprouts? According to the research including this study, it looks like there are cancer-fighting and cancer prevention compounds in broccoli sprouts.
What do broccoli sprouts taste like? They are spicy and delicious!
Recipes using broccoli sprouts:
Here's my printable instruction sheet for how to grow broccoli sprouts at home:
Print
How to Grow Broccoli Sprouts
---
Author:

Prep Time:

12 hours

Cook Time:

3 days

Total Time:

84 hours

Yield:

2 cup

1

x
Category:

Side dish

Method:

Sprouting

Cuisine:

Raw food
Description
An easy instruction guide for growing broccoli sprouts on your kitchen countertop.
---
Ingredients
2 tablespoon

s broccoli seeds
---
Instructions
Place the broccoli seeds in a small bowl and cover with filtered water. Let sit for 12-24 hours.
Rinse the seeds in a fine-mesh strainer and place in your preferred sprouting jar or trays.
Place the sprouting device in a dark cupboard or pantry for the first 3 days, rinsing every 8-12 hours.
Once the seeds have sprouted, you can move the jar out of the dark area, but not in full sun. Continue to rinse the sprouts ever 8-12 hours.
Let the sprouts mature until they are about 2 inches in length. Give them one final rinse in a mesh strainer before consuming. Store any leftovers in the fridge for up to 3-4 days after harvesting.
Nutrition
Serving Size:

2 tablespoons

Calories:

25
Don't miss a post! Join my weekly newsletter list to get all the latest news and recipe links delivered directly to your inbox.
Sign up now and unsubscribe at any time. I will never sell your name or spam you, I promise.