How to Grow Broccoli Sprouts
This post may contain affiliate links which won't change your price but will share some commission.
This post shares an easy, step-by-step guide for how to grow broccoli sprouts from broccoli seeds. It only takes a few days to grow your own.
Sprouting at Home
Even if you don't have a green thumb, you can easily learn how to grow broccoli sprouts from broccoli seeds. Broccoli sprouts do not come from a regular head of broccoli, but from little broccoli seeds that you can purchase.
The best part about sprouting broccoli is that you don't need to have a green thumb or any dirt whatsoever. All you need are a few tools to start sprouting broccoli seeds right on your kitchen countertop.
Health Benefits
My interest in growing broccoli sprouts started way back in 2012 when I learned how nutritious broccoli sprouts are. They contain sulphoraphane that has research behind it showing its cancer-fighting properties. It is a powerful antioxidant that we should be consuming as often as possible.
I am a cancer survivor always looking for ways to reduce my risk of recurrence. So, I make broccoli sprouts at least a few times a month and try to eat them as often as possible. Since it's such an easy thing to do, I wanted to share the process with you.
Step-by-Step Guide
The easiest method is to use a Mason jar with a strainer lid to grow the sprouts, but I've tested a few different methods. My favorite way is to use a Sproutamo Easy Sprout Sprouter that is absolutely perfect for broccoli sprouts.
Step 1: Soak the Broccoli Seeds
So, you need to have both a sprouting vessel and broccoli seeds to get started.
As I mentioned above, you need to soak your broccoli seeds in a small bowl with filtered water for about 12 hours to start the sprouting process. You can put the bowl in a dark or light room for the first 12 hours.
Step 2: Transfer Seeds to Sprouting Vessel
After you have soaked the seeds, it's time to rinse them and transfer them to your sprouting vessel.
Step 3: Sprout & Rinse
For the next 48 hours, you'll need to keep the sprouts in a cool, dark place, such as a dark pantry or a kitchen cabinet. You'll also need to rinse the sprouts at least 3 times a day. That's when the Easy Sprouter comes in really handy. It has a built-in strainer so all you have to do is hold it under the kitchen sink to rinse the sprouts.
You'll see that the sprouts will start to form, although they will be more yellow than green until you reach the last step.
Step 4: Move the Sprouting Vessel Out of the Dark
Once the sprouts have reached about a half-inch to full-inch in length, it's time to move the sprouting vessel out of the dark and expose it to some sun. We don't want to put the vessel in direct sunlight, but just in some nice indirect light for about 12 more hours. This will help develop the lovely green color that broccoli sprouts should have.
Step 5: Harvest the Sprouts
The last step is to harvest your sprouts. They should be fully grown and nice and green. All you have to do to harvest them is give them one really good final rinse and transfer them to a glass bowl with a lid.
Store them in the refrigerator for up to 5 more days. If you're looking for broccoli sprout recipes or how to eat broccoli sprouts, then I've got you covered too.
To recap, here are the steps:
Soak the broccoli seeds overnight in a small bowl with filtered water.
Transfer the seeds to a sprouting vessel and place in a dark, well-ventilated room.
Rinse the broccoli seeds daily.
Move the broccoli sprouts out of the dark once the seeds have started to sprout and grow (on about the 3rd or 4th day).
Harvest the broccoli sprouts once they reach the desired length after about the 4th or 5th day.
Items recommended:
FAQs
What is the white fuzz that looks like mold?
You should know that the little fuzzy parts of the sprouts are totally normal. They're micro "hairs" meant to help draw moisture into the sprout, and it's not mold.
That said, you should let your nose tell you if your sprouts have gone moldy. Any kind of sour smell is not normal and means that they're probably not safe to eat. I've only had this happen once in about fifty times, but it can happen.
Where can I buy broccoli sprouts?
If you don't want to grow them at home, you can most often buy broccoli sprouts at natural food grocers or at your local farmers' market. But, they are usually really expensive. It is much more cost-effective to grow broccoli sprouts at home!
How long does it take to grow broccoli sprouts?
Taking into account both the soaking time (12 hours) and sprouting time (3 days), you're looking at a total of about 3 1/2 – 5 days days.
How long do the sprouts last after they're finished growing?
You can keep them in the fridge for about a week after you harvest them.
What do broccoli sprouts taste like?
They are slightly spicy but they don't have a super strong flavor. Check out my list of ways to eat broccoli sprouts.
Here's my printable instruction sheet:
Yield: 2 cups
How to Grow Broccoli Sprouts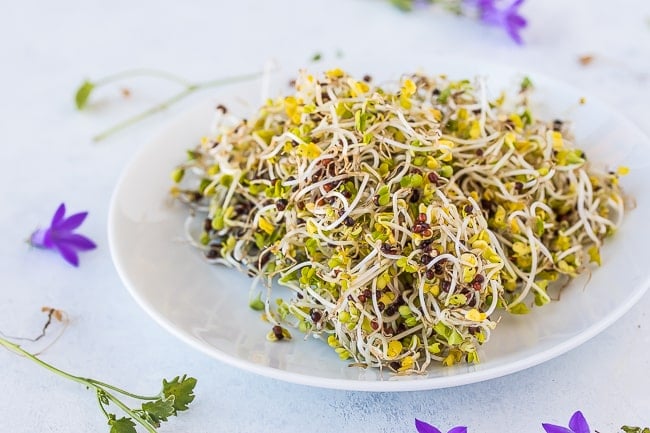 Here is an easy instruction guide for growing broccoli sprouts on your kitchen countertop.
Prep Time 1 days
Active Time 1 hour
Additional Time 3 days
Total Time 4 days 1 hour
Estimated Cost $1
Materials
2 tablespoons broccoli seeds
1/2 cup water
Instructions
Place the broccoli seeds in a small bowl and cover with the water. Let sit for 12 hours.
Rinse the seeds in a fine-mesh strainer and place in your preferred sprouting jar or trays.
Place the sprouting device in a dark cupboard or pantry for the first 3 days, rinsing every 8 hours.
Once the seeds have sprouted, you can move the jar out of the dark area, but not in full sun. Continue to rinse the sprouts every 8 hours.
Let the sprouts mature until they are about 2 inches in length. Give them one final rinse in a mesh strainer before consuming.
Notes
Store any leftovers in the fridge for up to 5 days after harvesting.
If you like this post, consider following me on social media so we can stay connected. I'm on Facebook, Pinterest, Instagram, and YouTube!
This post may contain affiliate links which won't change your price but will share some commission. We are participant in the Amazon Services LLC Associates Program, an affiliate advertising program designed to provide a means for us to earn fees by linking to Amazon.com and affiliated sites.