This post may contain affiliate links which won't change your price but will share some commission.
Last Updated on
Butter coffee is a delicious way to support a higher-fat, lower-carb diet. It keeps you satisfied and won't break your intermittent fast.
The Butter With Coffee Health Trend
Butter in coffee has been a trend for awhile now. I first heard about it back around 2014-2015. I tried it for myself and loved the results, in both my energy and mood. I also love that butter coffee won't break an intermittent fast, although some people are stricter with that than others.
Whether you're on a keto diet or fasting, you should try butter coffee to see if it works for you!
Here's How to Make This Recipe Fast
1. Start With Cold Press or Brewed Coffee
To make this recipe, I start with two cups of cold brew organic coffee that I heat in the microwave (you could totally just brew your coffee, too). If you start with cold brew coffee, then the process will go much faster.
2. Combine the Coffee & Butter in a High-Speed Blender
Once you have your coffee brewed, then it's time to get the other ingredients together. I always include 1-2 tablespoons of grass-fed butter with the hot coffee in my high-speed blender. You can use a regular blender or a battery-powered whisker, but you'll get the optimal froth using a high-speed blender.
3. Add MCT Oil or Coconut Oil
The other two ingredients in butter coffee are MCT oil (you can use coconut oil if you prefer) for medium-chain triglycerides and some collagen protein from Vital Proteins (either the peptides or the gelatin).
Quite honestly, I think the MCT oil is optional if you're going to eat breakfast, but MCT oil in coffee can help increase blood ketone levels if you're fasting. The collagen peptides are also optional, and may break your fast. But, adding protein to your coffee is a great option for women or anyone who needs more protein early in the day.
If you are serious about making your coffee your breakfast or you're really trying to maximize your nutrition, you could also add one pastured egg yolk to the mix. An egg yolk adds amazing texture to the coffee once it's blended, too. Make sure you trust the source of your eggs to avoid food contamination and also be sure to avoid adding the egg white. Just use the yolk.
4. Blend and Enjoy!
The final step for this Bulletproof coffee recipe is to blend it all together for about 10-15 seconds, or until everything is combined and a froth has formed. I use a high-speed blender to get it really frothy, but you can use a regular blender, too. Serve hot and enjoy!
Note: always be cautious when blending hot liquids. It's a good idea to not overfill the blender and to put a towel over the top in case any of the liquid leaks out while blending. 
This recipe gets made FAST! If you use cold-press coffee you've prepared the night before, you literally only need 5 minutes from start to finish (more like 2 minutes).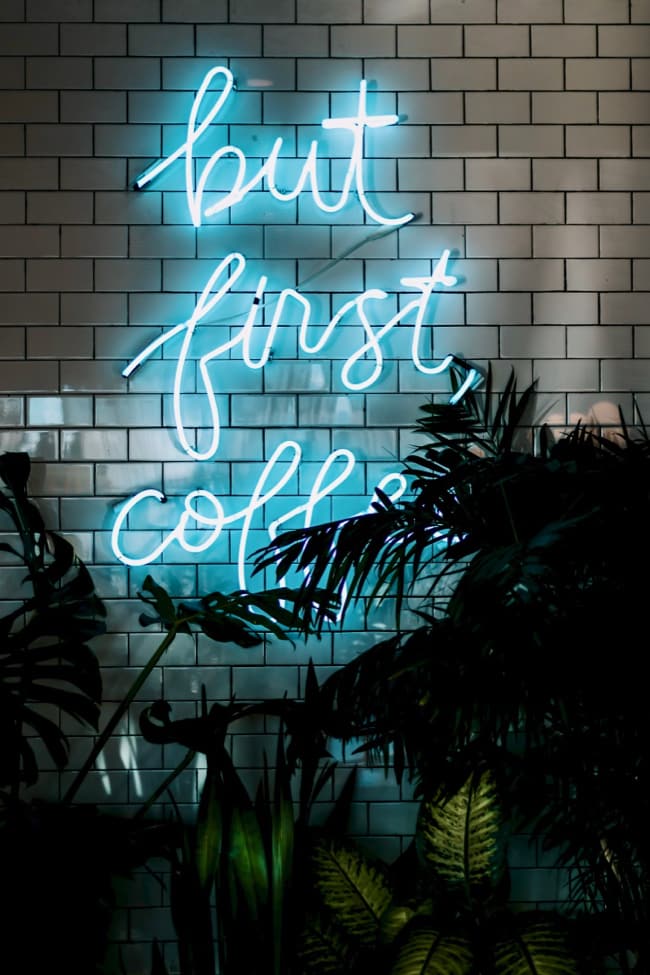 What Are the Benefits of Putting Butter in Your Coffee?
1. Butter in coffee has great nutrition
First off, using grass-fed butter provides a good source of conjugated linoleic acid (CLA), butyrate, vitamin A, and vitamin K. <—Friends with dairy sensitivities can always use ghee, by the way. Vegan folks can use coconut butter or coconut oil.
2. It makes you feel good
Another reason to try starting your day with butter coffee is because it can make you feel good mentally and physically. I'll even wake up slightly before the sunrise and just thinking about making my butter coffee is enough to get me out of bed with a little spring in my step. If coffee is too strong for you, you can also use decaf coffee or black tea.
3. It assists with intermittent fasting
Lastly, butter coffee can displace or delay breakfast, allowing for intermittent fasting or aiding with nutritional ketosis. Being a pre-menopausal woman with a history of PCOS and other serious health issues, I need an additional source of protein for breakfast, so I usually drink my coffee first thing, and then follow-up with a small to medium-sized breakfast that is rich in protein. I find that the coffee and breakfast together give me enough energy for all of my morning activities.
Q&As
Why is bulletproof coffee bad?
Great question! I think any food can be good or bad depending on the individual. So, it's up to you to test it on yourself and see if it works. It also depends on your goals whether or not it's going to work for you. Even coffee has research showing positive and negative impacts on health, but, again, it really varies by individual and health goal.
Is butter in coffee good for weight loss?
Butter coffee can likely help with weight loss if you are practicing intermittent fasting or a keto diet.
How does butter with coffee Taste?
It's absolutely delicious. Butter coffee  is creamy, frothy, and one of the most delicious drinks I've ever had.
More articles about butter and butter coffee, positive and negatives:
Other Energizing Beverages You Might Like:
Here's my printable recipe for how to make butter coffee fast:
Print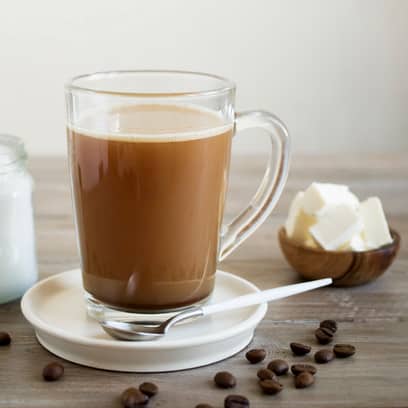 How to Make Butter Coffee
---
Author:

Prep Time:

5 minutes

Cook Time:

1 minute

Total Time:

6 minutes

Yield:

1

1

x
Category:

Beverage

Method:

Blender

Cuisine:

Paleo, low-carb, keto
Description
Butter coffee is a delicious way to support a higher-fat, lower-carb diet. It keeps you satisfied and won't break your intermittent fast.
---
Ingredients
2 cup

s brewed hot coffee from organic beans

1 tablespoon

grass-fed butter or ghee

1 teaspoon

MCT oil or Brain Octane oil (optional, depends on whether or not you're fasting)

1

scoop collagen protein
---
Instructions
Combine coffee, butter, MCT oil, and collagen protein in the base of a high-speed blender. Place the lid on tightly.*
Blend for 10-15 seconds and serve hot.
Notes
Use ghee if you have a dairy sensitivity.
*Always be cautious when blending hot liquids. It's a good idea to not overfill the blender and to put a towel over the top in case any of the liquid leaks out while blending.
Nutrition
Serving Size:

1 cup

Calories:

148

Sugar:

0

Sodium:

41

Fat:

11.5

Carbohydrates:

0

Fiber:

0

Protein:

11.2
Be sure to pin this recipe for how to make a keto and Bulletproof Butter Coffee to your favorite Pinterest board!
What's your favorite butter coffee recipe? Thoughts on this topic? Let me know in the comments.
Don't miss a recipe! Join my weekly newsletter list to get all the latest news and recipe links delivered directly to your inbox.
Sign up now and unsubscribe at any time. I will never sell your name or spam you, I promise!