25+ Best Orange Vegetables
This post may contain affiliate links which won't change your price but will share some commission.
Looking for a list of the best orange vegetables? Here is the most comprehensive list on the web. Find all the most common and best orange veggies, plus many more you've probably never heard of.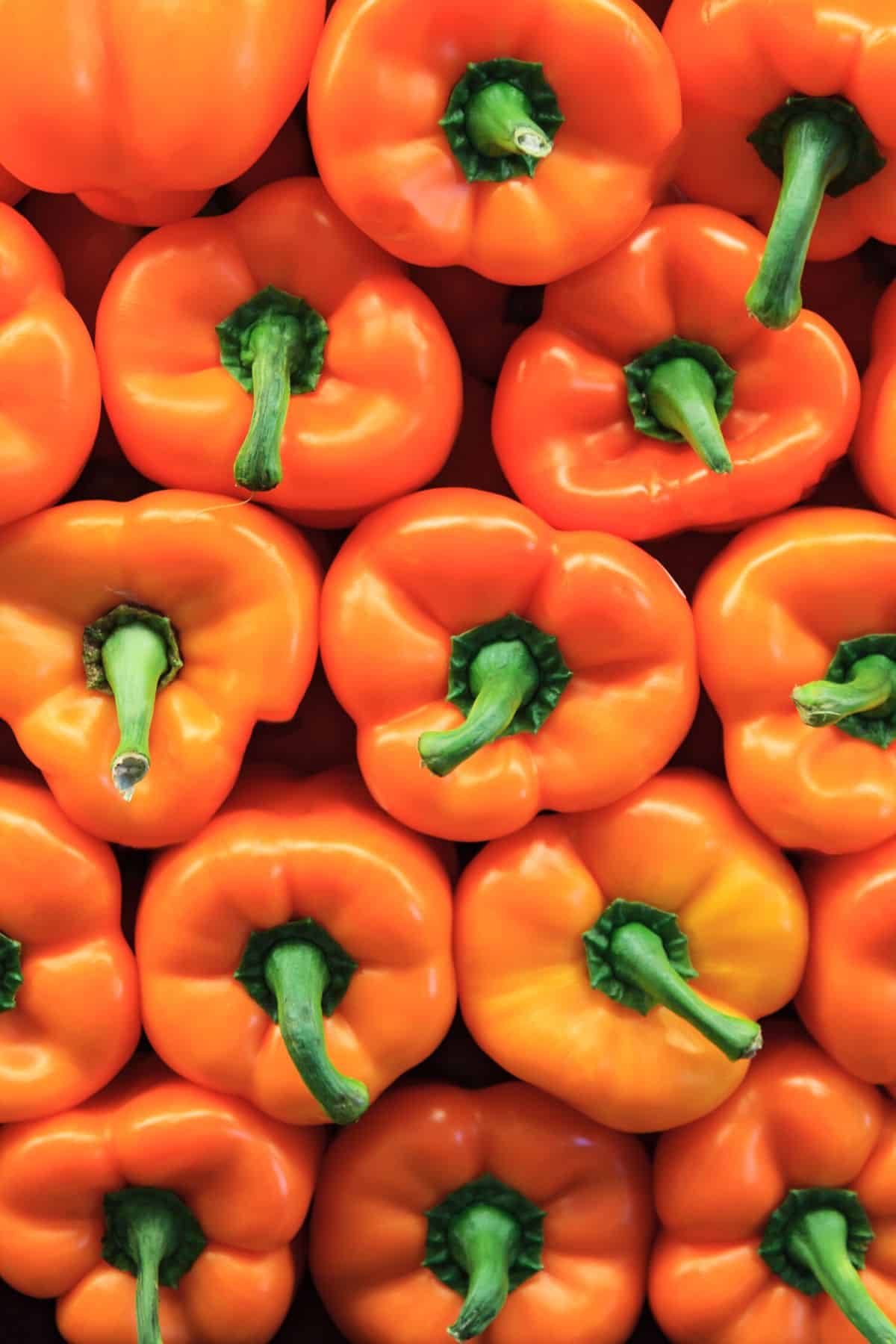 Orange Vegetables List
Whether you're playing a word game, trying to eat more colorful foods from the vegetable group, or you're just curious, here is the best list of orange vegetables.
It's always a good idea to eat a variety of fruits and vegetables, and orange veggies are no exception. Orange vegetables have been studied for their health benefits, including having beta carotene and antioxidants which support the immune system, can help reduce high blood pressure, reduce the risk of heart disease, and fight free radicals.
Beta carotene can also be converted to vitamin A and help with eye health (good vision), healthy skin, dental health, lung cancer, and blood sugar problems.
I've included info on where these veggies originate, plus what they look like.
You may also like these articles with the best blue vegetables, Vegetables That Start with T, or the best orange fruits!
1. Acorn Squash
Acorn squash is a type of squash that grows on a vine and is native to North America and has been cultivated for centuries.
The acorn squash is shaped like a small, rounded pumpkin and has dark green or orangey-brown skin and the flesh of the squash is orange or yellow and is dense and sweet.
See my recipes for Air Fryer Acorn Squash or Instant Pot Whole Acorn Squash for an easy way to cook this yummy squash.
2. Atomic Orange Corn
Atomic Orange Corn is a type of corn that is grown in the United States and is a hybrid of two types of corn. The result is corn that is orange in color and has a sweeter flavor than traditional yellow or white corn.
3. Butternut Squash
Butternut squash, also known as winter squash, has a long, cylindrical shape and pale yellow or tan skin. The flesh of the butternut squash is orange and has a sweet, nutty flavor.
It's most often used in savory dishes, but you can also use butternut squash puree to make muffins and sweet dishes too. This food from the squash family of vegetables is one of the best orange foods out there in terms of nutrition and high content of vitamins.
See my recipes for 3-Ingredient Butternut Squash Soup or Instant Pot Whole Butternut Squash.
4. Calendula
Calendula is a plant that is grown in many places around the world and has a yellow or orange flower and a slightly bitter taste.
5. Carrots
Carrots are a type of vegetable that is typically orange in color and are long and thin, with a tapered end.
They are usually grown in colder climates, such as Europe and North America, and have a sweet, slightly earthy flavor.
You can enjoy carrots raw or drizzle them with olive oil and bake them to soften them.
See my recipes for Instant Pot Carrots or Air Fryer Baby Carrots.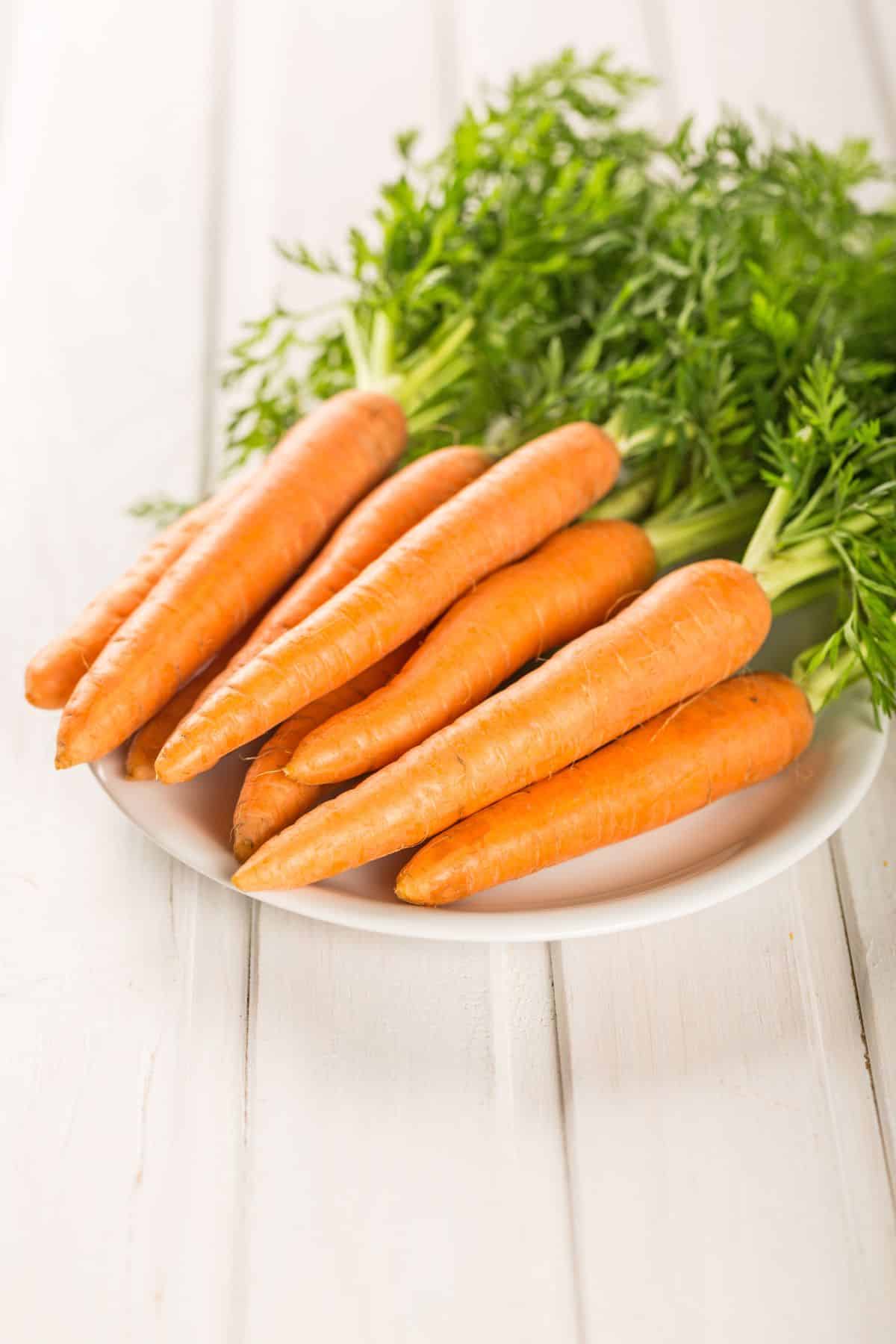 6. Chanterelle Mushrooms
Chanterelle mushrooms are a type of edible fungi and have a distinctive shape that resembles a trumpet. Chanterelle mushrooms have a slightly fruity taste, with earthy undertones.
7. Chatenay Red Core Carrots
The Chatenay carrot is a variety of carrot that is popular in Europe. This variety of carrots is orange in color and has a slightly sweeter flavor than other carrots.
8. Chicken of the Woods
Chicken of the Woods is a type of edible mushroom that typically grows on dead or dying trees in many parts of the world and gets its name from its yellow-orange colored, chicken-like appearance and flavor.
9. Hubbard Squash
Hubbard squash is a variety of winter squash that is grown in North America.
Hubbard squash typically has green or grey-blue skin and orange flesh and its flavor has been described as being similar to a pumpkin or sweet potato.
10. Kabocha Squash
Kabocha squash, also known as Japanese pumpkin, is a type of winter squash that is popular in East Asia. It has green skin and orange flesh, and the flavor of kabocha squash is similar to that of sweet potato, with a slightly nutty taste.
See my recipe for Instant Pot Whole Kabocha Squash.
11. Koral Carrot
The Koral carrot is a hybrid vegetable that was created by crossing two different types of carrots. It is grown in the United States, Canada, and Europe.
The Koral carrot has an orange color with a white center and is sweet and crunchy.
12. Nasturtium
The nasturtium is a flowering plant that is native to South America. The fruit of the nasturtium is a round, green capsule and has a sharp, peppery flavor that is similar to watercress.
13. Oca Giggles
The oca plant is a starchy, tuberous root vegetable that is native to the Andes Mountains in South America. The oca root is long and slender, with reddish-brown skin and a white, starchy interior, and has a slightly acidic taste.
14. Orange Beetroot
Orange beetroot is grown in many parts of the world, including Europe, Asia, and North America. Orange beetroot typically has a sweet taste, although the exact flavor can vary depending on the variety.
15. Orange Bell Pepper
The orange bell pepper is a variety of bell pepper that is typically orange or yellow in color and is native to Central and South America.
Orange peppers have a sweet, fruity flavor with a slightly peppery taste (similar to that of red peppers).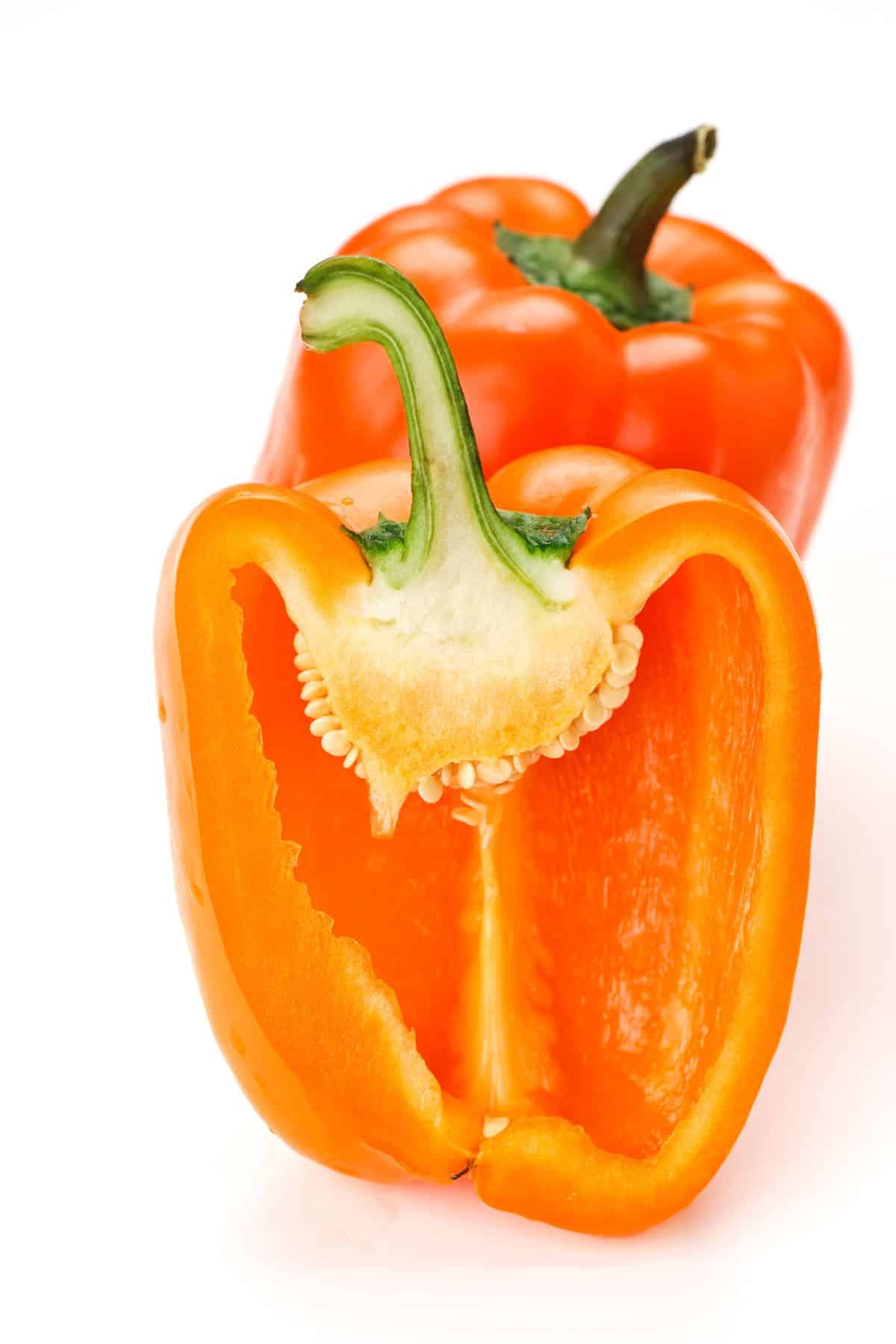 16. Orange Cauliflower
Orange cauliflower is a type of cauliflower that gets its orange color from beta-carotene and is now grown in Europe, North America, and Australia.
Orange cauliflower looks like white cauliflower, but with an orange hue and a mild, slightly sweet flavor.
17. Orange Dorset Naga Chili
The Orange Dorset Naga chili is a type of chili pepper that is grown in England and is typically used in Indian cuisine, and it is often used as a replacement for the more common red chili pepper. It is a type of chili pepper that is orange in color and has a very hot, spicy flavor.
18. Orange Flesh Sweet Potato
The orange flesh sweet potato is native to Asia and is now grown in many parts of the world, including North America, Africa, and Australia.
Orange flesh sweet potatoes have a moist, creamy texture and a slightly sweet flavor.
I love sweet potatoes and have several recipes using them. See my Baked Sweet Potato and Kale, Roasted Brussels Sprouts and Sweet Potatoes, or Gluten-Free Sweet Potato Bread.
19. Orange Habanero
The orange habanero is a variety of chili pepper. and originates from the Amazonas region of South America. The orange habanero has a fruity, tropical flavor with a hint of citrus.
20. Orange Tomatoes
The orange tomato is a variety of tomatoes that are grown in warm climates and is typically sweeter than red tomatoes. They have a juicy, fleshy texture with thin skin and a slightly tart flavor.
Sometimes orange tomatoes are so sweet that they have a sweetness similar to that of a pomegranate or citrus fruits!
21. Oriole Orange Swiss Chard
Oriole Orange Swiss Chard is a type of leafy green vegetable that is grown in Switzerland.
The taste of Oriole Orange Swiss Chard is sweet and slightly bitter and is often used in salads or as a cooked vegetable.
22. Parisienne Carrot
The Parisienne carrot is a variety of carrot that is grown in France. It is an orange carrot that is shorter and stubbier than other varieties and has a sweet, earthy flavor that is often used in French cooking.
23. Pumpkin
Pumpkin is a winter squash that is typically grown in North America that has a round, orange body with a green stem. The flesh of the pumpkin is thick and mildly sweet and it can also be roasted, pureed, and made into soup.
I love making these recipes for Pumpkin Rice, Vegan Pumpkin Brownies, and Pumpkin Protein Balls.
24. Red Lentil Plant
Red lentils are grown in many parts of the world, including India, Turkey, and Canada, and have an earthy flavor and a slightly sweet taste. They are small, orange-red, and oval in shape and have a soft, mushy texture when cooked.
Red lentils are grown in a pod on the red lentil plant. The edible portion is considered a legume and not a vegetable, but I've included the plant on this list.
Fun fact: when red (orange-y) lentils are cooked, they turn yellow!
25. Sweet Potatoes
Sweet potatoes are root vegetable that is native to Central and South America and can be found in many different colors, including white, yellow, orange, and purple.
Sweet potatoes have a sweet flavor and a moist, dense texture and are one of my favorite orange-colored foods.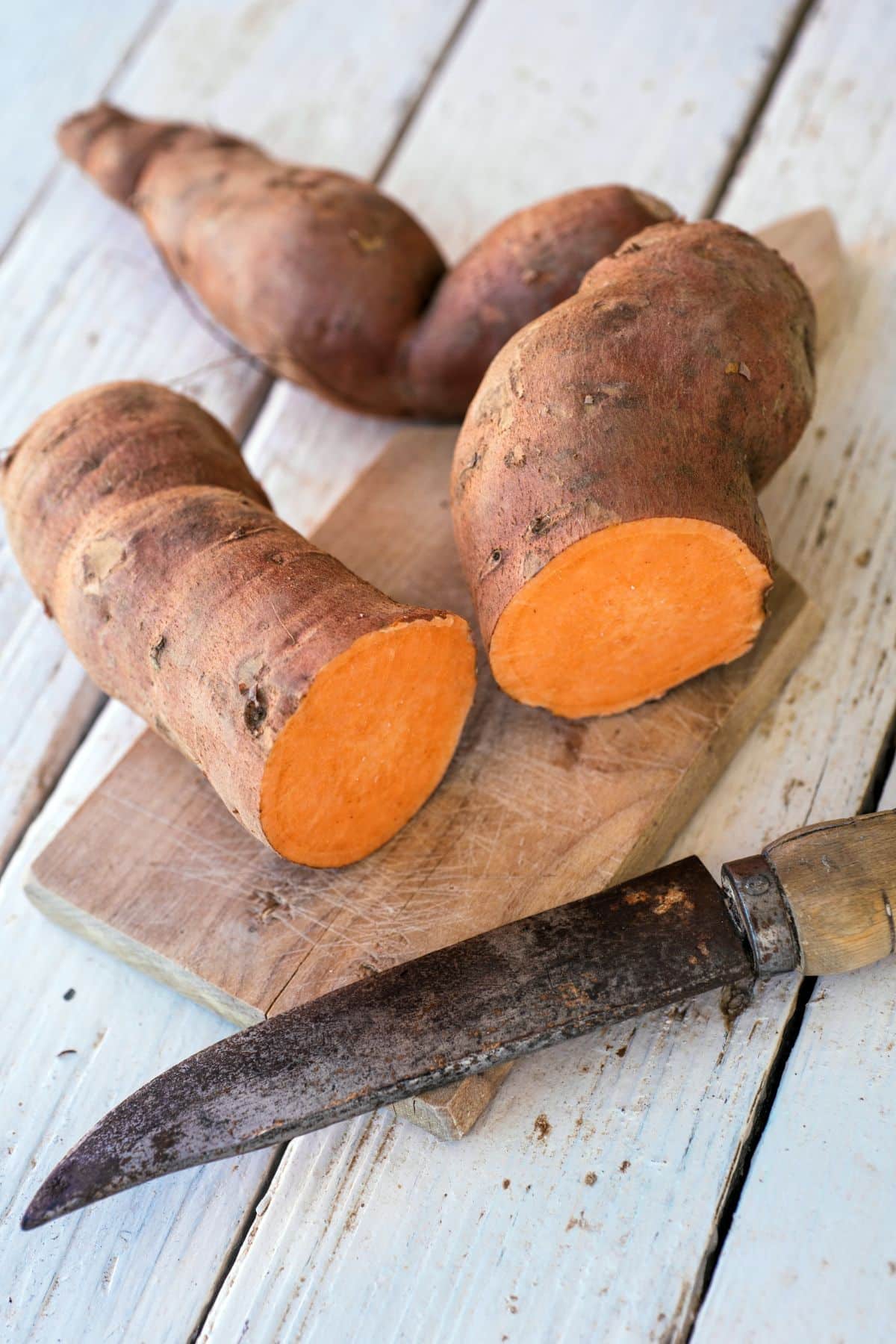 26. Turmeric Root
Turmeric root is a member of the ginger family and is native to Southeast Asia. Turmeric root is bright orange on the inside and looks a bit like a small, twisted carrot, and has a slightly bitter, earthy taste.
Don't miss my recipe for an easy Turmeric Shot.
27. Yams
The yam is a starchy tuber that is part of the morning glory family and is native to Africa and Asia. They have rough, scaly skin and a sweet flavor.
More Vegetable Lists You Might Like
Conclusions
There are over 25 different orange vegetables that can be enjoyed by everyone. They are a great way to add color, and flavor to your diet. These foods play an important role in our health, including supplying us with beta-carotene, one of the most common carotenoids. So next time you're at the grocery store, pick up some orange veggies and give them a try!
About the Author: Carrie Forrest has a master's degree in public health with a specialty in nutrition. She is a top wellness and food blogger with over 10 million annual visitors to her site. Carrie has an incredible story of recovery from chronic illness and is passionate about helping other women transform their health. Send Carrie a message through her contact form.
If you like this post, consider following me on social media so we can stay connected. I'm on Facebook, Pinterest, Instagram, and YouTube!
This post may contain affiliate links which won't change your price but will share some commission. We are participant in the Amazon Services LLC Associates Program, an affiliate advertising program designed to provide a means for us to earn fees by linking to Amazon.com and affiliated sites.