Chili's Shrimp Fajitas (Copycat)
This post may contain affiliate links which won't change your price but will share some commission.
When you're craving Chili's Shrimp Fajitas, but you want to make them at home, here's a healthy Copycat recipe that is flavorful and easy to make. Serve this Mexican-style dish with corn tortillas or sautéed cauliflower rice for a low-carb option.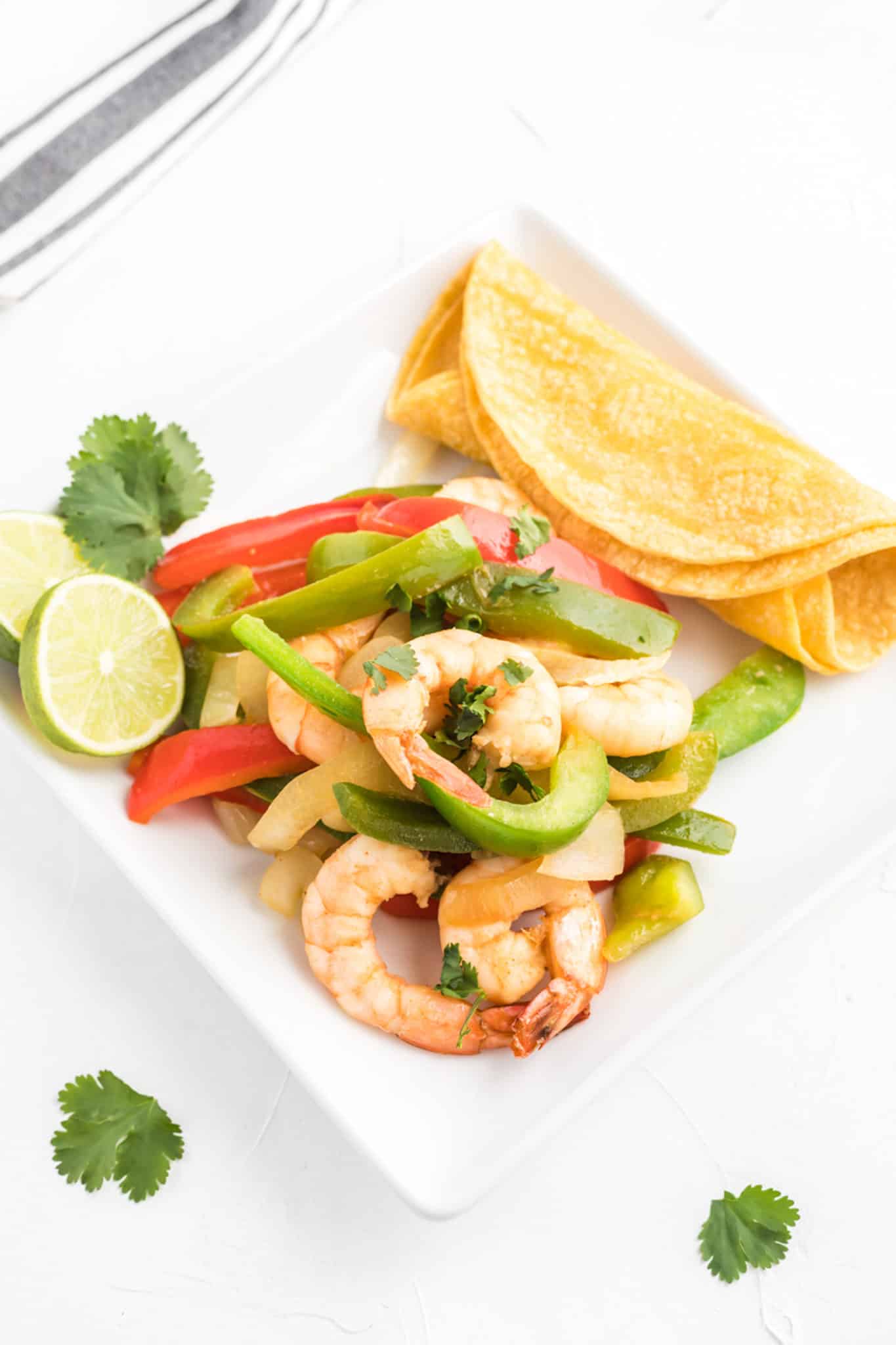 Juicy, tender shrimp come together with sautéed onions and bell peppers for a healthy recipe that's always a winner at the dinner table. I am all about a quick and easy dinner and one of my favorites is shrimp fajitas.
Sometimes I just want a restaurant quality dish without all the added sodium and calories. Minimal effort is always a bonus!
Why You Need This Recipe
This version is healthier than the Chili's grill and bar restaurant version because it can easily be made gluten-free, low-carb, and it also uses quality ingredients. You may also like my copycat recipe for Costco Cilantro Lime Shrimp.
Shrimp is a rich source of lean protein that's low in calories with zero carbs. Bell peppers are also packed with vitamin A, vitamin C, and fiber.
Shrimp fajitas make an excellent weeknight dinner. They're prepped, cooked, and on the table in 40 minutes. You can jazz them up with all your favorite toppings! My favorite part about Chili's shrimp fajitas is piling them up with delicious toppings!
Key Ingredients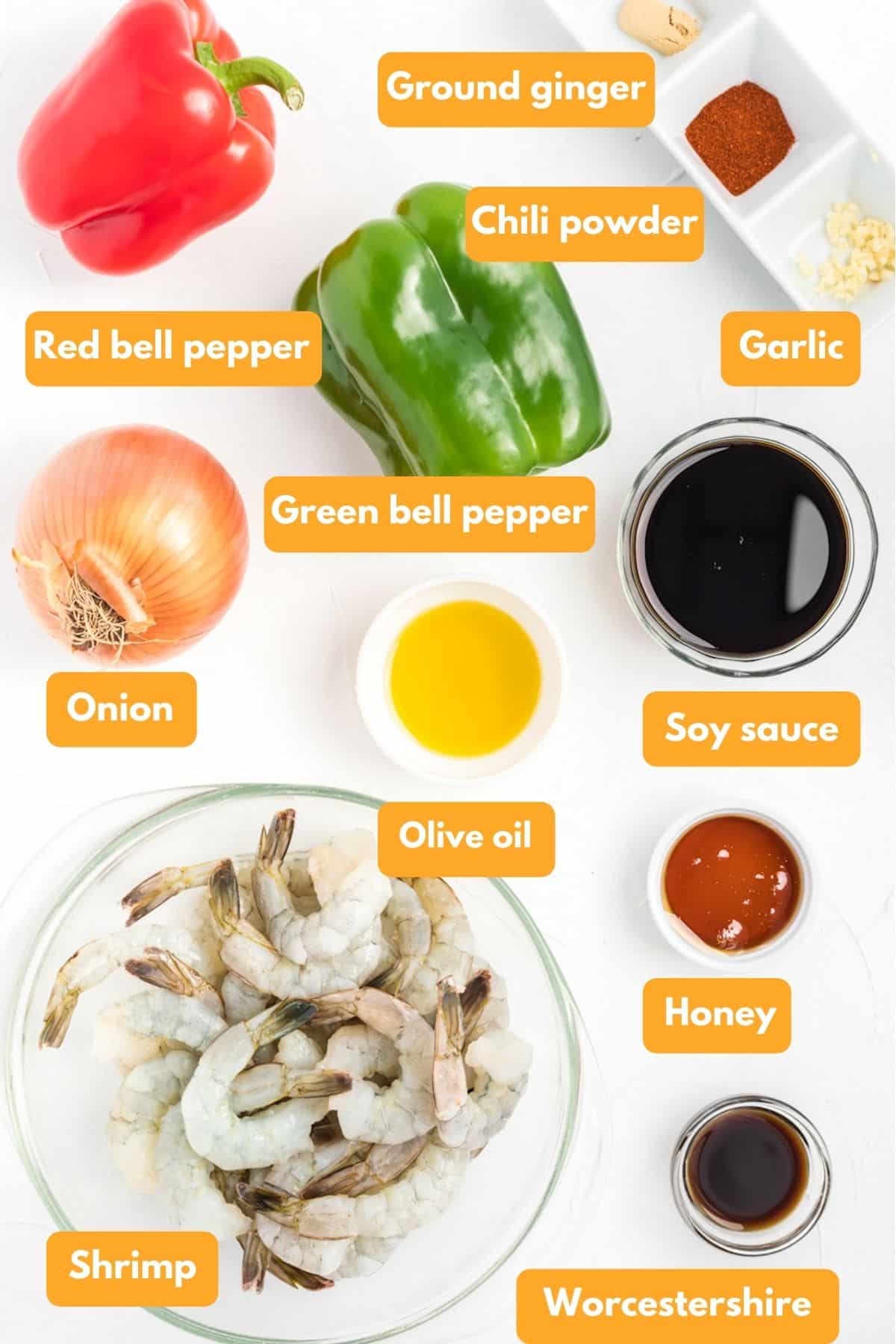 Shrimp is a great lean protein that works great in fajitas. You can use fresh or frozen shrimp, just be sure to thaw the shrimp first before cooking.
Veggies like bell peppers and onion are classic fajitas vegetables. You can use red bell peppers or green bell peppers, or a mixture of both.
Making a good fajitas mix is all about the marinade and the extra flavorings. This recipe uses flavors like soy sauce (use coconut aminos or tamari for gluten-free diets), Worcestershire sauce, ground ginger, garlic, and honey.
Please see the recipe card at the end of this post for the exact ingredients and measurements.
Recipe Steps
Here is the simple step by step process to make these Chili's copycat shrimp fajitas.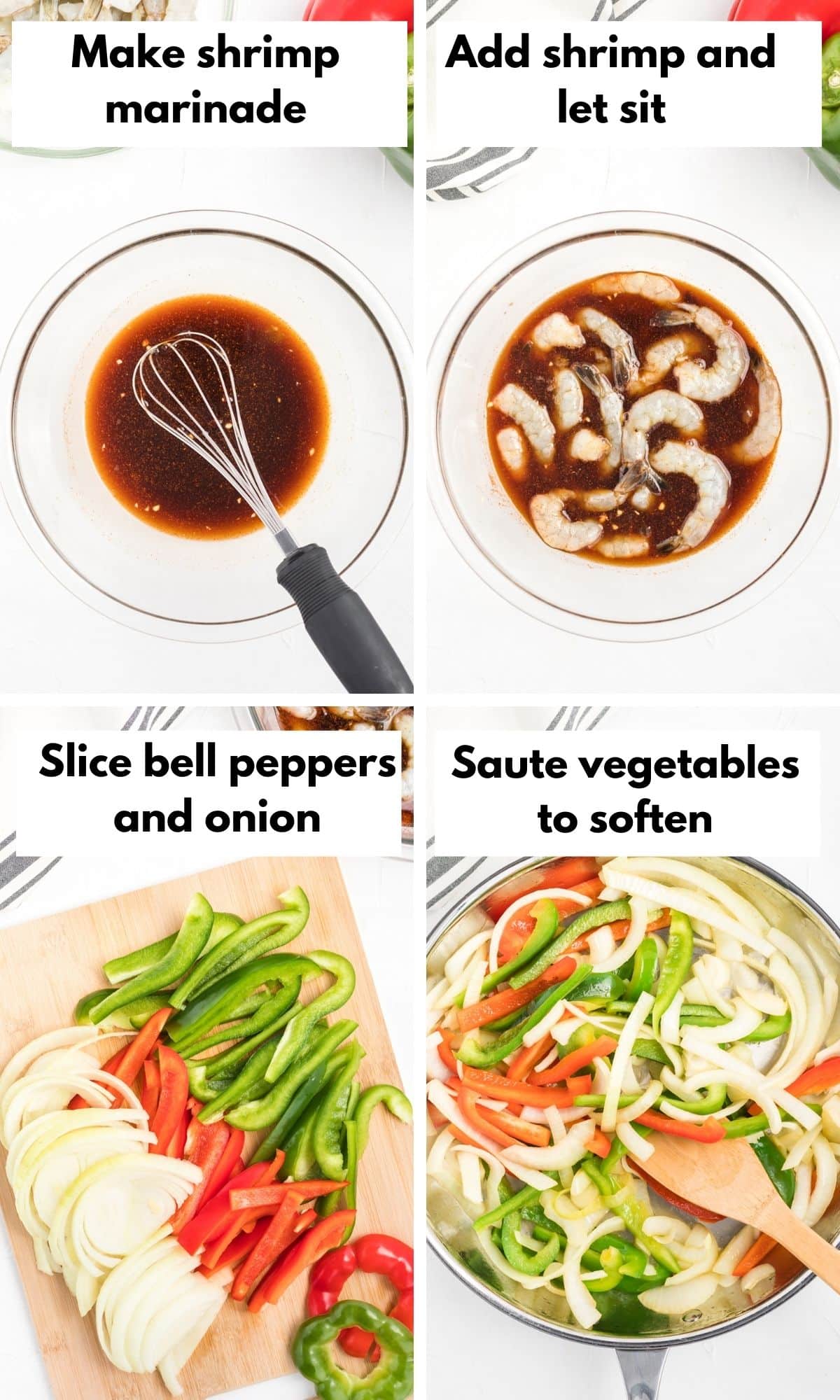 Step One
In a medium bowl combine the ingredients for the shrimp marinade and whisk together. Add shrimp and let marinate for 15 minutes.
Step Two
Slice the vegetables and then drain the shrimp.
Step Three
Heat the olive oil in a large skillet and then sauté the vegetables for 3 minutes.
Step Four
Add the marinated shrimp to the vegetables and cook until the shrimp are opaque.
Turn off the heat and serve hot with warm corn tortillas or flour tortillas (use low-carb tortillas for low-carb diets).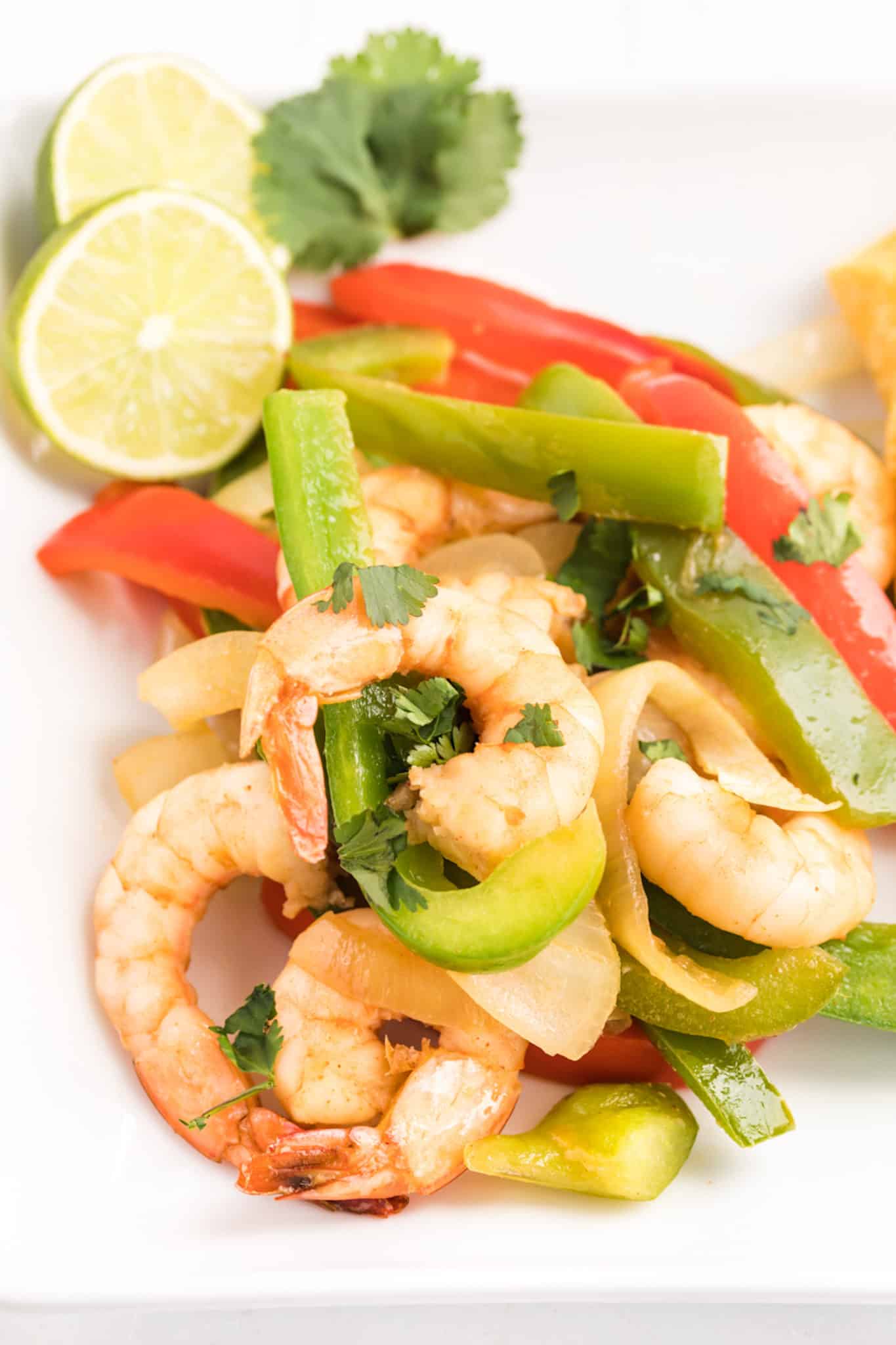 Recipe Tips & Substitutions
Be sure to buy gluten-free Worcestershire sauce along with tamari if you are on a gluten-free diet. Tamari is the gluten-free version of soy sauce.
You can buy frozen shrimp for this recipe. Just defrost the shrimp the night before in the refrigerator.
If you are watching your sugar intake, feel free to leave out the honey in the marinade or replace it with your choice of a liquid sugar substitute.
Recipe FAQs
What toppings can I add to shrimp fajitas?
Sliced avocado, sour cream, shredded cheese, pickled jalapenos, pico de gallo, salsa, red onion, lettuce, and salsa Verde all taste great with shrimp fajitas.
Can I prep this meal the day before?
Yes you can marinate the shrimp overnight, as well as slice all your vegetables ahead of time. Simply put the sliced vegetables in a resealable bag, refrigerate, and once ready follow the recipe as directed.
What should I serve shrimp fajitas with?
You can serve fajitas alongside rice, black beans, lime juice, cauliflower rice, keto Mexican rice, street corn, air fryer tortilla chips or guacamole. Just be cautious about your toppings if you are on a dairy-free or low-carb diet.
Can I make these with steak instead of shrimp?
Yes! You can adapt this recipe to create steak fajitas, chicken fajitas, or tofu fajitas! Just be sure to increase the cook time if you are cooking steak or chicken to make sure the meat gets cooked through.
More Easy Dinner Recipes You Might Like
Don't Miss These Copycat Recipes
Print
Chili's Shrimp Fajitas (Copycat)
When you're craving Chili's Shrimp Fajitas, but you want to make them at home, here's a Copycat recipe that is so easy and flavorful. Serve this healthy Mexican-style dish with corn tortillas or sautéed cauliflower rice for a low-carb option.
Total Time: 40 minutes
Yield: 4 1x
1/2 cup reduced sodium soy sauce or tamari (for gluten-free)
1/2 cup water
2 tablespoons honey (leave out for sugar-free diets)
1 tablespoon Worcestershire sauce
1/2 teaspoon ground ginger
1/2 teaspoon chili powder
1 garlic clove, minced
1 pound peeled and deveined shrimp, (defrosted, if frozen)
1 onion, sliced
1 red bell pepper, cored and sliced
1 green bell pepper, cored and sliced
2 tablespoons olive oil or avocado oil
Corn or flour tortillas, warmed (optional, for serving; exclude for low-carb diets)
Instructions
In a medium mixing bowl, combine the soy sauce (or tamari), water, honey, Worcestershire sauce, ground ginger, chili powder, and minced garlic. Whisk to combine.
Add the shrimp to the mixing bowl and let it sit for at least 15 minutes to marinate.
While the shrimp is marinating in the sauce, prep your vegetables for the fajitas.
After the shrimp is done marinating, drain it from the marinade using a colander or a strainer.
Then, heat a large skillet over medium heat. Pour in the oil and let it heat up for a few minutes.
Add the onion and bell pepper slices and cook for about 3 minutes, or until they start to soften.
Then, add the marinated and drained shrimp and cook with the onions and peppers for 3 minutes.
Use tongs to flip the shrimp and cook for an additional 2-3 minutes with the vegetables, or until the shrimp are opaque and cooked through.
Turn off the heat and serve hot, with warmed tortillas.
Notes
You can let the shrimp marinate for up to a day covered in the refrigerator.
Other items that can be served with the fajitas: salsa, guacamole, lime wedges, and sour cream (use dairy-free yogurt or sour cream, if necessary)
Nutrition data does not include tortillas or any toppings.
Keywords: chili's fajitas recipe, low-carb shrimp fajitas, keto fajitas
If you like this post, consider following me on social media so we can stay connected. I'm on Facebook, Pinterest, Instagram, and YouTube!
This post may contain affiliate links which won't change your price but will share some commission. We are participant in the Amazon Services LLC Associates Program, an affiliate advertising program designed to provide a means for us to earn fees by linking to Amazon.com and affiliated sites.