How to Freeze Pulled Pork
This post may contain affiliate links which won't change your price but will share some commission.
If you love to make homemade pulled pork, you'll know that you often make a lot at once. Here's how to freeze pulled pork so that it never goes to waste. Freeze it the right way to avoid freezer burn!
Pulled pork is tender, juicy, and savory! It's made by slow-cooking pork shoulder (also known as pork butt) until the meat is so tender it falls apart when you gently prod it with a fork. Although pulled pork sandwiches have become an American staple, there are many other ways to cook and serve this delicious food in healthy ways, like salads and buddha bowls.
One of my favorite things about pulled pork is that you can cook up a big batch and portion it for various meals throughout the week. It's a winner when it comes to meal prep.
Most people love pulled pork prepared low and slow on the grill, but it's also something that you can cook with minimal effort in the slow cooker or the oven. It requires very little hands-on work, and the long cooking time really locks in the flavor while the meat retains its nutritional value.
Did you know that a serving of pork contains tons of protein but also has more than 100% of your daily requirement for selenium?
Pulled pork is a versatile and luxury food that you can savor and enjoy. And, since it freezes well, you won't have to allow a single morsel to go to waste!
Why You Need This Recipe
Pulled pork only keeps a few days in the fridge. If you have too much of it, it is best to freeze it before it goes bad.
Freezing pulled pork is excellent for meal prepping. Freeze individual portions to make mid-week meals a breeze.
You can instantly have a versatile, low-fat protein on hand if you've frozen a big batch of pulled pork in individual portions.
What You'll Need to Make This Recipe
Anyone can freeze pulled pork with a few basic items most kitchens have.
1. Resealable Plastic or Silicone Bags
Resealable bags make it easier to label frozen food items and protect the plastic wrap from being damaged by other food items and freezing temperatures that could spoil it. If you don't have freezer bags, apply a few extra layers of plastic wrap for additional protection.
2. Freezer Labels
If you have many different types of food in your freezer, it's best to label them so you'll know what they are and when you should use them by. If you don't have freezer labels, you could use a piece of masking tape and a black marker.
Ingredients and Substitutes
Although pulled pork is only one ingredient in this recipe, some people prepare it with sauce. It's best to freeze pulled pork sauce-free because it makes it more versatile for other recipes once you defrost it.
But, if you like making pulled pork with sauce, you'll be happy to know that it is possible to freeze it like that as well. It just depends on how well your sauce freezes.
It's important to note that if you freeze pulled pork without the sauce, it should be easy to take out a few pieces without disturbing the entire bag of frozen pulled pork.
When you freeze it with sauce, it is not possible. In this case, it may be a good idea to freeze your sauce separately in portions. That way, you can defrost a portion of sauce and some pulled pork if that's how you want to use it. Or you can just thaw the pork if you want to make something different. You could even freeze the sauce in ice cube trays!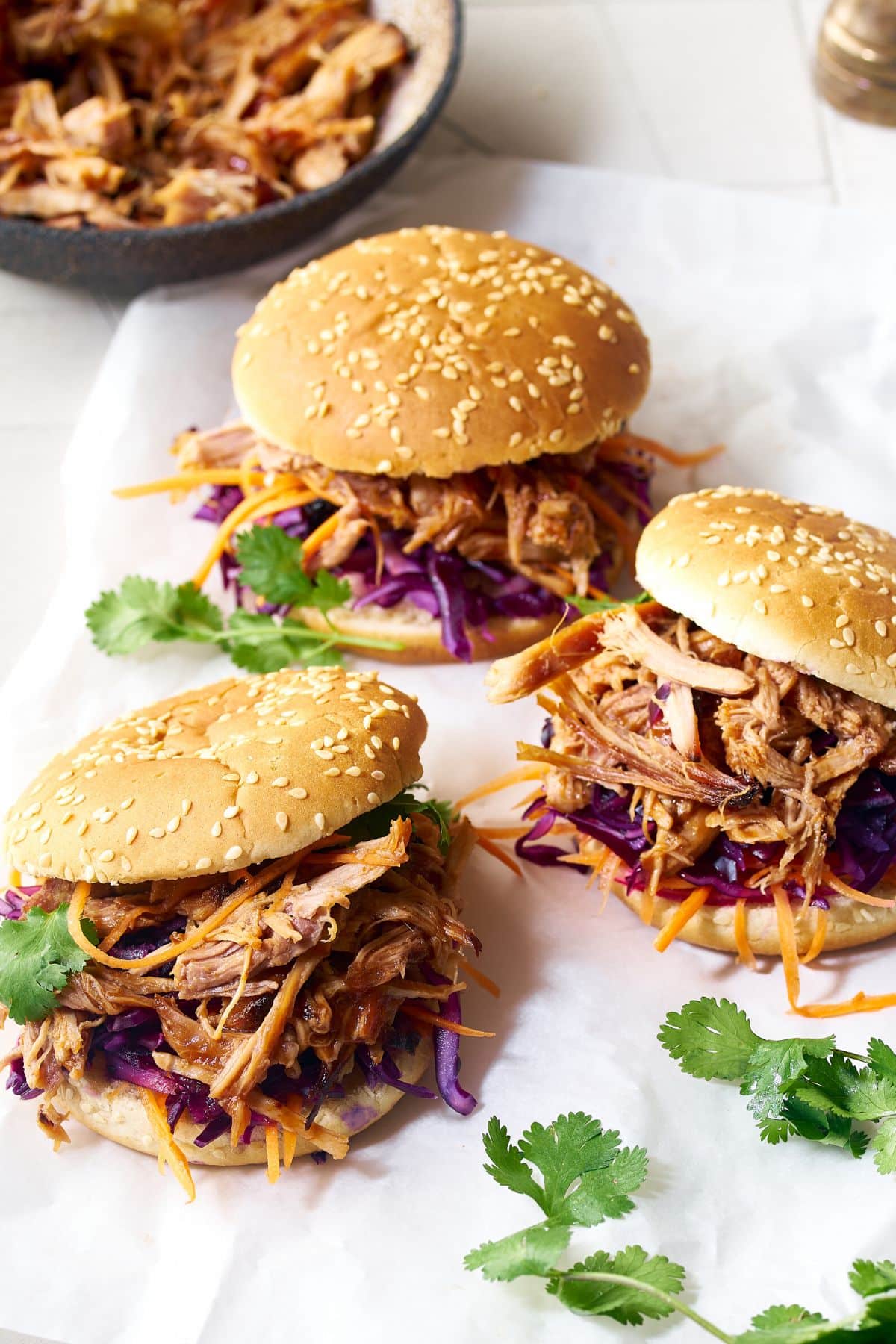 Recipe Steps
Step One
Let your cooked pulled pork cool down so it's easy to handle. Room temperature is preferable.
Step Two
Divide the pulled pork into the portions. Use tongs or a serving spoon to transfer the pork to a large resealable freezer bag or any other airtight container. A vacuum sealer works great for leftover pulled pork too.
Step Three
Press the air out of the bags and place them in the freezer for long-term storage. The less in the container, the less risk of freezer burn.
Defrost in the refrigerator overnight before reheating and serving again. The internal temperature of leftover pork should reach at least 145 degrees F.
Recipe FAQs
How long does pulled pork keep in the freezer?
Up to six months. Although you can eat it even if it's been frozen for longer, the flavor and texture disintegrate over time, so it's best to use it in less than six months.
How do I know if pulled pork has gone bad?
If you notice a sour or foul odor from the pork, it's best not to eat it. It's not safe! Another giveaway is if the color of the meat changes – it's usually not a good sign.
What's the best way to defrost pulled pork?
You can defrost pulled pork by leaving it in the fridge for around five hours per pound. If you need to defrost it in a hurry, you can leave it in the bag and run cold water over it until it is defrosted enough to reheat in a microwave-safe container or on the stovetop.
How can I use pulled pork that's been frozen?
Besides making sandwiches, you can also use it in soups, stews, pasta dishes, salads, casseroles, stir-fry dishes, and Mexican dishes like pork tacos and nachos. It also makes a tasty pizza topping with some barbecue sauce!
More Pork Recipes You Might Like
More Helpful Freezer Guides
Print
How to Freeze Pulled Pork
If you love to make homemade pulled pork, you'll know that you often make a lot at once. Here's how to freeze pulled pork so that it never goes to waste.
Total Time: 3 hours 30 minutes
Yield: 6 servings 1x
4 pound pork shoulder, cooked and shredded
Instructions
Let the pulled pork cool down on your kitchen counter and fridge before you prepare it to be frozen. 
Divide the pulled pork into 1-3 sections.
Transfer the portions of pulled pork to resealable plastic bags. Press the bags to remove as much air as possible before sealing. You can also use a vacuum sealer if you have that.
Label the bags with information like the date you're freezing them, what you're freezing, and the portion size, if you weighed it. 
Place the bags in the freezer for long-term storage.
Notes
Defrost the frozen pulled pork in the refrigerator overnight before re-heating and serving.
You can freeze the pulled pork in smaller or larger servings depending on how much you will want to defrost at one time in the future.
Nutrition
Serving Size: 3 ounces
Calories: 143
Sugar: 12.9 g
Sodium: 566.1 mg
Fat: 3.8 g
Saturated Fat: 1.2 g
Carbohydrates: 15.9 g
Fiber: 1 g
Protein: 11.2 g
Cholesterol: 29.8 mg
Keywords: frozen pulled pork, how to free pulled pork
If you like this post, consider following me on social media so we can stay connected. I'm on Facebook, Pinterest, Instagram, and YouTube!
This post may contain affiliate links which won't change your price but will share some commission. We are participant in the Amazon Services LLC Associates Program, an affiliate advertising program designed to provide a means for us to earn fees by linking to Amazon.com and affiliated sites.