25+ Best Vegan & Gluten-Free Cookie Recipes
This post may contain affiliate links which won't change your price but will share some commission.
You're going to love this epic round-up of the Best Vegan & Gluten-Free Cookies recipes. Whether you're looking for a recipe for a birthday, holiday, or just for fun, there is literally a cookie for everyone on this list.
Just in time for the holidays, I'm sharing this round-up of the best vegan cookie recipes from your favorite bloggers. I hope you find some new and favorite cookie recipes to make this season. I've organized the vegan cookie recipes into several categories, so enjoy perusing the list!
Chocolate Chip Cookie Recipes
When you have a cookie hankering and realize you have chocolate chips in your pantry, then it's time to make a batch of vegan and gluten-free chocolate chip cookies.
These Gluten-Free Vegan Double Chocolate Chip Cookies are super easy to make, chewy and fudgy and seriously indulgent yet secretly healthy!
These chocolate chip cookies are moist and chewy, and you wouldn't even know they're vegan, paleo, and gluten-free.
These 7 Ingredient Vegan Peanut Butter cookies are an easy recipe for deliciously soft peanut buttery bites, melting chocolate chunks and the best flaky sea salt you can buy. You want to make them like right now.
These amazing Vegan + Gluten-Free Chocolate Chip Cookies are made with sunflower and/or pumpkin seeds for a delightful texture, flavor, and added nutrition! No almond flour is to be found in this healthy cookie recipe that is fun, easy to make, nut-free and perfectly chewy, too!
Gluten free & so delicious, these healthy vegan chocolate chip cookie recipe is (almond) milks' new favorite cookie. Made with simple ingredients and ready to devour in 20 minutes!
Holiday and Girl Scout Cookie Recipes
Any of the recipes in this grouping would be perfect for vegan Christmas cookies or vegan sweets. I will certainly be baking some of these this season.
These Vegan & Gluten-Free Molasses Cookies are a delicious way to celebrate the holidays. They're grain-free and paleo too!
These gluten free vegan Samoa cookies are heavenly. A shortbread base, topped with homemade vegan caramel, toasted coconut and a dark chocolate drizzle…what more could you ask for? We're all about healthier Girl Scout cookies that everyone can enjoy!
These lemon rosemary shortbread cookies are just as delicious and texturally-pleasing when made vegan or gluten-free as their all butter, white-flour counterparts. Drizzled with a bit of cranberry coulis, they're officially the best holiday cookies ever.
Cranberry Pistachio Cookies – perfectly festive cookies for your holidays! Cookie exchange anyone? These cookies are crispy on the outside, chewy on the inside and are gluten free, oil free and vegan!
This gluten free snickerdoodle recipe creates the perfect texture in a cookie – crunchy on the outside and chewy inside!
These delicious grain-free and gluten-free pumpkin cookies are perfect for anytime of year. The pumpkin puree helps off-set some of the oil that is needed.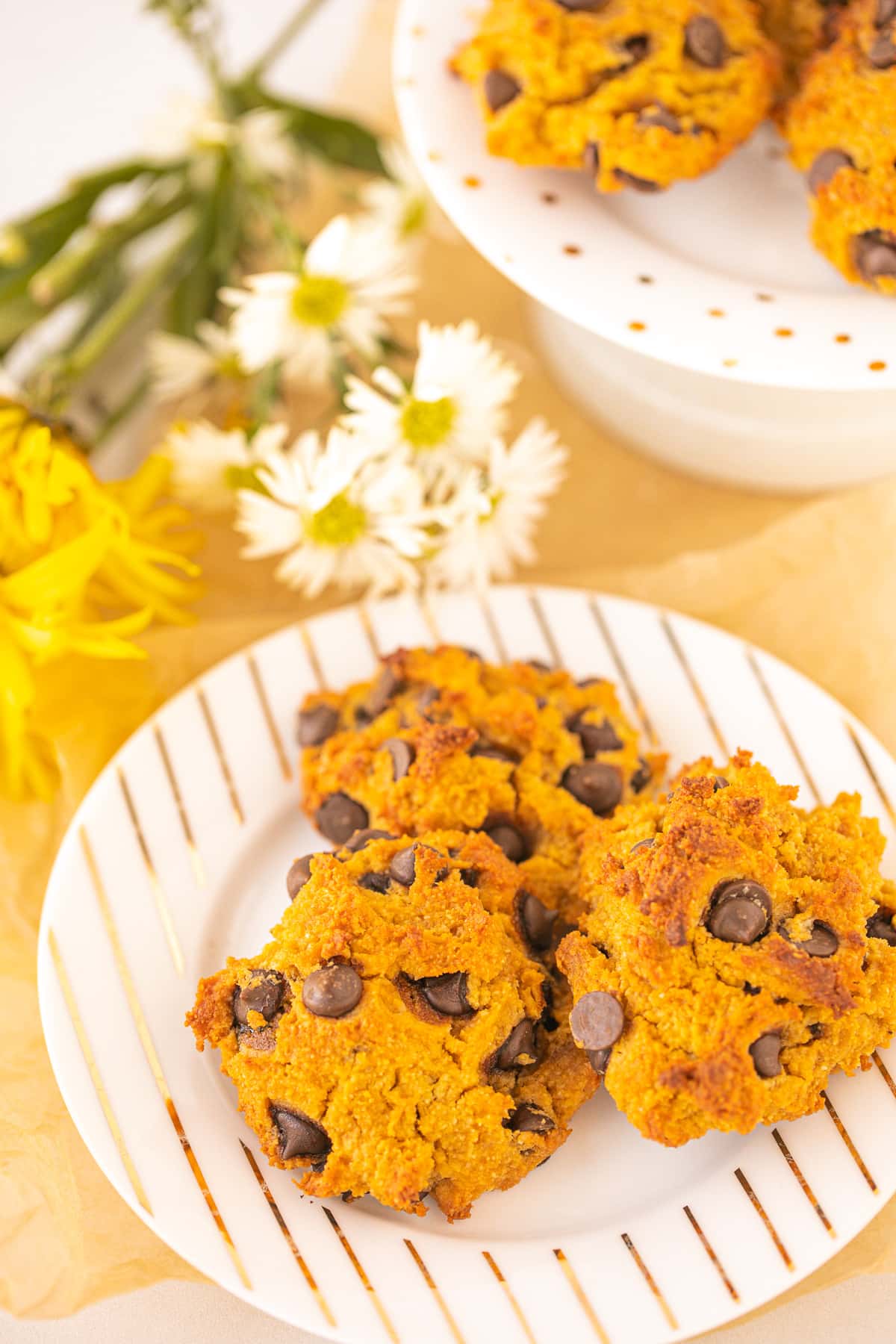 Low Sugar Recipes
For those of us who are trying to watch our sugar intake, these low sugar vegan cookie recipes will hit the spot! These healthy cookie recipes are also great for kids.
These Banana Oatmeal Cookies with Chocolate Chips are gluten free, vegan, and are low in added sugars.
These melt-in-your-mouth vegan gluten-free cookies are made from a base of organic oat and almond flour and sweetened with Canadian maple syrup. Sprinkled with chopped maple almonds, these are an awesome little indulgence!
Keto pumpkin cookies are perfect for when you want a delicious cookie without any sugar! They're quick and easy to prepare and taste absolutely fantastic too!
These crunchy almond cookies are perfect for dipping in coffee or chai tea. They're also a guilt-free indulgence without grains or refined sugars.
Energy Bites & No Bake Recipes
Energy bites and no-bake cookies are perfect when you're short on time or don't have room in the oven. I think you're going to love these vegan treats.
These Nut Butter Cookies are a perfect healthy treat; they're grain-free with only 5 ingredients, and can be made in 15 minutes!
One of my favorite family cookies we made around the holidays, made vegan and gluten free: Chocolate No Bake Cookies! These are a favorite around our house and so addicting.
Vegan no-bake energy balls with dates are a healthy snack for both kids and adults. The combination of raspberry and coconut is out of this world!
These vegan, gluten-free, and paleo-friendly Pumpkin Pie Bites are great for a seasonal, healthy treat.
These No Bake Peanut Butter Cookies are the perfect vegan healthy sweet treat, pre and post work-out bite or energy snack to enjoy guilt-free all day long!
Rum balls are so delicious that they shouldn't be reserved just for the Holidays. These boozy vegan rum balls are a breeze to make and will curb your sweet tooth without any guilt since they are low carb and healthy!
Oatmeal Cookie Recipes
Nothing beats an oatmeal cookie when you're looking for true comfort food. Enjoy these variations of vegan oatmeal cookie recipes that are gluten-free too.
Soft-baked oatmeal cookies made without any dairy, wheat, or eggs! These easy-to-make cookies are the perfect lunch box snack.
It's time to be a kid again with these fig newton style cookies. Packed with oat and fig goodness, they are healthier and tastier than the originals.
Easy, delicious, and made with good for you ingredients, these vegan oatmeal chocolate chip cookies are a gluten free and healthful treat!
Tasty vegan Anzac cookies with an easy to follow recipe.
Soft Baked Recipes
Served with a glass of cold almond milk, these soft-baked vegan cookie recipes are just what Santa ordered.
Soft and pillowy cookies, healthier (and better) than a drinkable pumpkin spice latte. These pumpkin spice latte cookies are free from the top 8 allergens, gluten-free, vegan, and paleo. You'll be sure to get a dose of real pumpkin here!
Super soft vegan peanut butter cookies recipe! This easy 1 bowl recipe makes 18 cookies, each at 150 calories, making them a guilt free dessert!
These paleo chocolate chunk cookies are soft, chewy, easy, and made with wholesome ingredients. I promise, you're going to love these!
Lemon cookies are so light and delicious. They are one of my all-time favorites. These are made with cassava flour. They are gluten and grain free, along with dairy free and vegan.
One of the best gluten free and dairy free recipes and Thanksgiving recipes the whole family will enjoy! It is very easy to make, super delicious, and healthy! These delicious vegan desserts are excellent kid-friendly snacks for every season!
Soft-baked, buttery chocolate cookies with a subtle hint of rich almond flavor! These Cocoa Almond Cookies will be your new favorite treat for the holidays. Less than 6 ingredients, vegan, gluten-free, and grain-free.
These easy and delicious vegan paleo Dark Chocolate Banana Coconut Cookies are a wonderful healthy treat!
Vegan Cookie Wrap-up
See, aren't these the most amazing vegan cookie recipes? And they're all gluten-free, too! I'm excited to try some new ones, and I hope you are too. Please let me know which recipes you try in the comments!
If you like this post, consider following me on social media so we can stay connected. I'm on Facebook, Pinterest, Instagram, and YouTube!
This post may contain affiliate links which won't change your price but will share some commission. We are participant in the Amazon Services LLC Associates Program, an affiliate advertising program designed to provide a means for us to earn fees by linking to Amazon.com and affiliated sites.