These cassava flour Chocolate Chip Muffins are the perfect healthy treat. They're grain-free, which makes them naturally gluten-free, too!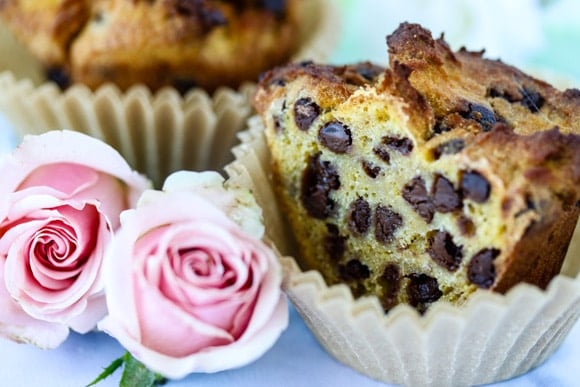 This is a recipe that I made first shared back in 2015, but I recently updated with new photos. I always have fun experimenting with more paleo-friendly baking: lower in grains, gluten- and dairy-free, using alternative flours. My specific flour of choice for the last several years has been Otto's Cassava Flour that meets all those requirements:
In many cases, cassava flour subs 1:1 for wheat flour, and the taste is very, very mild…great for chocolate chip muffins! I encourage you to experiment with this flour, and check out other tried and true recipes from around the web (I created a Pinterest board just for cassava-based recipes, too).
I was so pleased when these muffins turned out just as I had hoped, with great texture and moistness. I used pumpkin puree to off-set some of the need for oil, so you could argue that these muffins include a serving of veggies.
Feel free to use applesauce or pumpkin puree; I've tried it both ways. These cassava flour Chocolate Chip Muffins are not as heavy as other grain-free baked goods that use almond or coconut flours. I really hope you try this recipe!
What is cassava flour? It's made from the whole yuca root, so it's technically a tuber. Also, Otto's cassava flour is different from tapioca flour because it's the whole root, dried and ground. I highly suggest checking out the numerous recipes on the Otto's website where you'll find ones for pizza, breads, and all kinds of goodies.
I know a lot of paleo folks are into the low-carb thing, but I find I need quite a bit of carbs in my diet, especially to feel nourished, energized, and balanced. That's one big reason I like to call my diet "clean eating" versus something more restricted like paleo or plant-based (new readers, feel free to read about my journey here). I make an effort especially in the evening to get enough carbs because I sleep much better when I do. Granted, foods like potatoes, rice, and other gluten-free grains are perhaps better for my health, but a chocolate chip muffin is absolutely okay in my book every once in awhile.
Here's the printable Cassava Flour Chocolate Chip Muffin recipe:
Print
Cassava Flour Chocolate Chip Muffins
---
Author:

Prep Time:

20 minutes

Cook Time:

45 minutes

Total Time:

1 hour 5 minutes

Yield:

1 dozen

Category:

Dessert

Method:

Baking

Cuisine:

Grain-Free, Gluten-Free, Paleo
Description
A grain-free muffin recipe using cassava flour. Healthy and delicious!
---
Ingredients
1 1/2 cups cassava flour
½ teaspoon baking powder
½ teaspoon ground cinnamon
1 cup dairy-free chocolate chips
2 eggs
2 ripe bananas
1/2 cup unsweetened applesauce or pumpkin puree
½ cup unsweetened almond milk
2 tablespooons coconut oil, melted
½ teaspoon vanilla extract
---
Instructions
Preheat oven to 350°F and spray a muffin tin with non-stick cooking spray.
Combine the cassava flour, baking powder, cinnamon, and chocolate chips in a large mixing bowl. Use a spatula to stir together.
Next, place the eggs, bananas, applesauce or pumpkin puree, almond milk, coconut oil, and vanilla into the base of a food processor. Pulse on high until ingredients are combined, about 15-20 seconds total.
Pour the liquid mixture from the food processor into the dry ingredients in the mixing bowl and stir well.
Pour the batter into the muffin tin bake for 40 minutes or until the muffins are golden brown. Serve warm or at room temperature, and refrigerator or freeze leftovers.
Full disclosure: I purchased my bag of Otto's cassava flour, but I am now an affiliate with the company, so any purchase you make using this link gives me a small commission. All opinions are my own. 🙂
Pin this recipe to your favorite healthy Pinterest board!
Don't miss a recipe! Join my weekly newsletter list to get all the latest news and recipe links delivered directly to your inbox.
Sign up now and unsubscribe at any time. I will never sell your name or spam you, I promise!