8 Best Air Fryers Under $100
This post may contain affiliate links which won't change your price but will share some commission.
Air fryers have become the hottest appliance of the year, and for good reason. Air fryers are essentially small convection ovens that can cook food faster and more efficiently than a large kitchen oven. Learn the best air fryer under $100 for your kitchen.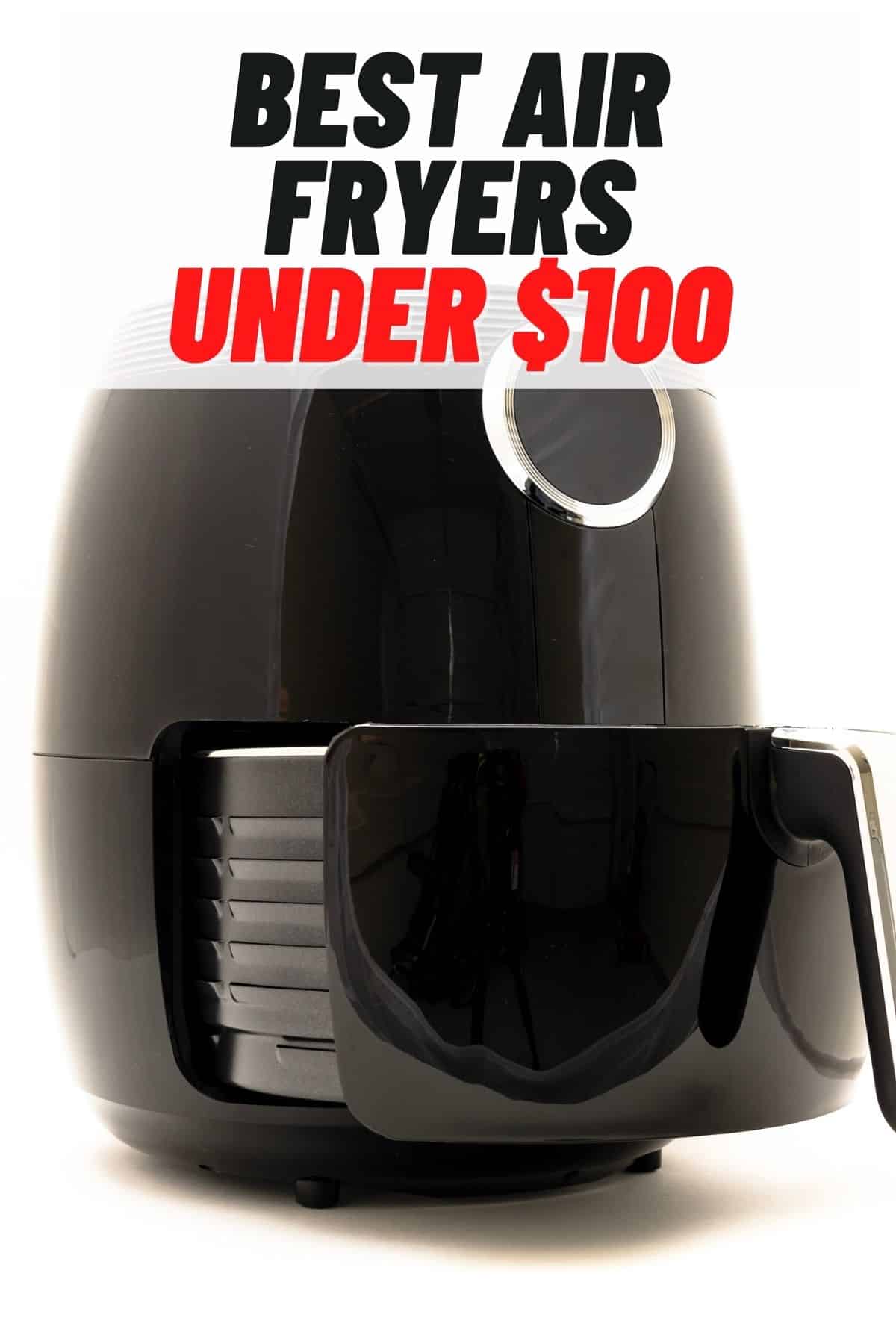 Benefits of Air Frying
As mentioned, air fryers work the same way as a convection oven. The heating element combined with a powerful fan work to circulate hot air around the food. This circulating hot air both cooks the food and encourages browning and crispiness of the food. Almost any food that can be baked in a regular kitchen oven can be cooked in an air fryer (as long as it will fit).
Most air fryer recipes call for the food to be put in the basket in a single layer to help the food to get cooked evenly. Whether it's Air Fryer Frozen Chicken Wings, Air Fryer Crispy Tofu, Air Fryer Hamburgers, or Air Fryer Meatballs, you can cook your favorite foods more efficiently and quickly using an air fryer.
An air fryer can also substitute for a regular kitchen oven. This makes it a valuable appliance for college students, RV'ers, or anyone who doesn't have access to a full-size kitchen.
I personally enjoy the fact that an air fryer doesn't heat up the kitchen the way a regular oven does, and it cooks food much faster due to its powerful fan. Read more about the pros and cons of air fryers as well as learning about air fryer vs. deep fryer.
Best of all, you don't have to spend a ton of money to buy a quality air fryer. This article shares 8 of the best air fryers under $100.
1. Best Overall Value
Ninja is a trusted brand and this model is one of their best-sellers. The unit is small and efficient and comes with a ceramic-coated crisper plate. The maximum temperature of this model goes up to 400°F which means it can cook almost anything you need. It is recommended to preheat the Ninja before using.
2. Easiest to Use
Instant Vortex Plus 6-in-1 Basket Air Fryer with Digital Touchscreen
The Instant Vortex come from the Instant Pot company which is another trusted brand. This is a sleek and pretty air fryer which will look nice on your countertop. The basket is dishwasher safe and you don't need to preheat this model.
3. Best Mid-Size Model
GoWISE USA 1700-Watt 5.8-QT 8-in-1 Digital Air Fryer
If you want just a basic air fryer that is a good size for 2-4 people, consider this GoWise model in the 5.8 quart size. This one is easy to use and can air fry up to 400°F.
4. Best for College Students
Chefman 2-Quart Air TurboFry, Personal Compact Healthy Fryer
For college students or anyone cooking for one, consider this 2-quart personal sized air fryer. It's so cute but does the trick. This is perfect for single-person households at a very nice price.
You may need to cut most air fryer recipes in half when using this compact air fryer, but it will still do the trick.
5. Best for Campers
The Dreo is also a smaller air fryer with a sleek appearance. This one can cook up to 450°F which is nice when you need that higher temperature (like for thick potatoes or roasts).
6. Best for Beginners
The COSORI is another basic entry-level model which has some nice upgrades. There are several presets which takes the guessing game out of air fryer. The baskets are nonstick, dishwasher safe, and BPA-free which is a great feature.
7. Best for Instant Pot Lovers
Instant Pot Air Fryer Lid 6 in 1
If you really don't want to add another bulky appliance to your kitchen, consider the Instant Pot Air Fryer Lid. This is considered an accessory to your regular 6-quart Instant Pot. You'll need to review the details to make sure that it will fit your existing Instant Pot model.
8. Best Toaster/Air Fryer Combo
This combo air fryer unit is also a toaster oven and a dehydrator. This model would be perfect for people who don't have a lot of counterspace but want to be able to air fry, toast, and dehydrate foods.
Best Air Fryer Recipes for Beginners
I've been creating healthy air fryer recipes for a few years now. I am obsessed with my air fryer (so much that I actually own 3 different models). I use it on a daily basis in addition to my beloved Instant Pot. Here are some of the simplest and most delicious air fryer recipes to help get you started.
Or, you can check out my entire index of gluten-free air fryer recipes or my round-up of the best Air Fryer Recipes for Beginners.
Conclusions
Air frying is here to stay. It's an efficient, healthy, and quick way to cook a variety of foods including vegetables, meats, and even desserts. Depending on your individual needs, this article will help you find the best air fryer under $100.
If you like this post, consider following me on social media so we can stay connected. I'm on Facebook, Pinterest, Instagram, and YouTube!
This post may contain affiliate links which won't change your price but will share some commission. We are participant in the Amazon Services LLC Associates Program, an affiliate advertising program designed to provide a means for us to earn fees by linking to Amazon.com and affiliated sites.