Air Fryer Baby Carrots
This post may contain affiliate links which won't change your price but will share some commission.
This simple recipe for Air Fryer Baby Carrots is perfect for an easy side dish on a busy night. Even kids love these tender and flavorful roasted baby carrots.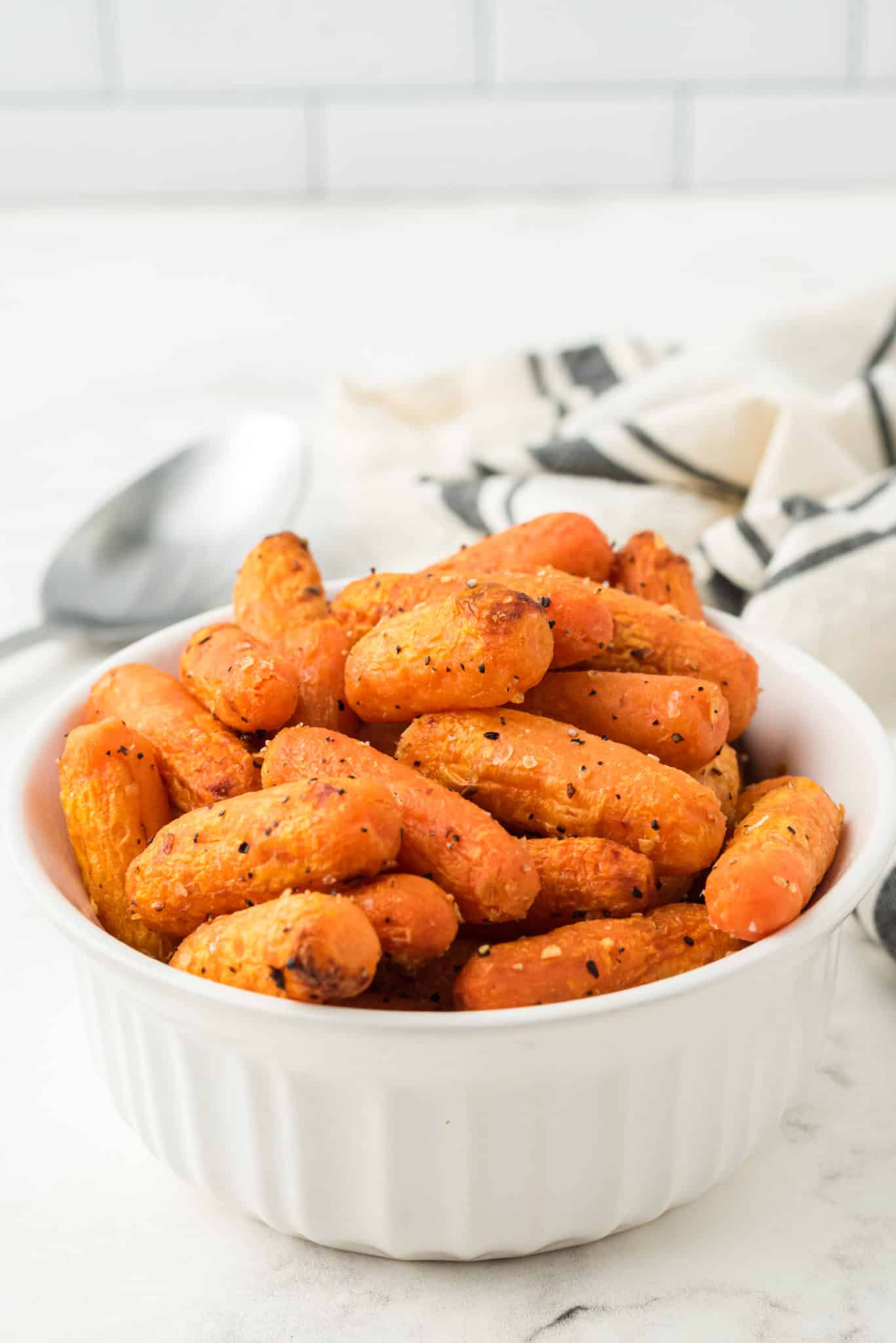 This recipe for Air Fryer Baby Carrots is a perfect example of a simple easy side dish that you make without having to use your big kitchen oven. Just toss together a bag of drained baby carrots with some oil and seasonings and you're good to go.
If you can get your kids to eat more veggies, then that is a huge win! Carrots are naturally sweet so they are on my list of the best vegetables for picky eaters.
Additionally, carrots are a great staple vegetable that are budget-friendly and generally available throughout the year. Carrots are high in beta-carotene, fiber, and antioxidants.
Recipe Highlights
Use your air-fryer to make these carrots if you don't have space in your oven, or you don't want to heat up your entire oven.
You only need 20 minutes cooking time for these simple roasted Air Fryer Carrots that go with almost any main dish.
Feel free to serve the carrots straight out of the air fryer, or glaze your carrots with honey, brown sugar, coconut sugar, or maple syrup.
Key Ingredients
Baby carrots are ideal for this recipe because there is literally no prep other than draining them and patting them dry.
Olive oil helps the carrots cook and helps the seasonings stick to them.
Simple seasonings like salt, black pepper, and garlic powder are readily available and universally appealing.
Recipe Step
Step One
Drain a bag of baby carrots in a colander and pat them dry.
See the recipe card at the end of this post for the exact measurements.
Step Two
Toss the carrots with the oil and seasonings.
Step Three
Place carrots in the air fryer basket, and set the temperature to 400 degrees F for a cook time of 20 minutes. The carrots don't have to be in a single layer as you'll be tossing them once during the cooking process.
Step Four
Once your air fried carrots are cooked, they will be slightly wrinkled and fork tender. You can sprinkle a pinch of salt and pepper on top and serve them warm or at room temperature.
I hope your family agrees that this carrots recipe is at least one of their favorite side dishes!
Recipe Tips & Substitutions
Feel free to get creative with your seasonings. Garlic powder, onion powder, black pepper, taco seasoning, or any different seasonings are all great options.
There are actually a lot of different colors of carrots other than orange carrots. If you want something different, try using a purple carrot or other colors.
Consider using avocado oil or another healthy cooking oil that is safe for cooking.
Also consider using organic carrots to avoid exposure to pesticides.
FAQs
Can I bake these in a regular oven instead of an air fryer?
Yes! You can make roasted carrots in an oven. Set the temperature to 400 degrees F for about 30-35 minutes.
Can I cook regular carrots in the air fryer instead of baby carrots?
Yes, but you may need to slice them into a 1/2-inch thick for larger carrots. Cook them for 15 minutes at 400 degrees F.
Other Healthy Air Fryer Recipes You Might Like
Or, see my entire index of healthy air fryer recipes.
I hope you make this recipe! If you do, please leave a comment and a starred review below.
And, consider following me on social media so we can stay connected. I'm on Facebook, Pinterest, Instagram, and YouTube!
Print
Air Fryer Baby Carrots
This simple recipe for Air Fryer Baby Carrots is perfect for an easy side dish on a busy night. Even kids love these tender and flavorful roasted baby carrots. 
Total Time: 30 minutes
Yield: 6 1x
1 pound bag baby carrots
1 tablespoon olive oil
1/2 teaspoon dried garlic
1/2 teaspoon sea salt
1/4 teaspoon ground black pepper
Instructions
Open the bag of baby carrots and place them in a colander to drain any water from the bag. Then, use a clean towel to pat them dry.
Place the carrots in a large mixing bowl.
Add the olive oil, dried garlic, sea salt, and black pepper, and stir to combine.
Pour the carrots into the basket of your air fryer. Set the temperature to 400°F for 20 minutes, stopping once to shake the basket during the cooking process.
When the carrots are done cooking, they should be fork tender. Transfer the carrots to a serving bowl and serve warm.
Equipment
Notes
You can double this recipe depending on how large your air fryer basket is. The carrots can overlap each other while cooking; just be sure to shake the basket a few times during the cooking process to make sure they cook evenly.
Store any leftovers in an airtight container in the refrigerator for up to 5 days. Reheat before serving.
Some air fryers need to be preheated. Read your instruction manual to see if you need to preheat your model. 
If you want to add more sweetness to your carrots, feel free to drizzle 1-2 teaspoons of maple syrup, brown sugar, or honey on them and toss before serving. 
Keywords: cooked carrots in air fryer, easy roasted carrots, simple air fryer carrots
Don't forget to join the Clean Eating Kitchen newsletter. You'll get my Clean Eating Quick Start Guide, plus links to all the latest recipes.
This post may contain affiliate links which won't change your price but will share some commission. We are participant in the Amazon Services LLC Associates Program, an affiliate advertising program designed to provide a means for us to earn fees by linking to Amazon.com and affiliated sites.