Instant Pot Asparagus
This post may contain affiliate links which won't change your price but will share some commission.
Here's how to make Instant Pot Asparagus that is the perfect healthy side dish. This tender and flavorful steamed asparagus is ready in just 15 minutes!
Asparagus is a vegetable that is in season during the springtime. It has a slightly bitter taste and is a good source of fiber, vitamin B6, and potassium. Asparagus is low in calories and high in antioxidants. It is a great addition to salads or can be grilled or steamed.
It isn't something you cook every day, so you might not know how best to cook it. The Instant Pot cooks it quickly and evenly and then the finishing touch of chili flakes adds a nice texture and flavor pop.
Why You Need This Recipe
Making a side dish in the Instant Pot is totally hands-off so you can focus on the rest of the meal.
Pressure cooking (steaming!) is a healthy way to cook vegetables to retain nutrients. See my related recipes for Instant Pot Broccoli, Instant Pot Cauliflower, and Instant Pot Artichokes.
Using an Instant Pot is more efficient than heating your oven to help save money on your electric bill.
Key Ingredients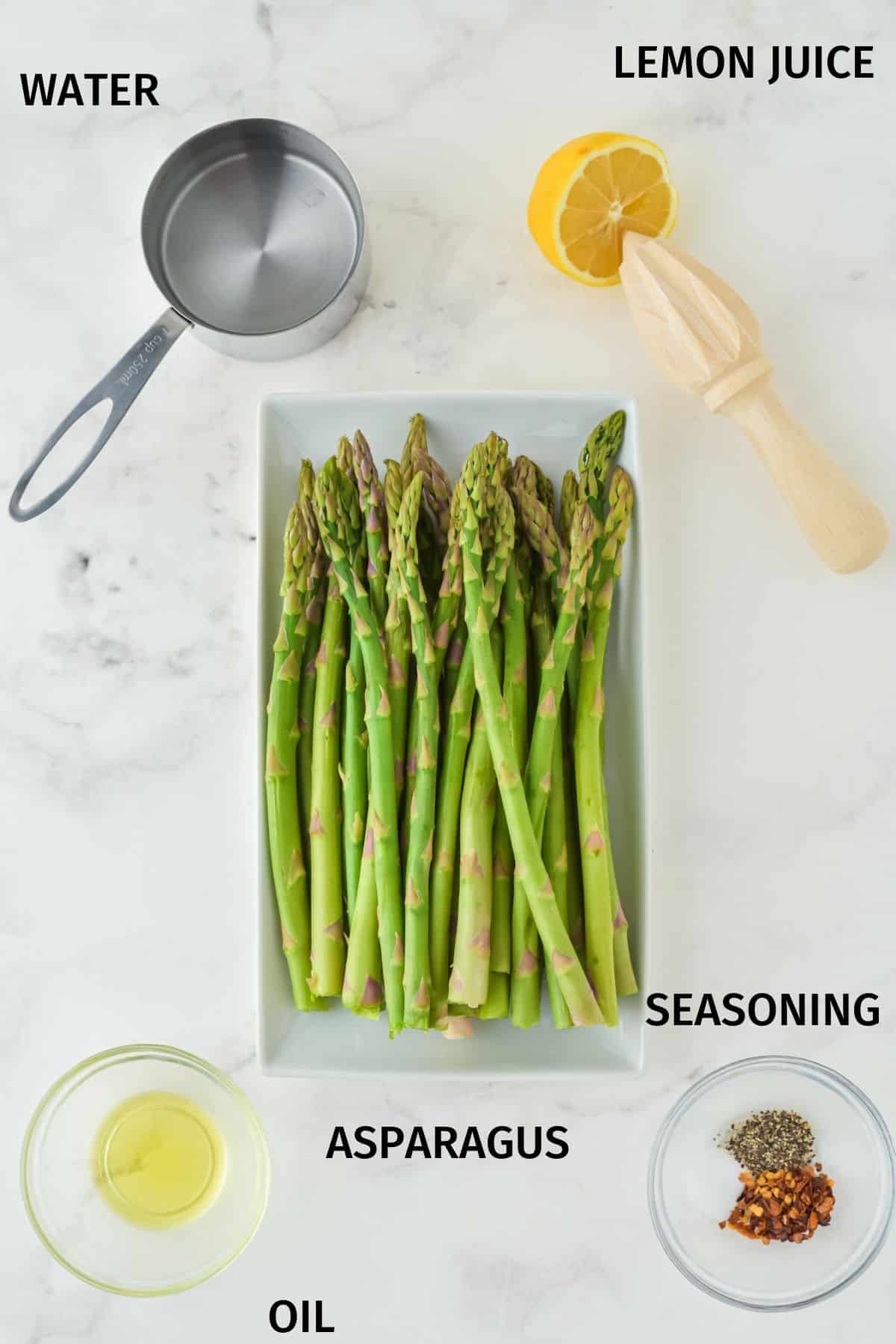 Asparagus spears should be a nice color of green with a firm texture. Look for thick asparagus for cooking in the Instant Pot. The thicker spears hold up nicely when pressure cooked and don't get mushy.
Chili pepper flakes add just a touch of heat.
Lemon juice is a classic flavor for asparagus.
Olive oil adds some healthy fat and helps the seasonings stick to the asparagus.
Recipe Steps
Step One
Add the cup of water to the Instant Pot and set the trivet inside.
Please see the recipe card at the end of this post for the exact ingredients and measurements.
Step Two
Stack your prepared asparagus spears on the trivet. Lock on the lid and make sure the valve is in the sealing position.
Step Three
Cook for zero minutes on high pressure. Then let the pressure release naturally for 1 minute before releasing the rest of the pressure using the quick release.
(If you are new to using the Instant Pot, then be sure to check out my guide on how to use the Instant Pot Duo).
Step Four
Carefully use tongs to remove the cooked asparagus to a serving platter.
Step Five
Season with oil, lemon juice, and chili pepper. Serve warm.
I hope your family loves this tender asparagus as much as mine does!
Recipe Tips & Substitutions
Try to use thicker asparagus for this recipe as opposed to thin asparagus which can get overcooked.
After rinsing, either snap or cut the asparagus at the bottom, taking off about 2-3 inches. You want to ensure it fits flat across in the Instant Pot.
Lost the included trivet? Use any metal steamer basket.
You can double or triple this recipe to feed many. It's ok if the asparagus is piled on top of each other.
While the "cook time" is 0, the total time in the recipe includes the time to come to pressure.
FAQs
Really just 0 minutes of cooking?
Yes! As the Instant Pot is building up steam pressure to seal, it is already cooking the asparagus. So the approximately 10 minutes to come to pressure and 1 minute before you release the pressure means your asparagus is cooking that entire time!
I'm not a fan of spicy heat. What else can I use?
Feel free to omit the pepper flakes if you aren't a fan. Another great idea is to use freshly cracked pepper to add some texture. Even some fresh Parmesan cheese shavings is perfect if you aren't on a vegan or dairy-free diet.
More Quick & Healthy Vegetable Recipes You Might Like
I hope you make this recipe! If you do, please leave a comment and a starred review below.
And, consider following me on social media so we can stay connected. I'm on Facebook, Pinterest, Instagram, and YouTube!
Print
Instant Pot Asparagus
Here's how to make Instant Pot Asparagus that is the perfect healthy side dish. This tender and flavorful steamed asparagus is ready in just 15 minutes!
Total Time: 16 minutes
Yield: 4 servings 1x
1 cup water
1 bunch of thick asparagus spears (about 10 ounces), trimmed
1/2 lemon, juiced (about 1 1/2 tablespoons)
1 teaspoon olive oil
1/4 teaspoon sea salt
1/4 teaspoon ground black pepper
1/2 teaspoon red chili flakes
Instructions
Place the trivet inside your Instant Pot and add the water.
Set the asparagus spears on the trivet and lock on the lid.
Set the cook time to "0" zero minutes at high pressure.
When the cook time is up, let the pressure come down naturally for just one minute. Then, use the quick release to let out the pressure (I recommend using an oven mitt when using the quick release to avoid any steam on your hands).
Remove the lid and use tongs to transfer the cooked asparagus to a serving plate.
In a small bowl, combine the lemon juice, olive oil, salt, and pepper. Stir to combine.
Pour the lemon juice dressing and the chili flakes over the asparagus and serve warm.
Equipment
Notes
To prep your asparagus for cooking, rinse the spears well. Then, cut off the bottom 2-3 inches of each piece of asparagus. You may need to trim more so that the asparagus fit into the Instant Pot.
If you don't have a trivet for your Instant Pot, you can use a steamer basket instead.
This recipe can easily be doubled or even tripled. It's okay if the asparagus spears stack on top of each other.
The total cooking time includes 10 minutes for the pot to come up to pressure and 1 minute of natural release time.
Keywords: asparagus, pressure cooker asparagus, instant pot steamed vegetables
Don't forget to join the Clean Eating Kitchen newsletter. You'll get my Clean Eating Quick Start Guide, plus links to all the latest recipes.
This post may contain affiliate links which won't change your price but will share some commission. We are participant in the Amazon Services LLC Associates Program, an affiliate advertising program designed to provide a means for us to earn fees by linking to Amazon.com and affiliated sites.