Is Ka'chava Healthy (Nutrition Pros and Cons)?
This post may contain affiliate links which won't change your price but will share some commission.
In this blog post, we'll review the question of whether Ka'chava meal replacement powder is healthy or not? Find out what this product's nutrition pros and cons are and what better alternatives you may wish to consider.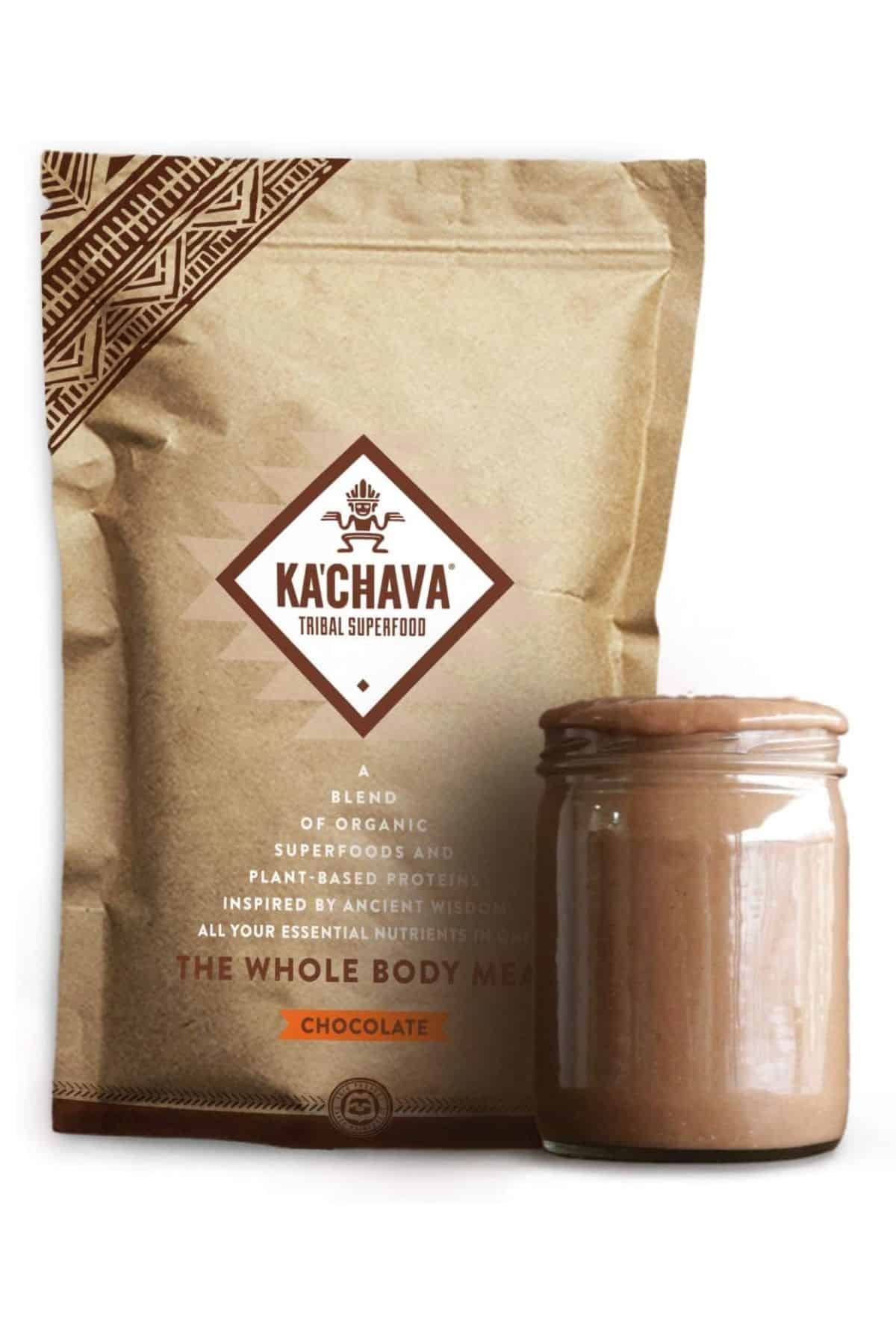 Ka'chava Facts
Ka'chava is a ready-to-go-meal powder made with a blend of plant-based proteins and organic superfoods. The company calls it a "whole-body meal" protein shake.
Note: this review was not sponsored; all opinions are my own.
The brand was launched by Simon Malone, who wanted to find a healthy alternative to eating unhealthy fast foods. He aimed to help people "who are too busy to prepare healthy meals".
The nutrition label states that it contains:
A plant-based protein blend consisting of five proteins
A fiber blend of four ingredients
Nine super-fruits
Six adaptogens
17 super-greens
Three probiotic/prebiotics
Five digestive enzymes
Besides the superfood blends and other highly nutritious ingredients, Ka'chava meal replacement shakes also contain coconut milk, natural flavoring, vegetable fiber, xanthan gum, guar gum, and Lo Han fruit extract. The chocolate-flavored Ka'chava shakes also contain cinnamon and cocoa.
Ka'chava is vegan, dairy-free, gluten-free, and soy-free and does not contain any preservatives or artificial colors, flavors, or artificial sweeteners.
Many of its ingredients are organic, and there is one allergen warning on the Ka'chava nutrition label; it contains tree nuts (coconut.)
Ka'chava Main Ingredients
This product contains over 85 superfoods, nutrients, and plant-based ingredients.
Let's take a closer look at some of the key ingredients in Ka'chava in this Ka'chava review.
Plant-Based Protein Blend (Including Sacha Inchi)
The five plant-based proteins are yellow pea protein, brown rice protein, sacha inchi, amaranth, and quinoa. These ingredients are plant-based protein sources and can help you feel fuller for longer.
Sacha inchi is a large edible seed that packs a powerful protein punch and contains other valuable micronutrients like potassium, phosphorus, magnesium, zinc, and calcium. Sacha inchi is also high in unsaturated fat and contains phenolic compounds.
Omega Fatty Acid/Fiber Blend (Including Acacia Gum)
This blend consists of whole-grain oat, acacia gum, chia, and flax containing significant quantities of soluble fiber. Dietary fiber can help lower disease risk and help keep hunger and sugar levels in check.
Acacia gum is a soluble fiber made from the sap of an African tree. Acacia gum is also a prebiotic and has many other health benefits, including wound healing and improved gut health. It helps ease the symptoms of IBD.
Research shows that Acacia gum can help you feel fuller for longer, which can help prevent weight gain. It forms a gel in the stomach, which delays digestion, and controls hunger between meals.
Antioxidant/Super-Fruit Blend (Including Camu-Camu and Maqui Berry)
The nine ingredients in this blend all contain antioxidants and many other nutrients. Studies have shown that the Camu Camu berry has tons of health benefits. It contains significant quantities of vitamin C and has anti-inflammatory and oxidative capabilities.
Maqui berry is a super-fruit rich in anthocyanins and high in bioavailability. It is a potent natural anti-inflammatory and antioxidant that is good for the immune system.
Adaptogen Blend (Including Maitake and Shiitake Mushroom Mycelia)
The adaptogen blend contains maca, ginger, and various nutrition-rich mushroom mycelia.
According to research, adaptogens can help the body resist multiple stress factors and play an essential role in human health.
Maitake and shiitake mushroom mycelia have powerful immune-enhancing effects. This combination is also excellent for gut health.
Probiotic/Prebiotic Blend (Including Inulin)
The probiotics Lactobacillus Rhamnosus and Lactobacillus Acidophilus contained in this blend are important for gut health because they maintain or improve the good bacteria in the body.
Inulin is a potent prebiotic which helps keep the gut bacteria balanced by feeding it.
Learn more about the best gut healing foods especially if you are on a leaky gut diet.
Digestive Enzyme Blend (Including Lactase)
In the Kachava digestive enzyme blend, the amylase, protease, cellulase, lactase, and lipase help the body break down proteins, fats, and carbohydrates from food. It improves nutrient absorption.
Lactase helps to digest lactose, a sugar found in dairy products.
Nutrition Pros
Ka'chava is packed with more than 85 highly nutritious ingredients. It is free from animal products, gluten-free, soy-free, and does not contain any preservatives or artificial colors, flavors, or sweeteners.
The impressive list of ingredients in Ka'chava includes some of the world's most popular superfoods which may improve overall health.
With only one allergy warning (tree nuts), Ka'chava should be safe for most people, even those with lots of dietary restrictions.
Nutrition Cons
Although Ka'chava contains several super healthy ingredients, it's not 100% organic and contains ingredients that can be problematic for people with food sensitivities. Some people are sensitive to flax, which can cause bloating, gas, stomach pain, and nausea.
The pea protein in Ka'Chava may cause a reaction in people allergic to legumes. Pea protein also contains purines which can cause inflammation in some people and is not as bioavailable as animal protein.
You could make a superfood meal replacement mix at home with fewer ingredients for the same results and less expense. One bag has only 15 servings and each serving only contains 240 calories. Unless you are on a strict weight loss plan, this is likely not enough calories to serve as a meal replacement.
FAQs
Is Ka'chava healthy?
Ka'chava can be considered a healthy supplement for some people, especially those with busy lifestyles. It is indeed a healthier alternative to snacking on the run. Because it contains many super healthy ingredients, Ka'chava can be part of an overall healthy diet. 
However, making a meal replacement shake at home can be just as nutritious and a lot more cost-effective when you use simpler and fewer ingredients (see my full list of dairy-free smoothies).
What kind of protein is in Ka'chava?
Ka'chava contains five plant-based proteins: yellow pea protein, brown rice protein, sacha inchi, amaranth, and quinoa. 
What are the side effects of Ka'chava?
If you are sensitive or allergic to any ingredients, Ka'chava could cause digestive distress or other symptoms.

Some of the ingredients in Ka'chava, like quinoa, whole-grain oats, and Acacia gum, promote satiety, which could cause you to feel fuller for longer.
Can anyone have Ka'chava?
Ka'chava only has one allergen mentioned on the nutrition label: tree nuts (coconut.) If you're allergic to tree nuts, it's best to avoid Ka'chava.

Additionally, if you have a legume allergy or are sensitive to flax or any other ingredients, it's also best to avoid this product.
Try These Protein Recipes
Conclusions
Ka'chava is a relatively healthy product. It contains many nutritious ingredients, including plant-based proteins, a fiber blend, super fruits, super greens, adaptogens, pro- and prebiotics, and digestive enzymes. Not all of these ingredients are organic.
Although Ka'chava could be a beneficial addition to a healthy diet, more than 240 calories per serving is needed to be considered a healthy meal replacement. You could make a smoothie at home for a lot less money.
If you like this post, consider following me on social media so we can stay connected. I'm on Facebook, Pinterest, Instagram, and YouTube!
About the Author: Carrie Forrest has a master's degree in public health with a specialty in nutrition. She is a top wellness and food blogger with over 10 million annual visitors to her site. Carrie has an incredible story of recovery from chronic illness and is passionate about helping other women transform their health. Send Carrie a message through her contact form.
Note: this post is for informational purposes only and is not intended as medical advice. Please consult your healthcare provider for recommendations related to your individual situation.
More Food Product Reviews You Might Like
This post may contain affiliate links which won't change your price but will share some commission. We are participant in the Amazon Services LLC Associates Program, an affiliate advertising program designed to provide a means for us to earn fees by linking to Amazon.com and affiliated sites.