For Women: Why Am I Always Tired?
This post may contain affiliate links which won't change your price but will share some commission.
This article includes 10 tips for women who might be wondering, "why am I always tired?" Use these guidelines to naturally increase energy and get your life back.
Feeling fatigued and tired is one of the top health complaints from women. Certainly, there are legitimate reasons to being tired all the time. If you are working long hours, raising children, or have certain health issues, then you probably aren't feeling your best.
However, if you have made an effort to sleep more and manage stress, but you're still feeling tired all of the time, then it's important to figure out what might be causing all of that fatigue.
This article includes ten reasons why you might always be tired, plus some ways for you to combat fatigue.
10 Reasons Why Always Tired
1. You're Not Eating Enough
Food provides us with energy and energy combats fatigue. If you're currently on a diet or trying to watch your weight, there is a good chance that you're not actually providing enough nourishment for your body.
If you are an active woman who is exercising regularly, but you are restricting calories, then you may start to experience fatigue and other health issues.
Unless you have been advised by a doctor, then don't fall for the myth that women only need 1,200 calories a day. Intermittent fasting is another diet trend that can lead to under consuming calories and fatigue.
If you are confused by which foods to eat and how much, then it's best to consult a functional medicine practitioner who can help you determine the best diet for your energy needs.
2. Your Hormones Are Changing
Hormonal changes are inevitable for women. Not only do we experience monthly changes with the menstrual cycle, but we also go through life seasons, including pregnancy, perimenopause and menopause (see how to eat for your cycle).
Perimenopause is a time in a woman's life when the ovaries gradually begin to make less estrogen. Perimenopause can start as early as a woman's mid-30s and last until menopause, the point where the ovaries stop releasing eggs altogether.
Fatigue is one of the main complaints of women going through hormonal changes like perimenopause and menopause. Estrogen, progesterone, thyroid hormones and adrenal hormones are all changing at this time and can contribute to fatigue.
Supplements can be very helpful during hormonal changes to fight fatigue. An excellent resource is The Period Repair Manual (2nd edition), by Lara Briden, ND.
Other good ways to combat fatigue caused by hormonal changes are by developing a good sleep routine, practicing meditation, staying hydrated, consuming balanced and nutrient-dense meals, and trying some low-impact exercises like walking or yoga.
3. Your Diet is Too Restrictive
While special diets are absolutely needed for food allergies and sensitivities, they can also lead to over-restriction, fears about food, and even eating disorders like orthorexia.
Some examples of restrictive diets include the vegan diet and the ketogenic diet. While plant-based and keto diets can be used short-term under medical supervision, these types of diets usually aren't ideal for the long-term. Read more about the potential risks of a vegan diet and the potential dangers of a keto diet.
Restricting entire food groups places added stress on our bodies that we just don't need. Restrictive diets can also cause adrenal burn-out, which will make us extra tired.
The bottom line is that by expanding your dietary choices, you might resolve your possible nutritional deficiencies and combat your fatigue that way. In this situation, it's best to work with a dietitian or nutritionist who has been trained in food restrictions. He or she can help you expand your food choices with support.
4. Your Thyroid is Underactive
Hypothyroidism is the term given to underactive thyroid. This condition occurs when the thyroid gland fails to produce enough thyroid hormones. Energy production within the body requires thyroid hormones. Therefore, an underactive thyroid can lead to low energy levels, making you feel weak and fatigued.
A simple blood panel can normally determine if your thyroid is underactive. Ask your doctor to test your thyroid stimulating hormone (TSH) levels, along with Free T3 and Reverse T3. He or she may order other thyroid tests as well.
The optimal range you want to see for TSH is anywhere between 1.0-2.5. Anything from 2.5-4.0 is slightly elevated, meaning your pituitary gland is telling your thyroid to pump out more TSH to boost thyroid activity. A number above 4.0 is too high (some doctors are now considering a TSH over 2.5 as cause for concern), so talk to your doctor about treatment options. Unless you've had the right tests done to check your thyroid in the last 6 months, don't assume that you're thyroid is functioning optimally!
From personal experience, I can say that getting my thyroid hormone balanced was the fastest way for me to combat relentless fatigue. Once I increased my hormone intake, my energy improved literally overnight.
And, as a side note, if you are having trouble managing your weight, this could also be a result of having an underactive thyroid. So, ask your doctor about getting a thyroid blood test done ASAP. Or, you can order a thyroid test to do right at home without a doctor's order.
5. You're Not Sleeping Well
Insomnia can be caused by hormone changes, stress, or many other reasons. But, undoubtedly, if you have insomnia, you will experience fatigue and always feel tired.
My best advice for better sleep is to create a sleep routine. Go to bed and get up at the same times every day or as often as possible. This will help reset your circadian rhythm and combat fatigue. Studies show that wearing blue blocking glasses in the evening can also help reset circadian rhythm for better sleep.
Other ways to improve sleep and help reduce insomnia include cutting back on caffeine and setting a "caffeine curfew" can help you sleep better and fight fatigue.
Create a nightly routine of turning off all screens two hours prior to your desired bedtime. Take a bath, meditate, read a book, or write in a gratitude journal to help yourself wind down before bed.
If you have anxiety, try keeping a worry journal to help. Or, check out my other tips for how to sleep better with anxiety.
6. You Are Over-Exercising
Believe it or not, it is possible to overdo it with your exercise routine which leads to fatigue. While the majority of people don't exercise enough, there are quite a few people who exercise too much.
Women are especially prone to overexercising, because they see it as a way to control their weight and improve their appearance. But, when you exercise too much, your body can see this as a stressor causing you to overproduce cortisol.
Too much cortisol will lead to sleep problems which will lead to fatigue and feeling tired. Either you won't be able to fall asleep easily at night or you'll wake up in the middle of the night and not be able to get back to sleep. You might also be so sore from over-exercising that it impairs your ability to sleep well.
When it comes to exercise, more is not always better. This is especially true if you are complaining about always feeling tired. Instead of going for a run, you may be better off taking a nap and then going for a gentle walk.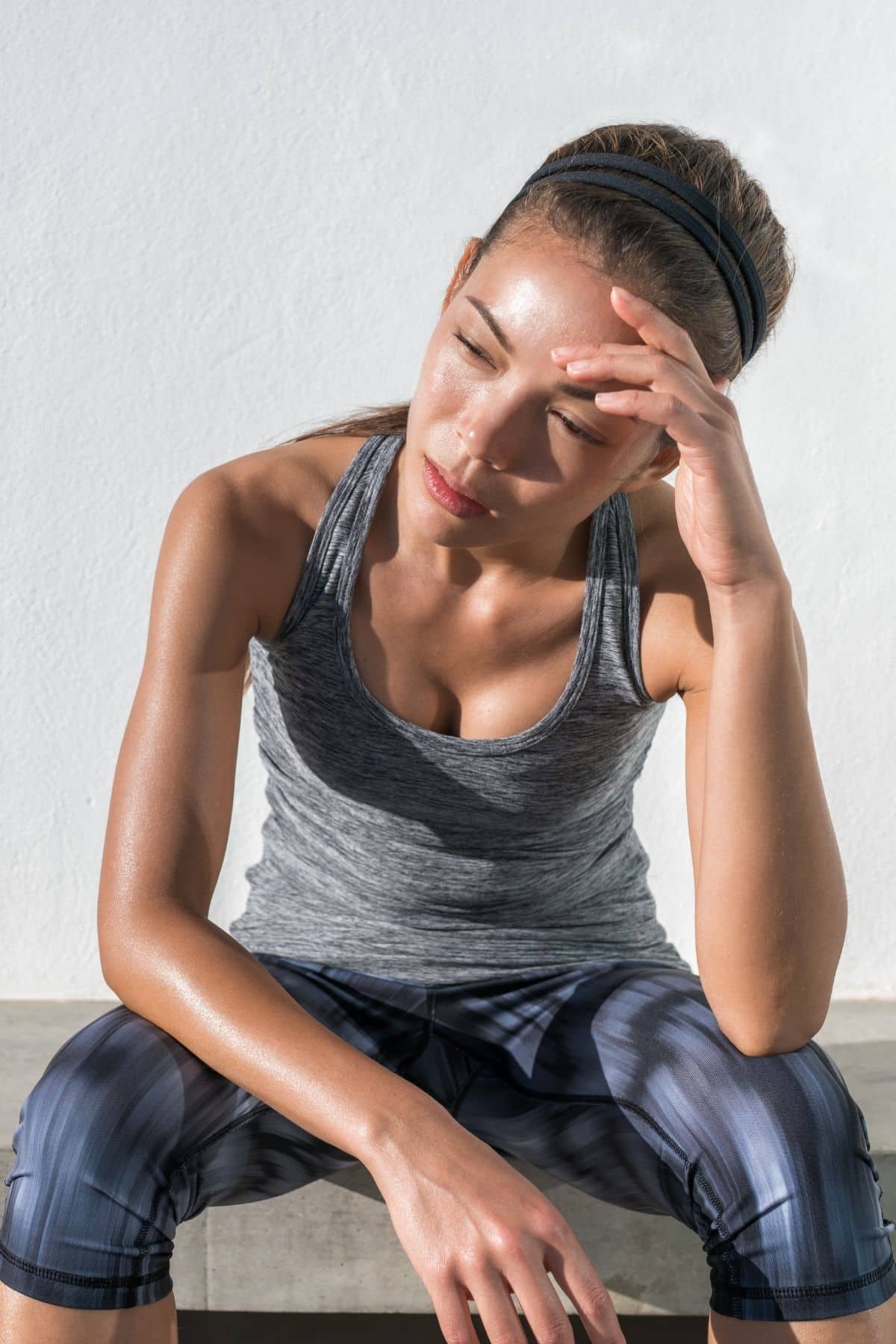 7. You Might be Fighting an Infection
Most of us have infections that our immune systems keep at bay. For example, did you know that 95% of adults in the US have been exposed to Epstein-Barr virus?
It's normal to have been exposed to viruses, but they can certainly lead to unexplained fatigue if they start to replicate and the immune system can no longer manage them. Some viruses that have been linked to a disorder known as Chronic Fatigue Syndrome including Epstein-Barr virus.
If you suspect you are fighting an infection from a virus, it's important to work with a qualified healthcare practitioner to do the proper lab testing, plus develop a health plan.
8. You Have Food Intolerances
Food interolarances are different from food allergies. An intolerance can show up anywhere from immediately ingesting a suspect food, to days later. The symptoms can be really wacky, too, including skin rashes, restless leg, headache, fatigue, and many more.
The two best ways to know if you're experiencing food sensitivities are to do an elimination diet or to do food sensitivity testing. You can also try a gluten-free and dairy-free diet to reduce two of the top major allergens.
After I did food sensitivity testing, I found out I am severely reactive to ginger and tomatoes, two well-known health foods. I started sleeping better and feeling less tired once I stopped eating foods that didn't work well for my individual needs.
9. Your Iron Levels Are Low
Iron is necessary for optimal health. Low iron levels have been shown to cause fatigue, with or without clinical anemia. Iron is important because it helps us transport oxygen from our lungs throughout our body in our blood. It also helps our muscles store and use oxygen.
Factors that can contribute to low iron in the body include not eating enough iron-containing foods, lacking the cofactors needed for iron absorption, heavy menstruation, pregnancy, certain medications, and overconsumption of diuretics (coffee, tea, alcohol, soft drinks, and sugary fruit juices).
Low iron not only contributes to fatigue, but it can also affect memory and mental function. When iron levels are too low for too long, a person can develop anemia which will cause fatigue and many other very unpleasant symptoms.
The best sources of iron come from nutrient-dense foods like grass-fed beef, wild-caught shellfish, and organic spinach. It's also a good idea for women of child-bearing age to take a daily iron supplement (this is a good one).
A simple blood test for ferritin can help determine if you're at risk for low-iron related fatigue. See all the best vitamins for women who are of child-bearing age.
10. You Aren't Practicing Enough Self-Care
A lot of people are always on the go these days overworking themselves to the point of exhaustion. It's important to take a break every once in a while and dedicate some much needed time to self care.
Some of my favorite forms of self care are taking moderate walks in nature, meditating, practicing yoga, or just taking a day off.
Not taking time to relax keeps you in a fight and flight state of mind, which is a major stressor and adrenal taxer. If you find yourself losing interest in activities that usually energize you, then you probably need to take a break. Make yourself a priority and remember to breathe every now and then. It'll give you an energy boost and allow you to rest a bit.
FAQs
Why do I always feel sleepy?
The most obvious reason is that you're not sleeping well enough or long enough. Make sure you're going to bed early enough that you can stay in bed at least 9 hours. This should help make sure you're getting at least 8 hours of full sleep time, plus a little wiggle room to account for time to fall asleep and some time if you wake up in the middle of the night.
How can I stop feeling tired?
This answer will be different for everyone, but the bottom line is that you need to identify the causes of your fatigue. The possible reasons listed below should be a good starting point, but you should probably talk to your healthcare provider about your fatigue if it lasts longer than a few weeks.
My Experience
As an example, I had to switch doctors to find someone who would take me seriously when I complained about feeling tired. It made all the difference to have the right practitioner who listened to my concerns, the right lab tests, and the right person to interpret them.
Once I figured out some of the reasons I was tired all the time, I was able to make some simple changes. Now, I sleep better and wake up feeling refreshing and ready to take on the day.
Other Articles About Fatigue & Energy
Conclusions
If you're experiencing fatigue that you just can't shake, it's important that you consider what might be the cause. You don't want to feel tired all the time because it will keep you from experiencing all the best that life has to offer.
Note: this post is for informational purposes only and is not intended as medical advice. Please consult your healthcare provider for recommendations related to your individual situation.
If you like this post, consider following me on social media so we can stay connected. I'm on Facebook, Pinterest, Instagram, and YouTube!
This post may contain affiliate links which won't change your price but will share some commission. We are participant in the Amazon Services LLC Associates Program, an affiliate advertising program designed to provide a means for us to earn fees by linking to Amazon.com and affiliated sites.