25+ Best and Worst Vegetables for Picky Eaters
This post may contain affiliate links which won't change your price but will share some commission.
It can be challenging to make healthy meals when you have a picky eater in the house. Some kids, young adults, and even grown-ups seem to have a persistent aversion to eating veggies.
Here is a helpful guide to the 25 best vegetables for picky eaters and tips on how to prepare and serve vegetables in ways they will enjoy!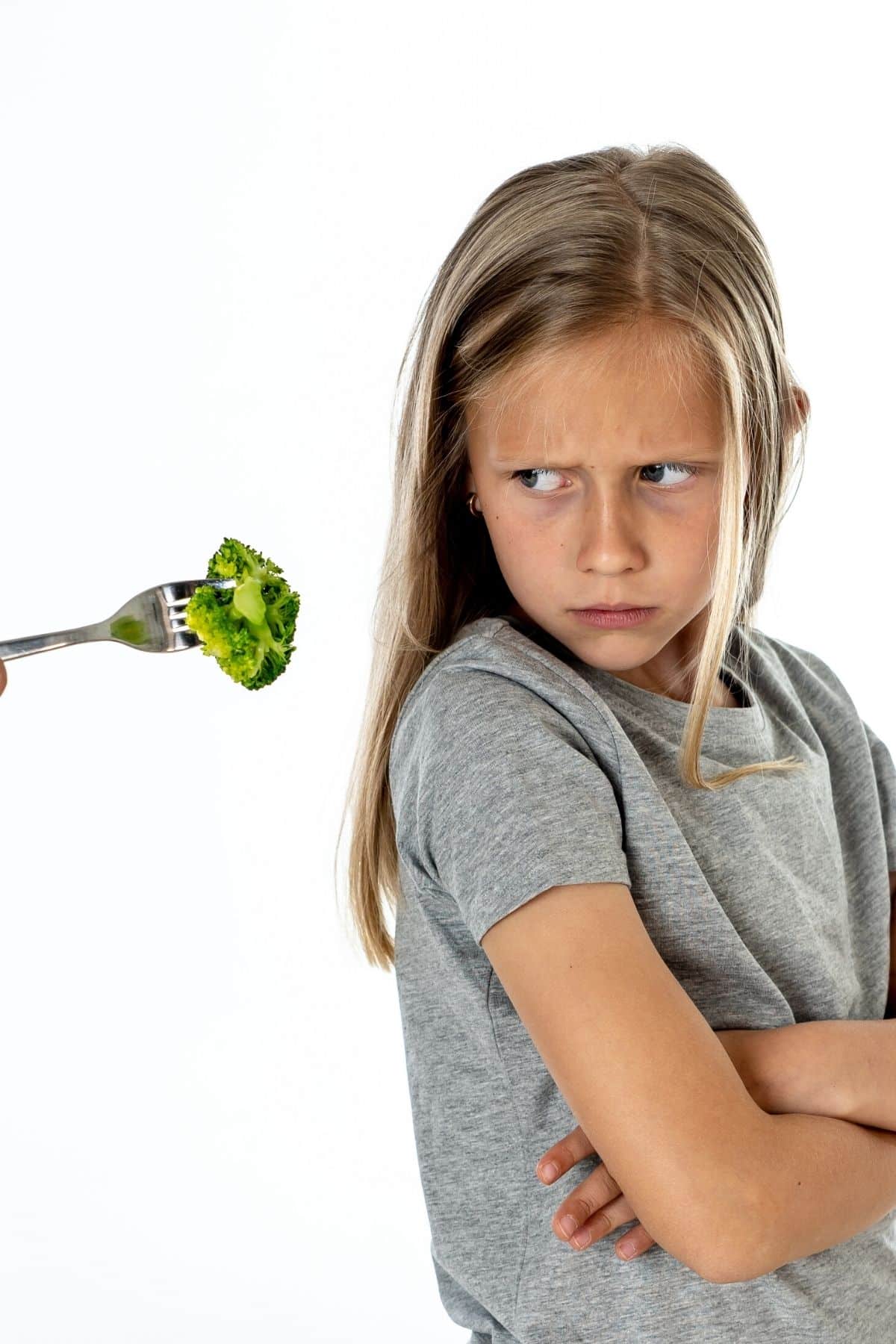 Reasons for Pickiness
Pickiness in young children is understandable as they get used to eating different foods. Experts say it can take kids up to ten times of trying a food to "come around" and enjoy it.
Kids (and even grownups) aren't always excited to try something new, especially when it is green and healthy! Vegetables have a wide range of tastes, some that might even taste like the dirt they grow in for some people.
Have you heard of a supertaster? Some people are born with extra taste buds. You might think this is a good thing, but those extras often latch on to the bitterness in foods, which means vegetables can be extra yucky! Keep this in mind for picky kids.
One very important rule to keep in mind is not to force your kids to eat foods that they don't like. According to the Ellyn Satter Institute, the parents are in charge of "what" foods are given the children, but the children are in charge of "if and how much" to eat. This ensures that children grow up with a good relationship to food and learn to respect their hunger cues.
25 Best Vegetables for Picky Eaters
Even if you're convinced your kiddoes or resident picky-eater won't eat veggies, it's worth keeping up the cause. You want to install healthy habits in your children as they grow. It's also important that they get the important micronutrients and antioxidants in vegetables to keep them healthy and strong.
This list includes 25 of the best vegetables to try and serve picky eaters, plus some ideas for how to prepare them. While some vegetables are best served raw, others taste better when they are roasted. While some picky eaters are sensitive to the bitterness of some veggies, others are sensitive to textures. Feel free to get creative with how you prepare and present vegetables.
1. Carrots
Carrots are such a great vegetable for picky-eaters due to their high natural sugar content. Carrots are best served raw as they tend to get mushy when cooked. Carrots are also great for serving with dipping sauces like ranch dressing, peanut butter, or hummus.
They are affordable, plentiful, and are nearly always in season. You can also try shredding carrots or slicing them thinly to change up the texture and make them more appealing to even the pickiest eater.
You can also try this recipe for Carrot & Cucumber Juice which is naturally very sweet.
2. Cucumbers
Cucumbers look great when you peel alternating stripes into them before slicing. This will also help people get past the idea of eating vegetable skin.
You can also notch your cucumber slices to look more like flowers, which is great for making your vegetable tray shine. They have a high water content so are perfect for hot summer days.
Another recipe you might want to try is this chilled Strawberry Cucumber Soup which is essentially a strawberry smoothie with cucumber and coconut milk.
3. Celery
Besides the taste, many people don't like how tough celery can be with all the strings. Did you know you can peel celery? Go ahead and peel those strings off the outer part of the stalk before cutting into sticks.
Kids especially will love them filled with cream cheese or nut butter and then dotted with a few raisins or mini chocolate chips. You can also try making celery juice which you can hide in the base of a smoothie or water down a bit to give to picky eaters.
4. Sweet bell peppers
Bell peppers have a super mild flavor. If you think you don't like them, go ahead and try a different color as I think they all have a slightly different taste. You can also buy mini peppers which are perfect for "stuffing" with dips that kids like.
5. Butternut squash
Squash has a fairly mild flavor and you can bring out some of the sweetness by roasting it once diced. It's also a great option to add to risotto or cooked rice as the creaminess can help mask some of the flavor.
This is a hard one to prepare yourself, so feel free to look for frozen or already diced versions in the produce section of the store. Or, you can make your life really easy and make Instant Pot Butternut Squash.
Picky eaters usually love this recipe for Air Fryer Butternut Squash with Cinnamon. If not, then you can try adding cooked butternut squash to a smoothie to help cover the flavor.
6. Jicama
Jicama is pretty mild and has a texture like apples. If you've never tried it, then be sure to look for it in the refrigerator section of your local grocery store (either peeled or unpeeled).
Just like how carrots can taste different depending on how you slice them, go ahead and present jicama in different ways. Peel it first, and then you can slice, dice, or julienne to eat plain with hummus or add to a tossed salad. Serve jicama with creamy dips to help make it even more palatable.
7. Fennel
The bulb of the fennel plant has a mild licorice flavor to it. The major benefit of fennel is that it has zero bitterness to it.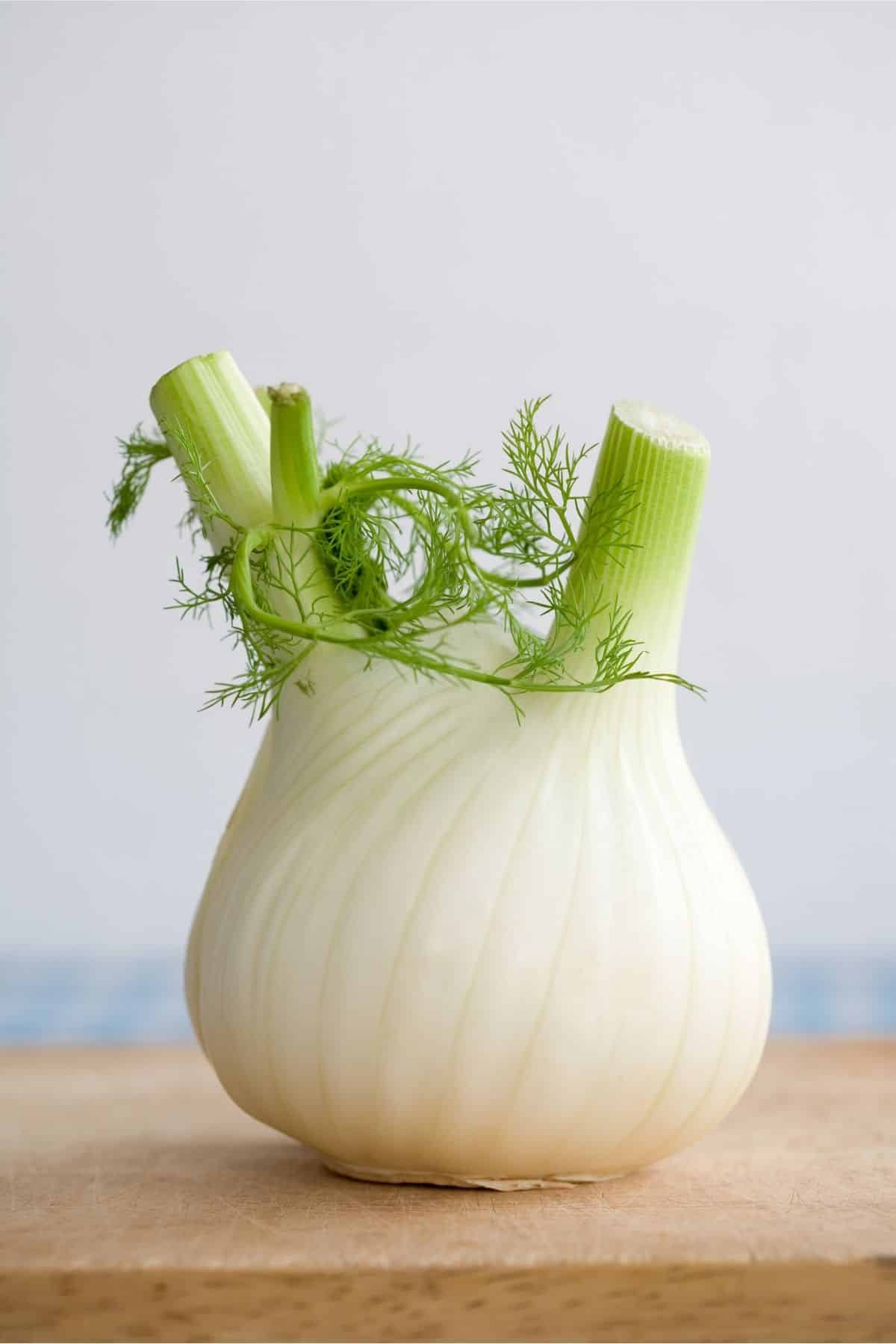 You can eat fennel raw but many picky-eaters aren't fans of the raw flavor. It is very easy to slice fennel and cook it low and slow on the stove exactly like caramelizing onions, which reduces some of its unique flavor and brings out its natural sugars.
8. Spinach
Spinach is one of the best greens to hide in a smoothie. It will change the color of your smoothie to green or even a muddy brown depending on what fruits you add, but I promise that picky kids don't even notice the taste of spinach when downing their drink!
Check out my The Ultimate Guide to Making Green Smoothies or my entire index of healthy smoothies.
9. Mushrooms
Mushrooms range in shapes and flavors. Most are not bitter at all.
White button mushrooms are super sturdy and perfect for dipping in homemade ranch or slicing onto a green salad.
Mushrooms are also great when they are sliced and caramelized on the stove. These are perfect for topping cooked proteins like steak or chicken. Cooked mushrooms can also be tucked into a wrap.
10. Baby bok choy
Baby bok choy is perfect for stir frys. The bulb has a crisp flavor without bitterness and the leaves/tops wilt nicely. They will take up sauce well so don't be afraid to add them to the wok.
Chop the baby bok choy finely and it will hide well in rice dishes.
11. Delicata squash
Delicata squash is a winter squash and usually can be found at stores starting in the fall. It's similar in flavor to acorn squash or butternut squash, but even sweeter.
One of the best ways to prepare Delicata Squash is to wash well, remove the seeds, and slice into half-circles. Then simply roast it in the oven (or make Air Fryer Delicata Squash).
You can even add a touch of honey or brown sugar for a sweet treat. They do have a thinner skin than most winter squash, so go ahead and eat some of the peel if you want for added fiber.
12. Zucchini squash
Zucchini has a high water content, so keep that in mind when you are using it. You can dice it and use in a dish like ratatouille, or slice it larger and add it to your sheet pan of roasted veggies toward the end of cooking.
Zucchini or summer squash is also fun to use it as a "boat" instead of bell peppers with your favorite dinner stuffing like rice and meat. And, of course, zucchini can be shredded and baked into breads, cookies, or even brownies!
See my recipes for Zucchini Strawberry Smoothie and Gluten-Free Zucchini Bread.
You can peel the zucchini before cooking it to help reduce any veggie-flavor and potentially make it easier to digest.
13. Green peas
Green peas are naturally sweet, and one of the vegetables your kids might be interested in eating straight out of the garden! Growing your own is a sneaky way to get kids interested vegetables. Have them help out with the harvest.
Try petite, regular, frozen, or even canned if you can find organic without added sodium. Every way you prepare them has a different taste and texture and you might hit on a new favorite.
14. Romaine lettuce
Romaine lettuce is a step up from iceberg. It has a clean, crisp flavor, and a beautiful green color. Most picky-eaters generally gravitate toward romaine lettuce since it is so mild.
It's also pretty sturdy so it's perfect to use as a wrap in place of a tortilla. Use a sharp knife to cut out the "spine" so you can easily fold it around your filling. See my recipe for Ground Chicken Lettuce Tacos with Mango Salsa.
Did you know you can also grill wedges of romaine? Remember that serving veggies in new and unique ways is a tried and true technique for getting kids and picky-eaters to try something new.
15. Cauliflower
Cauliflower is one of the most versatile foods out there today. Not only is it great raw or steamed, you can "rice" it or mash it to take the place of rice or potatoes. Or, for picky eaters, feel free to make a batch of mashed potatoes or white rice with just a few cauliflower florets added in.
Because of its popularity, it is easy to find it already prepared in various cuts in the produce section or freezer aisle.
See my recipes for Cauliflower Smoothie and Instant Pot Cauliflower Mash.
16. Butter lettuce
Butter lettuce is what is used when you think of "lettuce cups." It naturally is in a small ball shape when it grows, so the leaves are already cupped for filling with Asian flavors.
Butter lettuce is very mild and even has a slightly sweet flavor so it's perfect for picky eaters. You can use butter lettuce in a simple salad or try using it as a wrap filled with tuna salad.
17. Grape tomatoes
As the name implies, grape tomatoes are perfectly poppable like grapes. They have a super sweet flavor and are great to top salads with. They also have a sweet flavor when roasted, which means they make a great pasta sauce all on their own.
Roast with some olive oil and once they burst, stir them into some angel hair pasta.
18. Baby kale
Baby kale isn't quite as tough or bitter as regular kale. Rip it off the stems and then get in and massage it with your hands in the salad bowl. This takes away some of the tough texture. Chopping it super small helps hide it in salads or other dishes. You can also add baby kale to smoothies to help hide it.
See my recipes for Kale Berry Chocolate Smoothie, Air Fryer Kale Chips, and Sweet Kale Salad with Creamy Dressing.
19. Sugar snap peas
If you weren't aware of the difference, snow peas are the flat pods with tiny peas often found in stir fry dishes. Sugar snap peas are fatter pods where the peas can develop more, and are easy to grow in a backyard garden.
Make sure and remove the strings from the pods before eating raw or cooking. Serve with some fresh lemon juice for a simple steamed veggie treat.
20. Asparagus
Asparagus is very easy to prepare – it will naturally snap where the tough end meets the tender stalk. Toss with some olive oil and roast until the flowering end begins to brown, but not burn. They are super soft and have a sweet flavor that kids should enjoy.
Sprinkle the top of the roasted asparagus with Parmesan cheese or nutritional yeast and enjoy warm. Or, try my simple Instant Pot Asparagus recipe.
21. Artichoke Hearts
Artichokes take some preparation, but are tender to bite once made correctly. Try my recipe for Instant Pot Artichokes for the easiest preparation.
Artichoke hearts are neutral in flavor, non-bitter, and can be chopped into small bites for kiddos. Try this recipe for Gluten-Free Pasta Salad with artichoke hearts and feta cheese.
23. Potatoes
White potatoes are a great vegetable for picky eaters because they are so versatile and neutral in flavor.
You can try different varieties of potatoes. Fingerling potatoes come in red, purple and white and are easy to roast whole. Yukon gold make the creamiest mashed potatoes. While they can be starchy and high in carbs, they still bring a lot of vitamins to the table.
See how to make Instant Pot Mashed Potatoes and Instant Pot Red Potatoes.
24. Eggplant
Eggplants are known as Aubergines in the United Kingdom. They have a meaty texture and are used in many vegetarian dishes to help add texture to various recipes.
Use eggplant in pasta, ratatouille or mash it up into Baba Ganoush for a classic dip alongside hummus. It's pretty sneaky to use a vegetable as a dip for…other vegetables!
25. Okra
I know, I know. Okra gets a bad rap for being slimy. Prepared correctly, it adds a fun taste and texture to your soups and stews. It also roasts nicely and looks so pretty when cut into "rounds" as it is almost a star shape.
Okra is not bitter and is also delicious when made into pickles.
26. Beets
Beets are a naturally sweet vegetable that get even sweeter when roasted. Try making Instant Pot Beets and then blending them into a Strawberry Beet Smoothie! Your kiddos will never guess there are vegetables in this healthy drink.
You can also use beet powder to add nutrition to any food like oatmeal, pancakes, or baked goods.
Bonus Tips
If you truly cannot get your child or resident picky eater to eat a whole vegetable, you may try buying vegetable sprouts like alfalfa sprouts or broccoli sprouts. While sprouts can be strong in flavor, kids may gravitate to the fun texture of sprouts.
Remember that it's not just flavor or bitterness that kids are sensitive to. Some people dislike the texture of certain foods, so you can try changing up the texture by cutting a vegetable into very thin slices or even cooking and pureeing veggies so they can be hidden into other recipes.
Don't give up but also don't make the dinner table a negative experience. Try to be as patient as possible and do your best to help your children learn healthy eating habits that include a variety of foods.
Worst Vegetables to Feed Picky Eaters
If the veggies above are the best to serve picky eaters, you might be wondering what are some of the worst vegetables to try and feed picky eaters? Bitterness definitely comes into play here, as supertasters are very sensitive to any bitter flavors.
So, unless you can roast the vegetables or hide these vegetables in a smoothie or another recipe like a fritter, then it's likely best that you avoid serving the following vegetables.
But, don't give up hope! You can certainly keep these veggies in the house and make them for yourself. After all, modeling the behavior of eating (and enjoying!) your vegetables is one of the best ways to encourage healthy behaviors in your children.
Avoid Serving These Vegetables to Picky Eaters
Mustard greens – these are just too spicy for most people, especially picky eaters. They are hard to disguise and are best skipped.
Brussels sprouts – these little cabbages have a strong flavor that picky eaters dislike. They can be bitter.
Cabbage – this is another naturally bitter vegetable that many adults dislike. The smell of cooked cabbage is enough to scare most picky eaters, while finely chopped raw cabbage may be less offensive.
Radishes – raw radishes are spicy and strong in flavor. Try pickling them or roasting them if you want to attempt to serve them to your picky eaters.
Onions – onions are notorious for offending picky eaters. Onions are less strong when cooked, but then they develop a slimy texture that others dislike.
Watercress – this is a very healthy leafy green that has a very strong flavor.
Broccoli – while some kids eat broccoli no problem, others truly despise it. Broccoli has a lot of natural bitterness to it. You can try roasting it to reduce the bitterness. Or, you can steam it, freeze it, and sneak it into a Strawberry Banana Chocolate Smoothie and your kiddo may not even know it's there.
Conclusions
I hope you find this guide to the best and worst vegetables for picky-eaters helpful. As a former picky-eater, I know firsthand that it's important not to give up trying to love vegetables. With time and patience, your picky-eater might just end up having a few favorite vegetables.
If you like this post, consider following me on social media so we can stay connected. I'm on Facebook, Pinterest, Instagram, and YouTube!
Note: this post is for informational purposes only and is not intended as medical advice. Please consult your healthcare provider for recommendations related to your individual situation.
This post may contain affiliate links which won't change your price but will share some commission. We are participant in the Amazon Services LLC Associates Program, an affiliate advertising program designed to provide a means for us to earn fees by linking to Amazon.com and affiliated sites.