Best Vegan Ice Cream Recipes
This post may contain affiliate links which won't change your price but will share some commission.
You're going to love this round-up of the best homemade vegan ice cream recipes, including popsicles, sorbet, pies, soft serve and more, all made dairy-free, creamy, and so delicious. From mango to strawberry to peanut butter and chocolate flavors, there's something for everyone!
With warm weather underway, I'm so excited to share the best vegan ice cream recipes, plus popsicles, soft serve, and sorbet.
With everything from chocolate and strawberry to fancy vegan ice cream desserts, there is literally something for everyone in this homemade ice cream recipe round-up.
Vegan Ice Cream Recipe Tips
Believe it or not, but you don't even need an ice cream maker to make homemade vegan ice cream. Instead, you can use the freezer method as I've detailed in this post on how to make ice cream without an ice cream maker.
However, if you prefer to use a machine, then the ice cream maker that I use is this Cuisinart frozen yogurt-ice cream model that sells for less than $70 on Amazon.
In general, you'll need about 2 cups of liquid to make the base of your ice cream recipe. You can simply use a 15-ounce can of full-fat coconut milk for most recipes.
But, if you want a lighter version without sacrificing too much in terms of texture and mouthfeel, you can always dilute the coconut milk by mixing it with almond milk or oat milk.
Feel free to get creative, experiment with different flavors, and enjoy the results. Don't miss these yummy gluten-free waffle cones either.
Now, onto the recipes!
Best Vegan Ice Cream & Frozen Dessert Recipes
This is one of the most popular recipes on Clean Eating Kitchen. This dairy-free mango ice cream is a winner. It's not only beautiful, but it is absolutely delicious and one of my favorite too.
You can use fresh or frozen peaches in this delicious recipe. It is creamy and such a nice creamy summer dessert.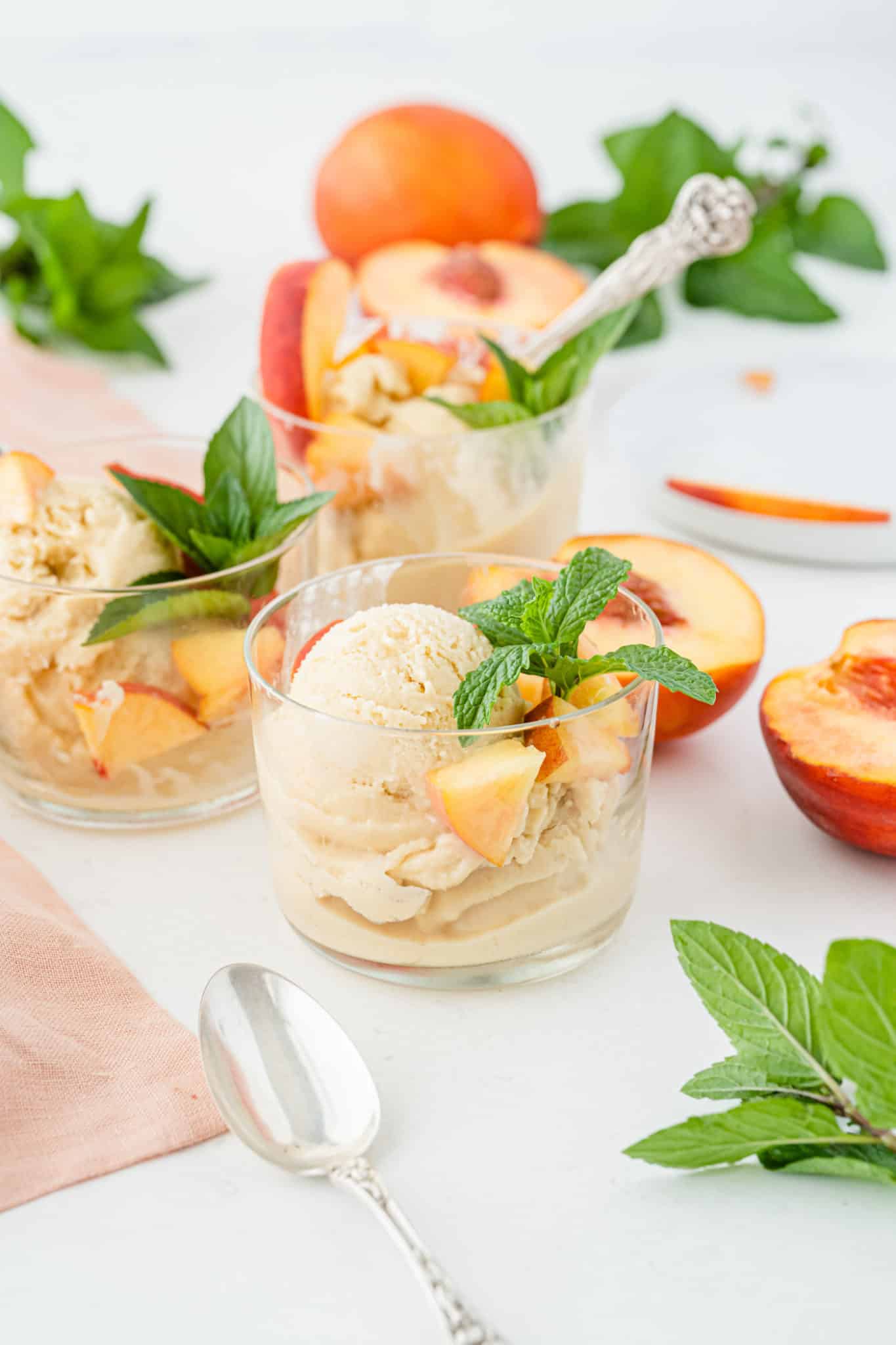 You don't have to wait for fall for the delicious flavors of pumpkin pie spice. This vegan ice cream recipe includes pumpkin puree and coconut milk.
This is a super easy 3-ingredient vegan soft serve recipe that can be made in 10 minutes or less. This is one of my favorite recipes as well!!!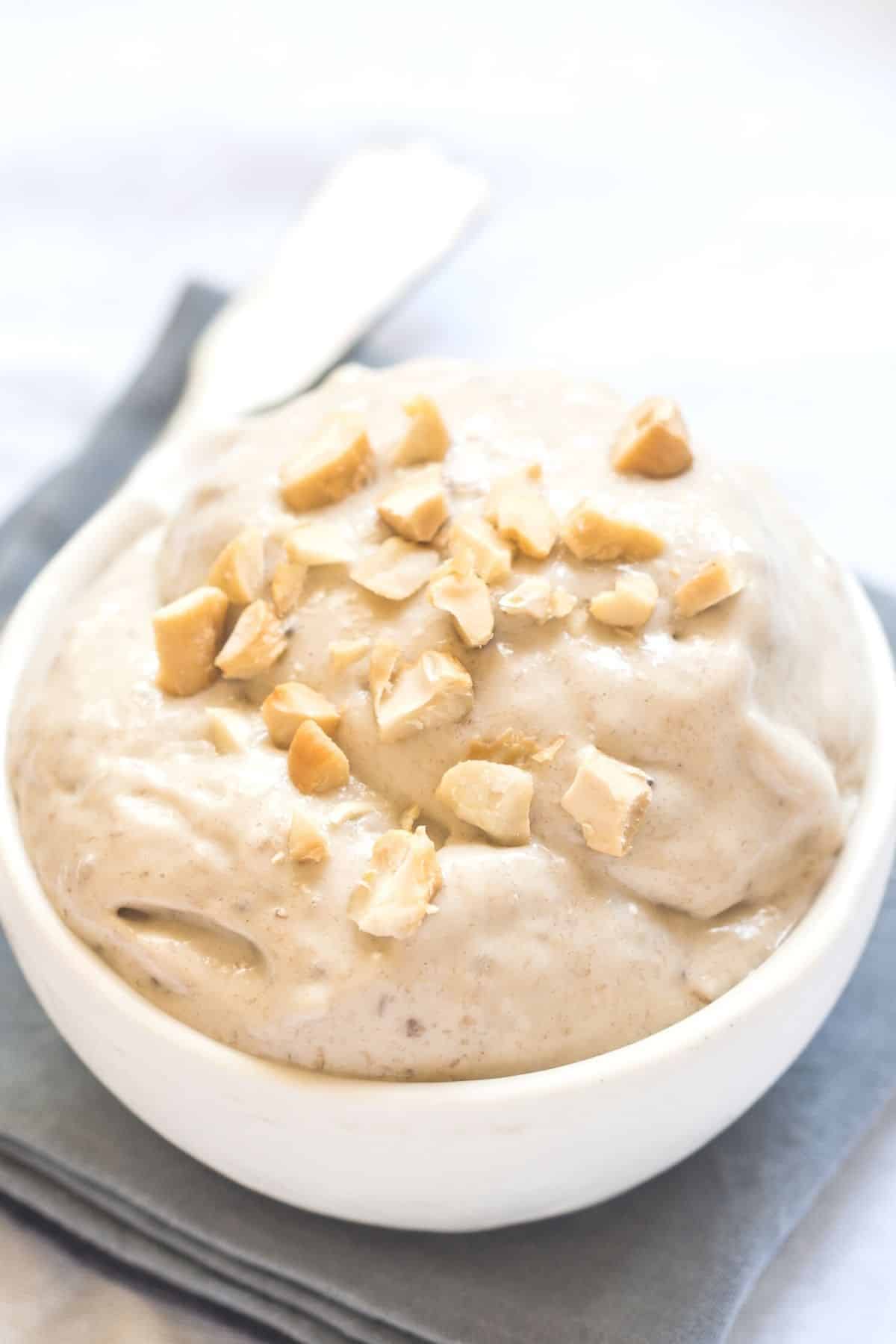 This Vegan Chocolate & Peanut Butter Soft Serve Ice Cream recipe is an easy and healthy way to enjoy frozen dessert with no added sugars. Make this dairy-free treat in 10 minutes or less!
You're going to love this lovely Strawberry Ice Cream recipe that uses coconut milk as the base. This is one of my favorite vegan ice cream recipes of all time!
These healthy popsicles include frozen sweet cherries and coconut milk. They are creamy and so delicious!
This 2-ingredient recipe includes pomegranate juice and fresh lime. You won't believe how easy these sugar-free popsicles are to make. Both kids and adults love these!
These healthy popsicles are full of flavor and nutrition, with no added sugar.
This creamy treat is reminiscent of the ones from the store, but so much healthier.
You only need three simple ingredients to make sorbet that is light, sweet, and totally yummy!
Yep, you heard me right, you can make ice cream out of avocados! The creamy mouthfeel of avocados replaces dairy in this chocolate delicious delight.
Okay, a milkshake isn't exactly ice cream, but it falls into the category of cold and refreshing summer desserts. You can't go wrong with this healthy version of a strawberry milkshake, but made with no dairy.
This banana-based soft serve is a perfect replacement for traditional cookies and cream. You can make this in just about 10 minutes!
Conclusions
Whether you're looking for vegan ice cream recipes, popsicles, or other frozen treats, then I hope you found this round-up helpful. Even if you're on a dairy-free diet, you don't have to miss your favorite frozen treats.
Don't miss my round-up of the best Dairy-Free Breakfast Smoothies!
If you like this post, consider following me on social media so we can stay connected. I'm on Facebook, Pinterest, Instagram, and YouTube!
This post may contain affiliate links which won't change your price but will share some commission. We are participant in the Amazon Services LLC Associates Program, an affiliate advertising program designed to provide a means for us to earn fees by linking to Amazon.com and affiliated sites.