13+ Clean Eating Breakfast Ideas
This post may contain affiliate links which won't change your price but will share some commission.
Even when you have to get out of the house early in the morning, it's important to make sure all family members gets a healthy and solid breakfast. This article includes 13 healthy and clean eating breakfast ideas for school that are all quick and easy. These ideas are great for kids, students, and adults.
Healthy Breakfast Blueprint
Meals are considered balanced when they include foods that contain carbohydrates, protein, and healthy fats. These are the major macronutrients that make up our foods.
Having balanced meals helps keep blood sugar and energy levels stable, and also ensures that we get a balance of micronutrients like antioxidants, vitamins, and minerals.
This can be as easy as serving a cooked egg with some toast, sliced avocado, and fruit on the side. So in this example:
Egg = protein
Toast = carbohydrate
Avocado = healthy fat
Fruit = carbohydrate
Once you start thinking about meals in this way, it becomes easier to come up with ideas for breakfast, lunch, dinner, and snacks.
The only real difference between healthy ideas for children versus adults is that children need fewer calories and may be pickier about certain foods than adults.
Eating the Rainbow
Serving a variety of foods to both children and adults is also important. Variety helps our bodies get everything they need.
Consider the idea of "eating the rainbow" where you try to include foods of all different colors. While you don't need to eat every color every day, try to buy vegetables of all different colors and enjoy them throughout the week.
Eating a variety of foods help us get all of the micronutrients that we need for optimal growth, brain function, and more. Both kids and adults should try to eat a variety of clean eating foods throughout the week.
If you have picky eaters in the house, you might want to refer to my list of the Best Vegetables for Picky Eaters.
Healthy Breakfast Ideas
In today's article, let's just focus on clean eating breakfast ideas. Most of these recipe ideas can be prepped or even prepared completely ahead of time. This means that mornings are less stressful for everyone.
You can find recipe links for each idea below. These healthy breakfast recipes are great for kids, students, and adults…or adults who act like kids! 🙂
See my list of the best appliances for clean eating.
1. Chia pudding
Chia pudding is best made the night before, so it's perfect for breakfast meal prepping.
The best ratio for making chia pudding that is the right consistency is ¼ cup of liquid to 1 tablespoon of chia seeds. You can use any type of milk for the liquid: dairy milk, plant milk, or coconut milk.
You can also add berries, sliced banana, or a teaspoon of honey to help add sweetness. Check out recipes for Peanut Butter Chia Pudding, Sugar-Free Vanilla Chia Pudding, or Pumpkin Spice Chia Pudding.
2. Unsweetened yogurt with berries and granola
Yogurt is very healthy for most kiddos and adults – it contains protein and fat to get a good start to the day. Focus on Greek yogurt for more protein. Make sure to read the ingredient list to avoid unnecessary ingredients.
Unsweetened is a good word to look for on the front of any yogurt container, but be aware that often "no sugar added" can be code for artificial sweeteners. You want to look for artificial colors and sweeteners as well as anything else hiding in there besides milk and active and live cultures.
Save money by buying a large tub once you find one you like, and make individual parfaits to everyone's liking. A simple recipe for a Greek yogurt bowl would be:
1/2 cup non-fat Greek yogurt
1/4 cup fresh or thawed frozen blueberries
1 tbsp blueberry fruit preserves (no sugar added)
1 tablespoon hemp hearts
2 tablespoons low sugar granola
3. Banana with peanut butter
This is a great on-the-go option for teenagers – you can add a glob to a partially unpeeled banana and hand it off when you say goodbye.
If you have a bit more time, you can dice up a ripe banana and then warm your nut butter a bit so it drizzles well. If your kiddo needs a bit more prodding to eat fruit, you can always add on a few mini chocolate chips as a treat.
5. Toast with deli meat
There are a lot of good options out there for healthier deli meats that don't contain nitrates/nitrites or added sugar. Add some grass-fed butter to your toast if you like, then top with meat.
If you have extra time, add egg and cheese (or avocado) for the perfect breakfast sandwich.
6. Egg cups
Think of egg cups (also called egg muffins) like mini frittatas or crustless quiche.
To make an egg cup, add your favorite protein liked diced ham or cooked bacon to a greased muffin tin. Add diced veggies and top off with beaten eggs with a touch of milk and salt and pepper. Bake the egg cups for 15 minutes at 350F.
Egg cups or egg muffins are great cold or reheated. They are a great protein-rich meal prep breakfast food. For a healthy carb source to go with these egg cups, try this recipe for Air Fryer Baby Potatoes.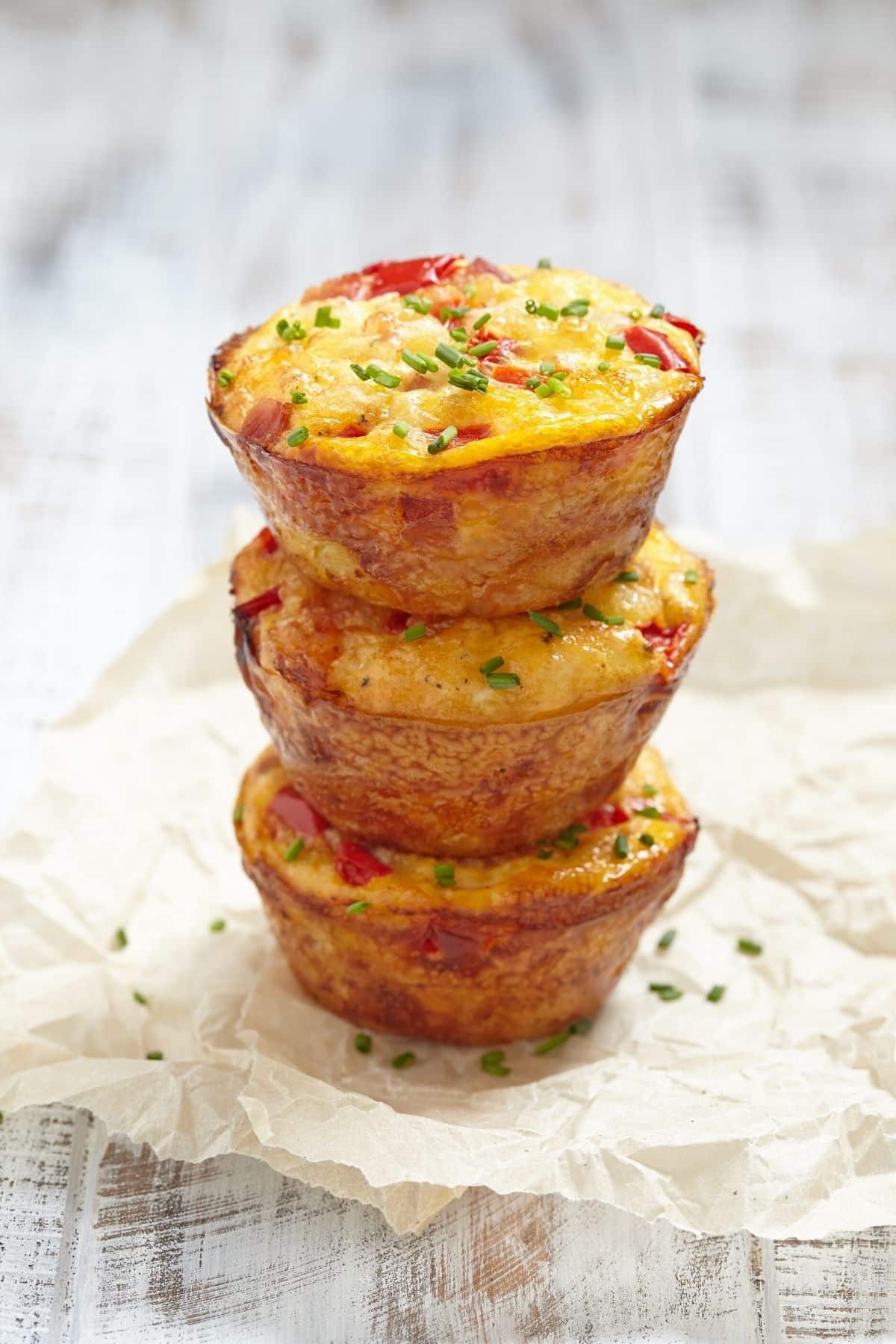 7. Protein pancakes
If you have a favorite pancake recipe, simply add a scoop or two of your protein powder to the batter. This is a great option for people who want to chew their meals and aren't fans of smoothies.
When you are pressed for time, there are also options you can grab at the store like Kodiak Cakes mix. Or, you can make your pancakes the night before, store them in an airtight container in the fridge, and re-heat them in the toaster oven.
You may also like these recipes for Oat Milk Pancakes, Pink Waffles, or Coconut Milk Pancakes. For even more protein, serve the pancakes with a side of Air Fryer Turkey Bacon. Or, for a special occasion, try these Gluten-Free Crepes.
8. Baked oatmeal squares
Baked oatmeal is an easy make-ahead breakfast. You can either mix up the "batter" and refrigerate until morning and bake it fresh, or bake ahead and chill the finished oatmeal.
Baked oatmeal is sturdy enough to be cut into squares to pick up and eat . These baked squares are also good for breaking up in a bowl and serving with warm milk, like granola. Avoid packets of oatmeal with excess sugar and make your own recipes with natural sweeteners (check out this recipe for Baked Oatmeal Squares).
Or, if your kiddos prefer muffins as opposed to squares, try a healthy muffin recipe like these Almond Flour Banana Muffins, Gluten-Free Flax Muffins, or these Banana Carrot Muffins.
And, believe it or not, but you can make healthy Banana Oat Cookies with very little sugar. Even the pickiest eaters love a good breakfast cookie.
9. Breakfast burrito
Do you like freezer cooking? Burritos are for you!
Cook up a large pan of scrambled eggs, and add some shredded cheese if desired. You can add whatever veggies you want here – just make sure they are diced up for easy eating, and also cooked well and drained if they are "wet" ones such as bell peppers or mushrooms.
Serve your mixture in a warmed-up flour or corn tortilla. Breakfast burritos are generally rich in protein and are so satisfying for long schoolwork-filled mornings.
To prep these up to several months ahead of time, wrap your finished burritos in parchment and freeze in a bag. Defrost for 24 hours in the refrigerator and then reheat to serve them warm.
10. Homemade granola with milk
Baking your own granola means controlling the ingredients. You can select your favorite natural sweeteners as well as using the nuts, seeds, and grains that fit your allergens or diet.
Not all granola needs to have oats! For kids who need to avoid grains, make a 100% nut or seed granola (check out my recipe for Air Fryer Granola).
Make sure you watch your serving size here when you are pouring a bowl to eat with milk or plant-based milk. While they are all high-quality ingredients, nuts can have a lot of fat and calories so you don't want to overdo it.
11. Vegetable & Egg Hash
For kids who are open to eating veggies at breakfast, consider making a breakfast hash with sautéed veggies and topped with a fried egg. This healthy breakfast option is low in sugar and a great way to get vegetables into your diet.
Use diced sweet potatoes which are naturally sweet. Check out my recipe for Sweet Potato & Apple Hash. Or, if you want a more traditional egg dish that can be cooked ahead of time and re-heated before serving, try this recipe for Gluten-Free Vegetable Frittata.
12. Overnight Oats
Overnight oats are one of the easiest breakfast dishes you can make. You literally just have to pour some rolled oats into a dish and cover with your choice of milk.
Place the dish into the refrigerator overnight. The next morning, stir the oats and top them with nut butter, fruit, or your choice of toppings. Check out my recipe for Overnight Protein Oats with Blueberries
More Healthy Articles & Recipes You Might Like
If you're looking to make healthy changes for your family, you might also want to check out these article and recipes:
Don't Miss These Clean Eating Resources!
Conclusions
While mornings might be rushed, don't skip breakfast! So many healthy options are fast or can be made ahead as grab-and-go meals. They are also great as snacks throughout the work day or when the kids get home from school and can't wait for dinner. I hope you enjoyed this round-up of the best healthy clean eating breakfast ideas.
If you like this post, consider following me on social media so we can stay connected. I'm on Facebook, Pinterest, Instagram, and YouTube!
About the Author: Carrie Forrest has a master's degree in public health with a specialty in nutrition. She is a top wellness and food blogger with over 10 million annual visitors to her site. Carrie has an incredible story of recovery from chronic illness and is passionate about helping other women transform their health. Send Carrie a message through her contact form.
This post may contain affiliate links which won't change your price but will share some commission. We are participant in the Amazon Services LLC Associates Program, an affiliate advertising program designed to provide a means for us to earn fees by linking to Amazon.com and affiliated sites.