Healthy Kitchen Gift Guide
This post may contain affiliate links which won't change your price but will share some commission.
This Healthy Kitchen Gift Guide including unique and practical gifts for anyone who loves eating healthy foods or who wants to eat healthier. There's something for everyone at every budget level on this list.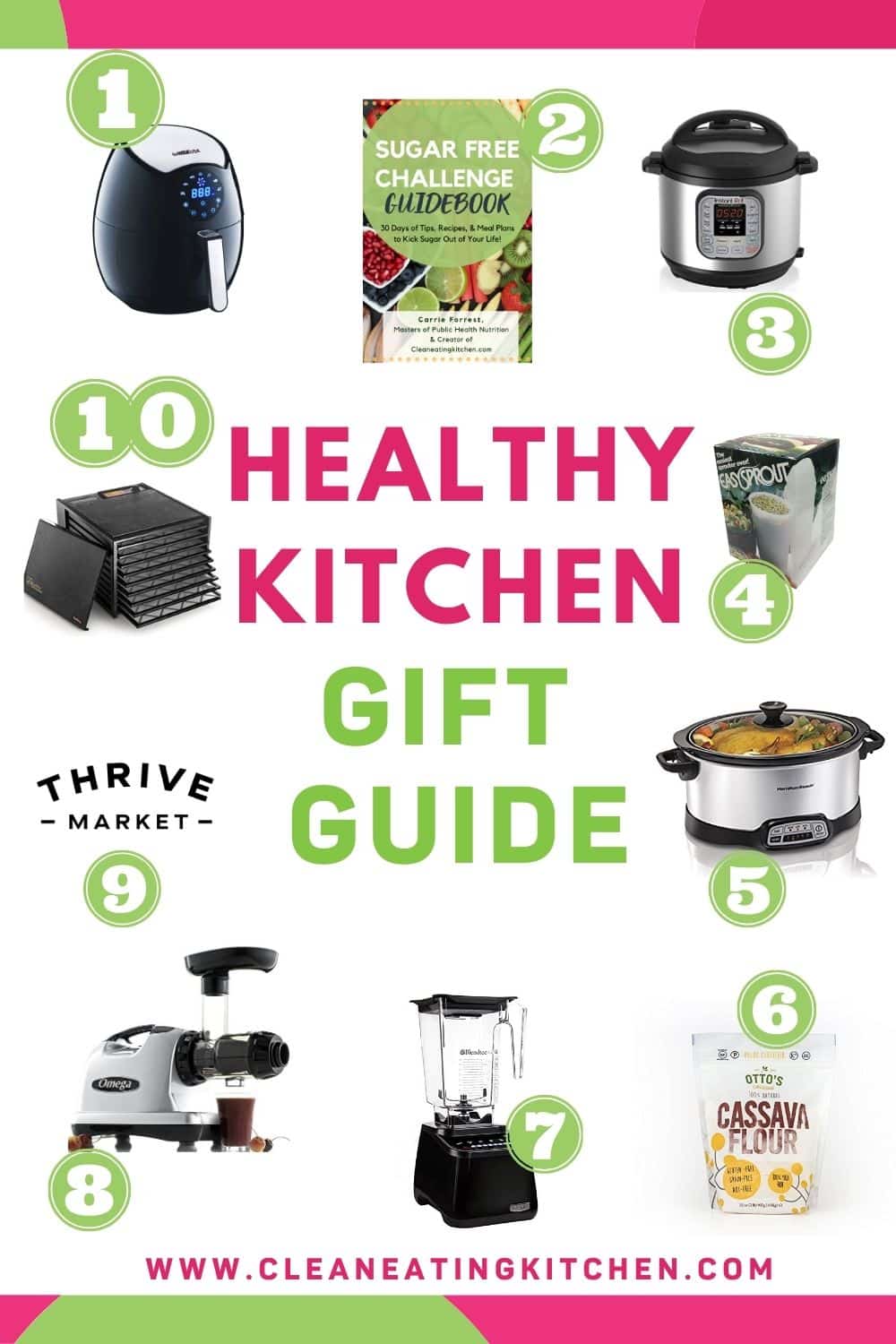 9 Healthy Kitchen Gifts
It sure has been another crazy year! While the holidays continue to be different, I'm sure we will be sharing gifts remotely at the minimum. So, whether you need a gift for a friend, something for a family member, or even something for yourself, I hope this list is helpful.
There are definitely some trendy gifts on my list, but I've also included some tried and true favorites.
I can't get enough of my air-fryer, and I have had so much fun learning how to use it (see all of my air-fryer recipes). An air-fryer is part of a healthy kitchen because it acts like a mini-convection oven. You can get crispy food like sweet potato fries with less oil than you would use in a regular oven.
Amazon rates this GoWise version as the best value for the money. It's less than $100 and a great buy. See my full list of the best air fryers under $100.
Tired of feeling addicted to sugar? It can be easy to overindulge especially at this time of year. Join my free Sugar Free Challenge with your purchase of the Sugar Free Challenge Guidebook.
The book includes tips, recipes, and meal plans to support 30 days of living without any added sugars. You can buy this for yourself or for a friend who wants support going sugar-free.
You've heard the hype, and I'm pleased to say it's all true. The Instant Pot is my #1 appliance for making healthy food. You've seen all of my healthy Instant Pot recipes and my meal prep Instant Pot cookbook, right?
I have two Instant Pots, the 6-quart version is the perfect size for most recipes. The mini 3-quart size is also great, and perfect for one or two-person families.
You might also like my review of the best ceramic cookware!
I use this handy device every week to grow broccoli sprouts on my kitchen countertop. Sprouts are so expensive to buy at the farmers' market or at the store. This device is my favorite method to easily make sprouts at home and save a lot of money as opposed to buying them.
If you're curious about broccoli sprouts, you might also like this article I wrote about the health benefits of broccoli sprouts and how to eat broccoli sprouts. This handy sprouter is the easiest way for sprouting broccoli.
The crockpot slow-cooker will always have a special place in my kitchen. I actually own three different-sized versions and still use them all, but the 7-quart is the most versatile and what I recommend for every kitchen.
See all of my healthy crockpot recipes, including my easy Mexican Crockpot Chicken and Rice.
Cassava flour is my absolute favorite grain-free and gluten-free flour. It's very versatile, mild in flavor, and just plain awesome. It is really great for people who have multiple food sensitivities or who are trying to avoid grains due to joint pain or autoimmune issues.
One of the most popular recipes on my site is my Cassava Flour Chocolate Chip Muffins. I only recommend the Otto's brand of cassava flour; other brands have a weird flavor or don't seem to bake correctly.
A good blender is a must-have for any clean eating kitchen. I use mine religiously every morning to make a green smoothie (see my recipe list of green smoothies for inspiration). I've tried several different brands of high-speed blenders and Blendtec is my current favorite for the best value for the money.
I've had my juicer for over 8 years and I really love it, especially during the summer when fresh product is so abundant or in the fall and winter when I want to increase my micronutrient intake to prevent getting sick. My most popular juice recipe is my Celery Cucumber Juice recipe. My Celery Lime Juice recipe is also very popular.
I have tried several different brands of dehydrators over the years, and the Excalibur is the ultimate choice for efficiency and price. This model is great because it has an auto shut-off timer. No need to set your alarm to turn off the device in the middle of the night.
Dehydrators are really fun for both sweet and savory recipes. An example of a great healthy recipe using the dehydrator is my Apple-Flax Cracker recipe. Another reader favorite is my Green Juice Pulp Cracker recipe.
Conclusions
I could go on and on with gift ideas for a healthy kitchen. The truth is, you don't have to have all the fancy gadgets, but they can make your life easier and more fun. So, my advice is to start with one or two of these items, and grow from there.
If you like this post, consider following me on social media so we can stay connected. I'm on Facebook, Pinterest, Instagram, and YouTube!
This post may contain affiliate links which won't change your price but will share some commission. We are participant in the Amazon Services LLC Associates Program, an affiliate advertising program designed to provide a means for us to earn fees by linking to Amazon.com and affiliated sites.