125+ Gluten & Dairy-Free Breakfasts (Ideas + Recipes)
This post may contain affiliate links which won't change your price but will share some commission.
Even if you're on a restricted diet for health reasons, you don't need to feel limited in your meal planning. In this blog post, I share 125+ ideas and recipes for gluten and dairy-free breakfasts. Find inspiration and actual recipes to make your breakfast planning easy, nourishing, and delicious!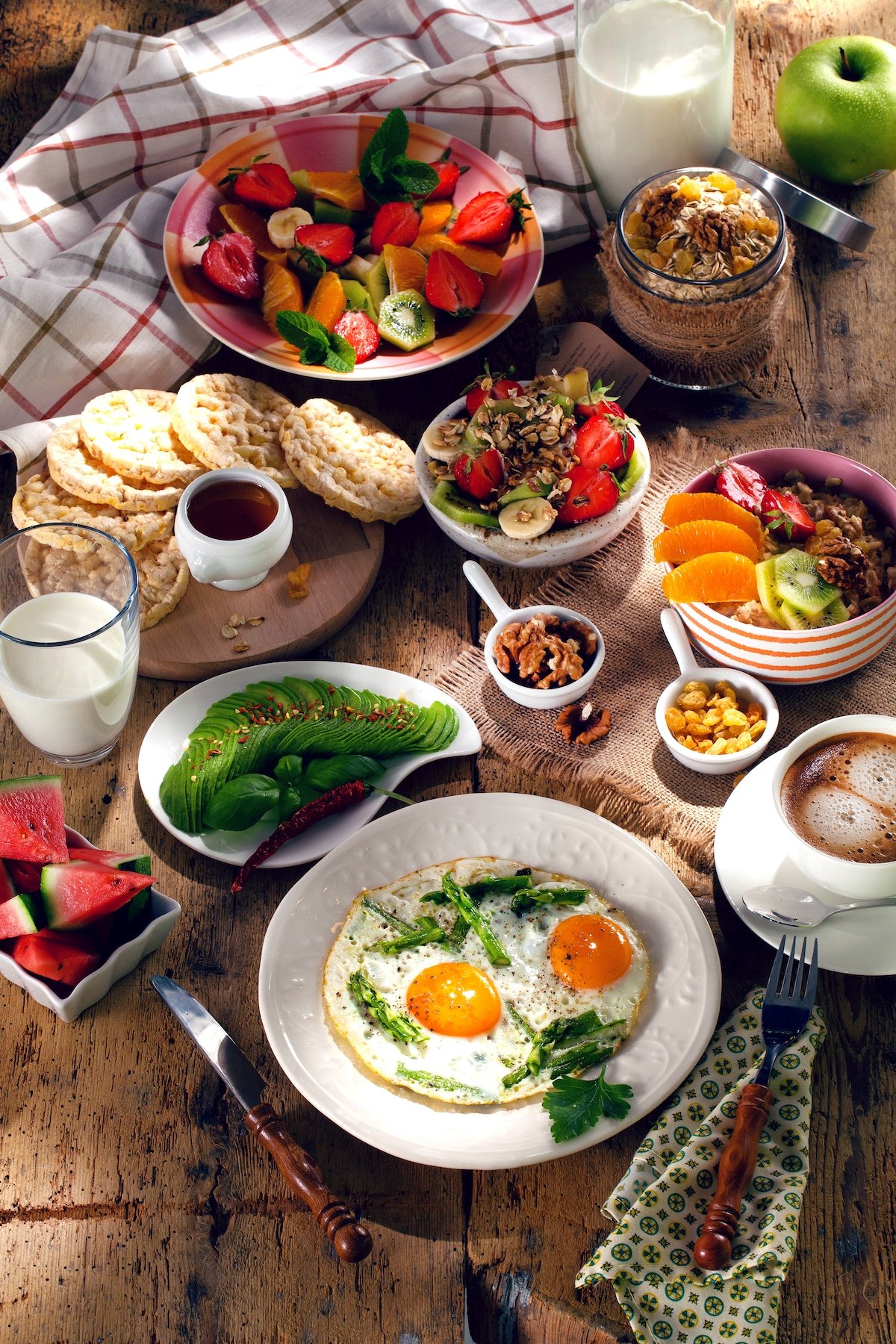 Gluten & Dairy-Free Breakfast Planning
I've been on a gluten and dairy-free diet for over a decade now, and I am still discovering new and delicious recipe ideas. In this post, I've compiled 125 ideas and recipes that you can use to plan a menu to meet your dietary needs.
You can keep it simple and stick with items like fruit, eggs, gluten-free toast, dinner leftovers, or smoothies, or get fancy and make full on recipes.
I hope this list is helpful of anyone with food allergies who is looking to upgrade the first meal of the day.
Basic tips
Whether you're planning gluten-free and dairy-free breakfast recipes for just you or for the whole family, try to start with simple ingredients that you have on hand (such as chia seeds, non-dairy milk, orange juice, etc). Then, you can develop a plan to make your first meal of the day as nutritious, easy, and delicious as it can be.
On busy mornings, stick with make-ahead or very simple recipes. Gluten-free oats or smoothie bowls come to mind. If you want more elaborate dairy and gluten-free breakfast recipes (like for a weekend brunch or special occasions), shoot for breakfast casseroles or breakfast hash made with eggs and sweet potatoes.
Try to always get a balance of macronutrients with your meals including protein, carbohydrates, and healthy fats. This way, your breakfast will energize you for the morning and carry you to lunchtime.
GF/DF Breakfast Recipes and Ideas
Additional Ideas
in addition to the 100 specific gluten and dairy free recipes ideas above, here are 25 basic ideas for inspiration (no recipes needed).
101. Fresh fruits (e.g., berries, bananas, apples)
102. Eggs
103. Gluten-free oats
104. Nut butters (e.g., almond butter, peanut butter)
105. Gluten-free bread or toast
106. Chia seeds
107. Quinoa
108. Rice cakes
109. Coconut milk or almond milk
110. Gluten-free cereal (check labels for dairy-free options)
111. Smoothies made with non-dairy milk and fruits/vegetables
112. Gluten-free granola (check labels for dairy-free options)
113. Avocado
114. Gluten-free breakfast bars (check labels for dairy-free options)
115. Nuts and seeds (e.g., almonds, walnuts, sunflower seeds)
116. Gluten-free pancakes or waffles (using alternative flours like almond flour or buckwheat flour)
117. Dairy-free yogurt (made from coconut milk, almond milk, or other non-dairy alternatives)
118. Gluten-free muffins (using alternative flours and dairy-free ingredients)
119. Breakfast wraps or burritos with gluten-free tortillas, vegetables, and protein (e.g., tofu, beans)
120. Gluten-free corn tortillas for making breakfast tacos
121. Sweet potatoes (baked, roasted, or mashed)
122. Gluten-free breakfast quiche or frittata (using non-dairy alternatives like almond milk)
123. Rice porridge or congee
124. Smoked salmon or other fish
125. Gluten-free breakfast sausages or bacon (check labels for dairy-free options)
Remember to always check ingredient labels and be aware of any potential cross-contamination risks if you have severe gluten or dairy allergies. Additionally, feel free to combine these ingredients to create various breakfast options that suit your preferences and dietary needs.
More Gluten & Dairy-Free Resources
Conclusions
I hope this list of ideas and recipes gives you some good guidance for your next gluten-free and dairy-free breakfast. From busy school or work mornings to special occasion brunches, this list has you covered.
If you like this post, consider following me on social media so we can stay connected. I'm on Facebook, Pinterest, Instagram, and YouTube!
About the Author: Carrie Forrest has a master's degree in public health with a specialty in nutrition. She is a top wellness and food blogger with over 10 million annual visitors to her site. Carrie has an incredible story of recovery from chronic illness and is passionate about helping other women transform their health. Send Carrie a message through her contact form.
Note: this post is for informational purposes only and is not intended as medical advice. Please consult your healthcare provider for recommendations related to your individual situation.
This post may contain affiliate links which won't change your price but will share some commission. We are participant in the Amazon Services LLC Associates Program, an affiliate advertising program designed to provide a means for us to earn fees by linking to Amazon.com and affiliated sites.