This Instant Pot Cranberry Relish recipe takes only 4-minutes of cooking at pressure. Easy, healthy, and delicious enough to serve all year round.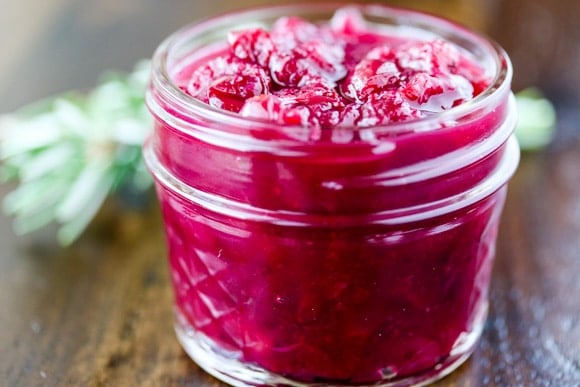 I have a cranberry relish problem in that I can't stop eating it with everything. Turkey, oatmeal, toast, pasta, pancakes, and meatloaf have all been the recipient of a cranberry topping these past few weeks. See…I have a problem!
Cranberries are pretty amazing little berries, they have lots of antioxidants and they're known for helping to prevent urinary tract infections. They're just so darned pretty, too.
Of course, as anyone knows who has tried to eat a plain cranberry, they're tart beyond words. They get sweetened so nicely with orange juice and maple syrup in this recipe, and I allow for some adjustment with the sweetness level. If you want your relish less sweet, use only 1/2 cup maple syrup (but add another 1/2 cup water to make sure you have enough liquid). If you want a sweeter more traditional cranberry relish, use the full cup of maple syrup and don't add any water to the pot.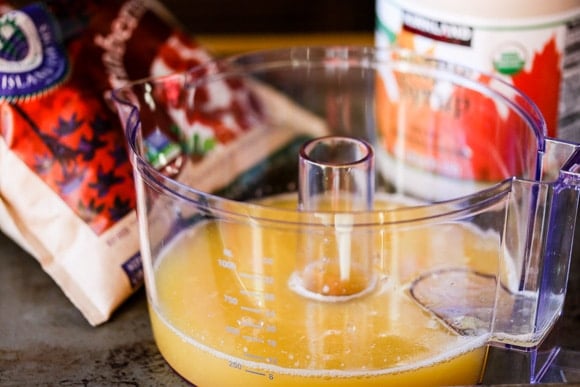 I used my new mini-Instant Pot for this recipe. I bought the appliance specifically with this exact recipe in mind. My big pressure cooker is 8 quarts and is great for huge batches of things, but the mini 3-quart size is absolutely perfect for side dishes or 2-4 serving recipes.
Isn't she cute?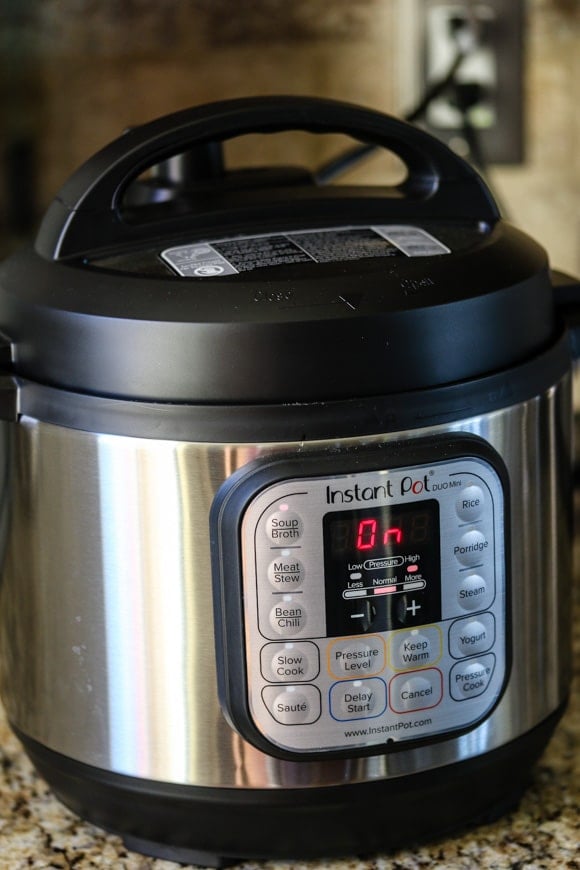 OH, I made a video of this recipe too! Turn up the volume to have a 70s-themed dance party (click thru here if you don't see the preview).
So, I apologize for not getting this recipe to you sooner, like before Thanksgiving or Christmas would have been better, right? Honestly, the past few months have been a little bit on the crazy side, with the launch of my podcast and some of the giveaway posts I've done (speaking of which…there's still time to enter my Blendtec giveaway!!! Open until 12/29/17!).
I've had more migraines than usual during this busy season, and an appointment with my functional medicine doc last week made me realize that I need to slow down a bit. Not that I'll be doing less than usual, it just might take me more time to get things done. Therefore, here is your cranberry recipe posted after the holidays, not before. #reallife
BUT, it's also perfect timing (in my head at least) because you probably got an Amazon gift card you want to use today, right? Well, this lil' Instant Pot is perfect for that purpose (affiliate link included).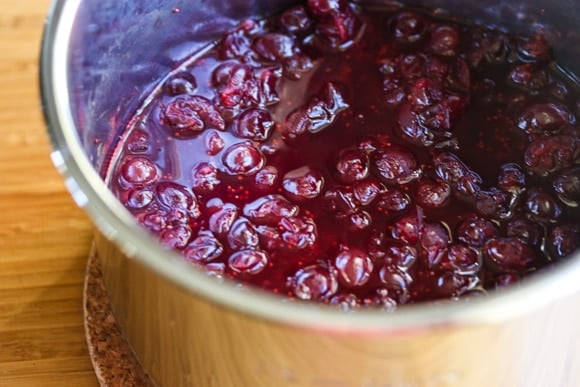 I'm hoping to have my 2017 wrap-up blog post done in the appropriate year, but I suppose even that will have to be yet determined depending on how much I get done this week. I'm actually trying to spend some time away from the computer, so we'll see. If you aren't already signed up for my weekly newsletter, that's probably the best way for us to keep in touch. You can do that here.
In the meantime, here's the recipe for this gorgeous cranberry relish. Happy, healthy holidays and happy (almost) New Year, friends!!!
Print
4-Minute Instant Pot Cranberry Relish
---
Author:

Prep Time:

5 minutes

Cook Time:

4 minutes

Total Time:

9 minutes

Yield:

10

Category:

Side dishes

Method:

Pressure cooker

Cuisine:

Paleo, vegan, healthy
Description
An easy side dish that can be served all year round.
---
Ingredients
2 10-ounce bags of frozen cranberries
1 cup freshly-squeezed orange juice
1 cup maple syrup (use ½ cup for less sweetness + ½ cup water)
pinch of sea salt
---
Instructions
Combine the cranberries, orange juice, and maple syrup in the base of a 3-quart pressure cooker.
Cook on high pressure for 4 minutes and use the quick-release method. Serve hot or cold.
Refrigerate any leftovers for up to a week.
Don't miss a recipe! Join my weekly newsletter list to get all the latest news and recipe links delivered directly to your inbox.
Sign up now and unsubscribe at any time. I will never sell your name or spam you, I promise!