Anti-Inflammatory Juice Recipe with Ginger
This post may contain affiliate links which won't change your price but will share some commission.
This Anti-Inflammatory Juice Recipe is tasty and refreshing. It's made with inflammation-fighting ingredients like turmeric, ginger, and pineapple. Serve this green juice with breakfast or between meals. Make it in a juicer or a blender.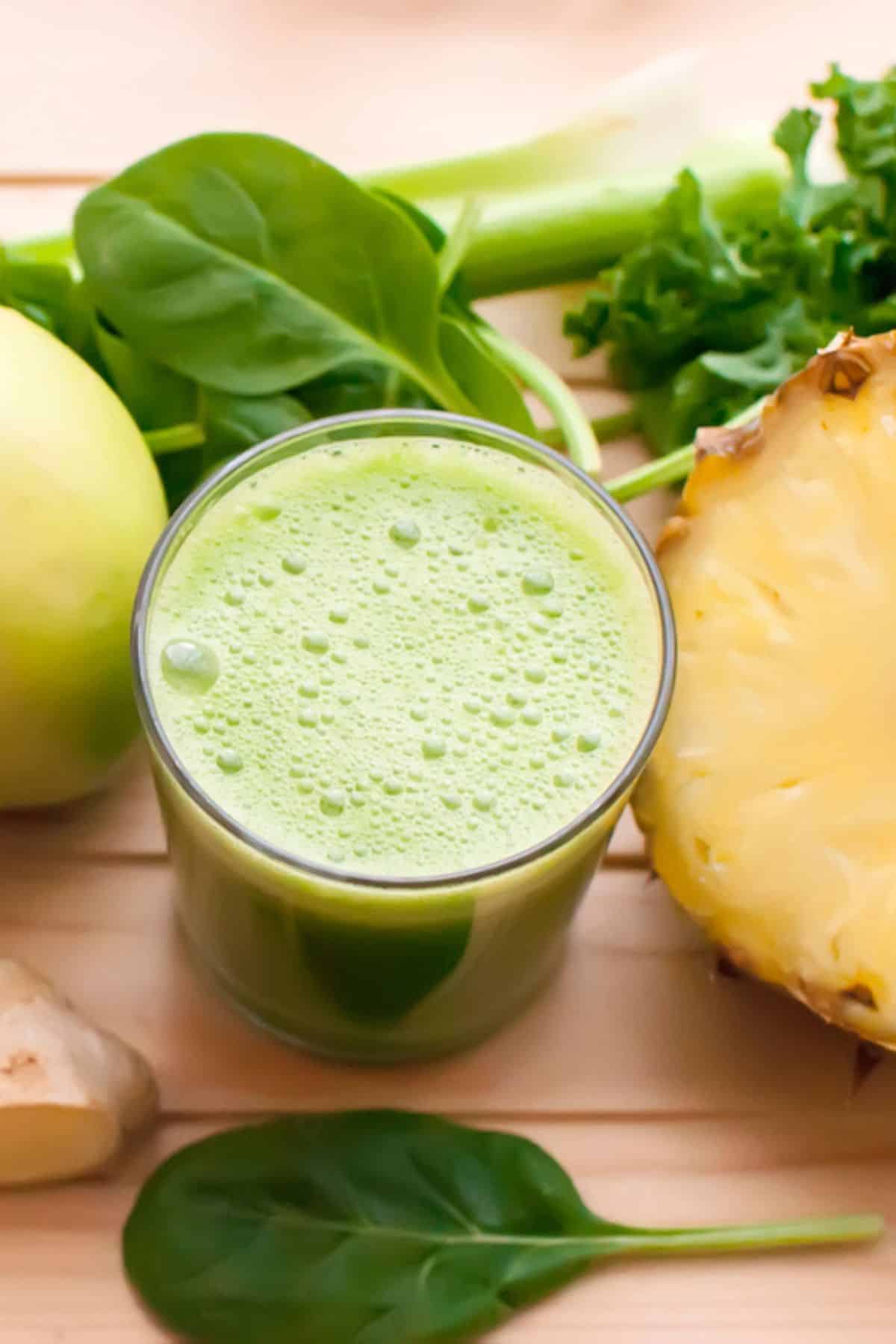 This juice is a powerhouse of nutrition and flavor!
It's crafted from a blend of cucumbers, spinach, celery, turmeric, ginger, pineapple, black pepper, and lemon. Each of these ingredients offers unique health benefits, like fighting chronic inflammation and acute inflammation, which is the body's way of reacting to injuries or chronic diseases like heart disease and cardiovascular disease.
Besides these benefits, some of the natural ingredients, particularly ginger and pineapple, may also support better digestion.
So, by sipping on this juice, you're not only enjoying a refreshing drink but also boosting your body's immune response.
Why You Need This Recipe
Nutrient-Packed: This juice combines several powerhouse ingredients, each offering a unique blend of vitamins, minerals, and antioxidants, promoting overall health and vitality.
Natural Anti-Inflammatory: With ingredients like turmeric, ginger, and pineapple, this juice has anti-inflammatory properties that can reduce joint pain, boost the immune system and improve overall health. See my full round-up of the best anti-inflammatory juices.
Digestive Aid: Ingredients like ginger and pineapple juice not only fight inflammation but also support healthy digestion, making this juice a great choice for gut health and overall wellness.
Key Anti-Inflammatory Ingredients
Here is an overview of the main ingredients I like to use in my anti-inflammatory drinks, including this delicious drink.
All of these simple ingredients are part of an anti-inflammatory diet and, together, they form a perfect blend.
Cucumber
Cucumbers are hydrating due to their high water content and contain antioxidants, including flavonoids and tannins, that help reduce inflammation.
Their cooling effect can also soothe the body to help reduce inflammatory responses. I also like to make my Cucumber Juice or Cucumber Pineapple Juice recipes.
Spinach
Spinach is one of the most common leafy greens. It is rich in vitamins, minerals, and potent phytonutrients. I like to use baby spinach in this recipe. See my related recipe for Spinach Juice.
Among these are kaempferol, a powerful antioxidant that has been shown to decrease the effects of inflammatory agents in the body.
Celery
Celery is a great source of both antioxidant and anti-inflammatory compounds.
It contains apigenin, a molecule that promotes the repair of DNA and can inhibit the pathways that cause inflammation in cells. Try to use organic celery from your local grocery store or farmers' market.
One of the most popular recipes on Clean Eating Kitchen is my Celery Juice recipe!
Turmeric Root
Turmeric contains curcumin, a chemical compound known for its potent anti-inflammatory properties. I use it in my Turmeric Wellness Shot.
Curcumin has been studied extensively and is often compared to anti-inflammatory drugs in its ability to reduce inflammation.
Ginger Root
Ginger has been used traditionally for its medicinal properties, including its ability to combat inflammation. I try to use it as often as I can. Check out my Ginger Shot recipe for another easy way to use this ingredient.
It contains gingerol, a bioactive substance that has powerful anti-inflammatory and antioxidant effects.
Pineapple Chunks
Pineapples are rich in bromelain, an enzyme found in the fruit's core and stem, which has been shown to reduce inflammation, swelling, and pain.
Additionally, pineapples have a host of vitamins and minerals that support overall health and can contribute to reduced inflammatory responses. Try it in this juice or in this Pineapple Cucumber Smoothie!
Black Pepper
Black pepper contains piperine, which not only provides its spicy flavor but also increases the absorption of curcumin from turmeric in the digestive system.
By doing so, it can enhance the anti-inflammatory effects of turmeric.
Lemon
Lemons are high in vitamin C, a potent antioxidant that helps combat free-radical damage in the body, reducing inflammation.
Additionally, the bioflavonoids in lemons can also act as natural anti-inflammatories. Feel free to use the lemon juice and a bit of the lemon peel as well.
Please see the recipe card at the end of this post for the exact ingredients and measurements.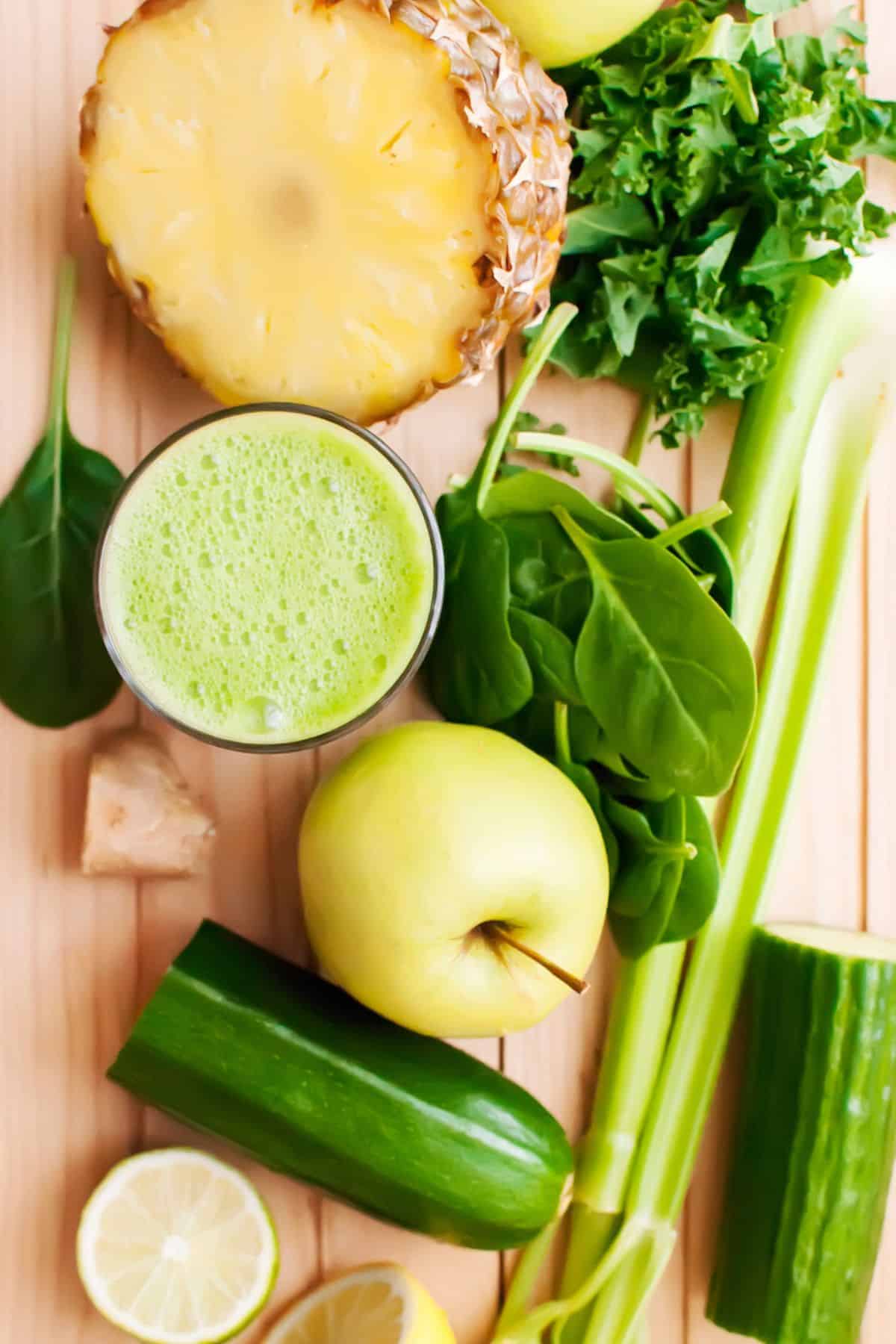 Recipe Steps
Step One
Prep your ingredients using a sharp knife. If you're using a fresh pineapple, be sure to cut off all the pineapple peels.
Add chopped ingredients to the jar of a high-speed blender. You can also use a food processor or juicer.
Please see the recipe card at the end of this post for the exact ingredients and measurements.
Step Two
Blend on high until smooth with a little water. Or, juice all the ingredients, alternative the hard and soft textures to yield the most liquid.
For instance, the celery is considered a hard texture and the green apple and cucumber are considered softer textures.
Step Three
If using a blender or food processor, you will want to strain the juice in a nut milk bag or cheesecloth.
Step Four
Serve immediately and enjoy your homemade anti-inflammatory juice.
I hope that you agree that this delicious juice is a great way to fight inflammation the natural way. It's one of the best juices I've ever made with a very delicious flavor.
Recipe Tips & Substitutions
You can easily double or triple this easy recipe for more servings.
Fresh juice is best served right after it's made. But, it can be stored in a covered container or large pitcher in the refrigerator for up to 4 days.
You can peel the cucumber, turmeric, and ginger if you want to, but you don't have to.
Feel free to get creative with this recipe!
Recipe FAQs
How does the juice taste? Is it sweet or more on the bitter side?
The juice offers a harmonious blend of flavors. The pineapple brings a tropical sweetness, while the lemon adds a tangy kick. Ingredients like cucumber and spinach provide a refreshing, mild taste, and the ginger and turmeric introduce a subtle warmth and spice. It's not overly sweet or bitter. I think it tastes great!
Is it safe to consume this juice daily?
Generally, yes. Consuming this juice daily can offer consistent anti-inflammatory benefits. However, it's essential to listen to your body and consult with a healthcare professional if you have any underlying conditions or are taking medications, especially since ingredients like turmeric can interact with some drugs.
Can this juice help with weight loss?
It depends. Reducing inflammation in the body will help reduce bloating and may lead to weight loss, especially if you swap out sugar-sweetened beverages for a homemade juice like this using fresh produce. Try to use as many vegetables as you can to keep the natural sugar content low.
More Healthy Juice Recipes You Might Like
Don't Miss These Juicing Resources!
Print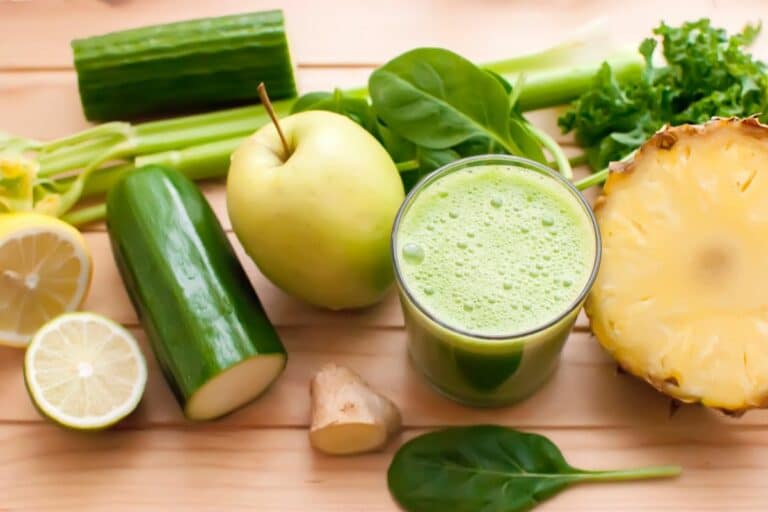 Anti-Inflammatory Juice Recipe with Ginger
This Anti-Inflammatory Juice Recipe is tasty and refreshing. It's made with inflammation-fighting ingredients like turmeric, ginger, and pineapple. Serve this green juice with breakfast or between meals.
Total Time: 15 minutes
Yield: 3 1x
1 large cucumber
2 cups of spinach
1 stalk of celery
1 inch piece of fresh turmeric root
1 inch piece of fresh ginger root
1 green apple
1/2 cup of pineapple chunks
1/8 teaspoon ground black pepper
1/2 lemon, peeled
Instructions
Wash and cut the cucumber and celery so that they are small enough to fit through the feeding tube of your juicer.
Prep the rest of the veggies and fruit for juicing.
Feed the slices into the juicer, alternating the hard and soft pieces to help the juicer extract the most juice. See below for blender instructions.
Continue juicing until you have used up all the fruit and veggie pieces.
Pour the juice from the juice collector into a glass and serve immediately.
Notes
Blender instructions: If you don't have a juicer, you can use a blender to make the juice. Combine the ingredients with about ¼ cup of filtered water in the base of a blender. Blend on high and then strain the juicer through a nut milk bag.
This recipe can easily be doubled or tripled.
Store any leftover juice in a covered jar in the refrigerator for up to 3-4 days. Shake the jar before serving.
I like to peel the cucumber, turmeric, and ginger before juicing, but you don't have to.
Keywords: anti inflammation juice, juicing for inflammation, turmeric and ginger juice
If you like this post, consider following me on social media so we can stay connected. I'm on Facebook, Pinterest, Instagram, and YouTube!
About the Author: Carrie Forrest has a master's degree in public health with a specialty in nutrition. She is a top wellness and food blogger with nearly 10 million annual visitors to her site. Carrie has an incredible story of recovery from chronic illness and is passionate about helping other women transform their health. Send Carrie a message through her contact form.
Note: this post is for informational purposes only and is not intended as medical advice. Please consult your healthcare provider for recommendations related to your individual situation.
This post may contain affiliate links which won't change your price but will share some commission. We are participant in the Amazon Services LLC Associates Program, an affiliate advertising program designed to provide a means for us to earn fees by linking to Amazon.com and affiliated sites.