10+ Best Smoothies to Lose Belly Fat
This post may contain affiliate links which won't change your price but will share some commission.
If you're trying to get a flatter tummy, you'll want to check out this list of the Best Smoothies to Help Lose Belly Fat. These nourishing recipes use ingredients that are scientifically-proven to aid healthy weight loss and reduce bloating.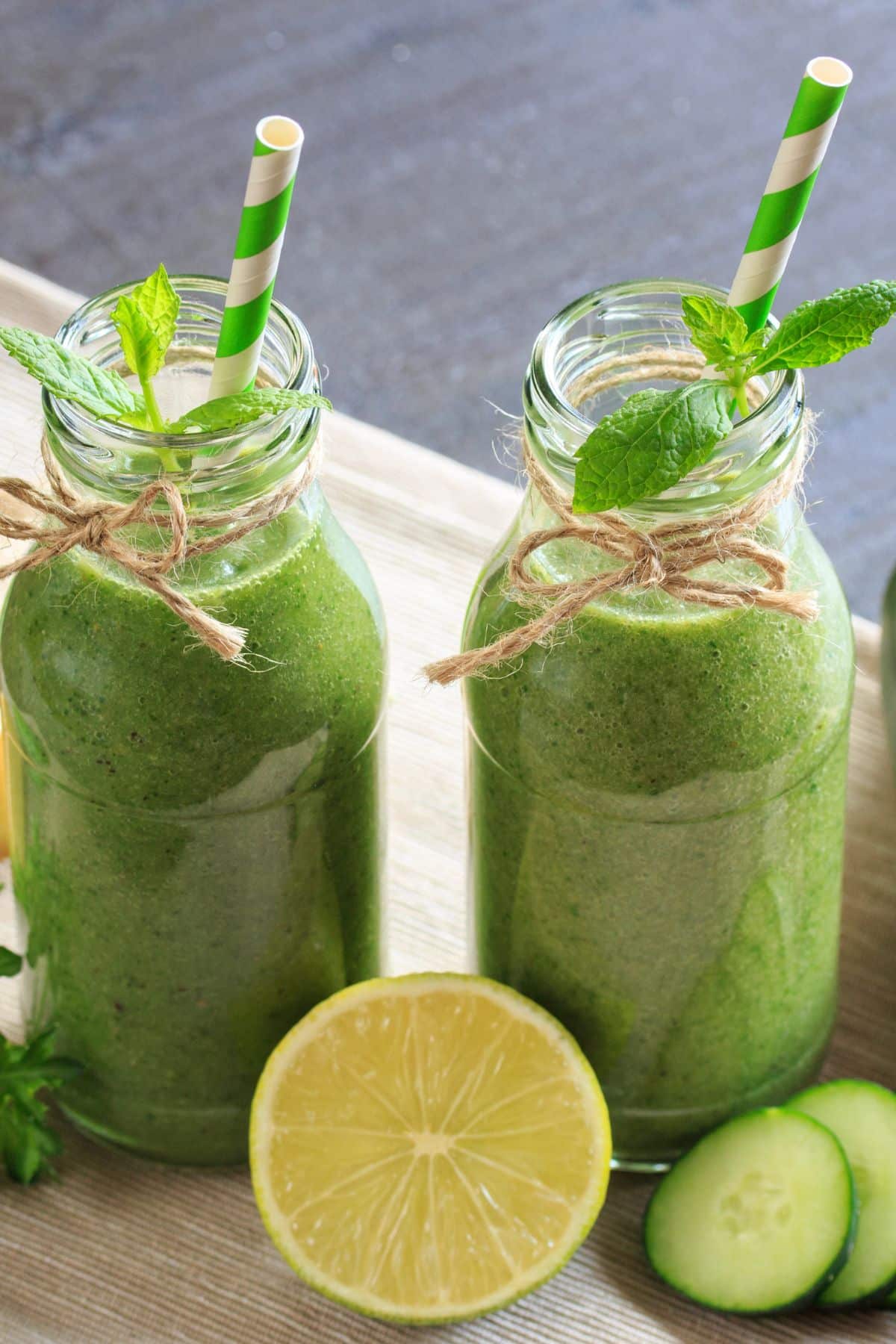 There can be a lot of reasons why we gain belly fat, including aging, genetics, changes in hormones, and eating more calories than we burn.
As women, we often notice weight gain in our tummy areas as we get closer to perimenopause and menopause. This is because lower levels of estrogen may increase fat storage in the stomach area.
While it is not possible to spot-reduce fat from specific areas of the body, including the belly, you can prioritize overall fat loss, which will eventually lead to a reduction in belly fat.
See my related article on natural ways to reduce bloating during perimenopause.
When you engage in activities that promote weight loss, such as a healthy diet and regular exercise, your body will gradually burn fat from various areas, including the abdomen.
Smoothies & Belly Fat
Smoothies can be a beneficial addition to a balanced diet when aiming to reduce belly fat.
They offer an opportunity to incorporate nutrient-dense ingredients such as fresh fruits, frozen fruits, vegetables, protein, and healthy fats into a convenient and easily digestible form.
I especially love green smoothies as a great way to get in ingredients like spinach, kale, or your favorite greens (see my complete list of the best green veggies for smoothies). You can also add healthy foods like coconut water, almond butter, almond milk green tea, and Greek yogurt to your weight loss smoothies.
All of these ingredients can be a great addition to healthy smoothies to fuel your weight loss journey. They can also help improve your digestive system, boost metabolism, and balance your blood sugar.
However, it's important to ensure that your detox smoothies are well-balanced and portion-controlled to fit within your overall calorie and macronutrient goals. Additionally, incorporating smoothies alone will likely not be sufficient for belly fat reduction. You should consult a healthcare provider for a personalize weight loss plan to meet your individual needs and weight loss goals.
See my related articles on the best smoothie ingredients for weight loss and clean eating and weight loss.
FAQs
Are there specific smoothie ingredients that target belly fat?
No specific ingredient can target belly fat alone. However, incorporating ingredients like leafy greens, lean protein, fiber-rich fruits, and healthy fats can support overall weight loss, including belly fat reduction, when combined with a calorie-controlled diet.
How many smoothies should I have per day?
The number of smoothies you consume per day depends on your individual calorie and nutrient needs. It's best to consult with a healthcare professional or registered dietitian to determine the right quantity based on your goals, activity level, and overall diet.
Can I add supplements or powders to my smoothies for belly fat loss?
Yes, but it's best to discuss any new supplements or powders with your healthcare provider to make sure they are right for you.
Best Smoothies to Lose Belly Fat
I hope you find at least one new healthy smoothie recipe from this list.
These fruit smoothies can be a healthy way to lose excess weight and they also have health benefits. Feel free to adapt these weight loss smoothie recipes to your individual taste preferences and needs.
Print
Flat Tummy Green Smoothie Recipe
Enjoy this refreshing Flat Tummy Green Smoothie recipe that combines baby spinach, hydrating cucumber, tropical pineapple, and protein-rich Greek yogurt. Packed with fiber, vitamins, and a hint of tangy lemon, this invigorating blend nourishes your body while supporting your weight loss goals.
Total Time: 12 minutes
Yield: 1 1x
1/2 cup unsweetened almond milk (or any milk of your choice)
1/2 cup unsweetened Greek yogurt (use coconut yogurt for dairy-free diets)
1/2 cup sliced cucumber
1/2 frozen ripe banana
1/2 cup chopped pineapple (frozen or fresh)
1 tablespoon chia seeds
1 cup baby spinach (tightly-packed)
1/2 lemon, juiced
Instructions
In the base of a high-speed blender, combine the milk, yogurt, cucumber, banana, pineapple, chia seeds, spinach, and lemon juice.
Lock on the lid and blend for 30-45 seconds, or until completely combined.
Serve immediately.
Equipment
Notes
This recipe can easily be doubled for more servings.
Store any leftovers in a tightly-sealed container for up to 2 days.
The nutrition info for this recipe is based on using dairy-based Greek yogurt. If you are on a dairy-free diet and need to use dairy-free yogurt, you may wish to include a scoop of unsweetened protein powder to help add more protein to this recipe.
Keywords: weight loss green smoothie, spinach weight loss smoothie, belly fat loss smoothie
More Helpful Weight Loss Resources
If you like this post, consider following me on social media so we can stay connected. I'm on Facebook, Pinterest, Instagram, and YouTube!
About the Author: Carrie Forrest has a master's degree in public health with a specialty in nutrition. She is a top wellness and food blogger with nearly 10 million annual visitors to her site. Carrie has an incredible story of recovery from chronic illness and is passionate about helping other women transform their health. Send Carrie a message through her contact form.
Note: this post is for informational purposes only and is not intended as medical advice. Please consult your healthcare provider for recommendations related to your individual situation.
This post may contain affiliate links which won't change your price but will share some commission. We are participant in the Amazon Services LLC Associates Program, an affiliate advertising program designed to provide a means for us to earn fees by linking to Amazon.com and affiliated sites.