When you're trying to get dinner on the table and need an easy vegetable side dish, this Pressure Cooker Instant Pot Cooked Cabbage recipe will do the trick!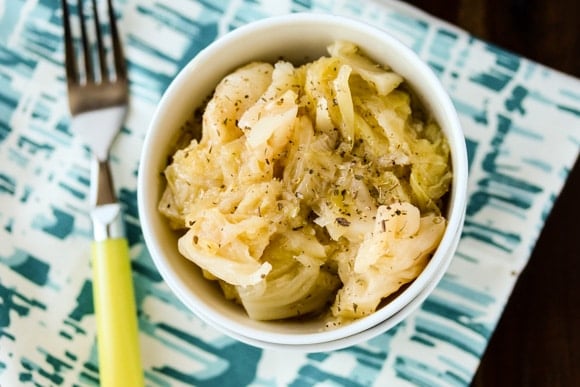 If you haven't eaten cooked cabbage in awhile, it's time to bring this vegetable back into rotation. Despite how pungent cabbage can smell, it's actually fairly mild in flavor once it's cooked down. Really, I promise! And, the pressure cooker (I recommend an 8-quart Instant Pot) is the absolute perfect appliance for cooking cabbage fast.
I'm a super taster and so vegetables often taste bad to my sensitive tastebuds, but I was surprised how much I liked this cooked cabbage, especially as a side dish to cooked ground meat, a roast, or sausage. Or, for a fully plant-based meal, this cooked cabbage could be served with seasoned black beans or tempeh. The only seasoning I added to the cabbage was some dried oregano and thyme, although the broth added some extra flavor as well (feel free to use whatever kind of broth you like or have on hand).
All you have to do for this recipe is roughly chop one head of cabbage, green or red, and add it to the pot with one cup of vegetable or bone broth (heck, you can use water if that's all ya' got), and one teaspoon each of dried oregano and thyme (pick one over the other to keep it to only three ingredients). Feel free to add salt and pepper, to taste.
Bring your Instant Pot pressure cooker to high pressure for 7 minutes and either quick-release or let the pressure come down naturally. Serve hot and refrigerate or freeze any leftovers.
Steps to make this Pressure Cooker Cabbage recipe:
Roughly chop one whole green or red cabbage.
Add the chopped cabbage plus the dried herbs to the pressure cooker base (you can use dried thyme, dried oregano, or your favorite dried herb).
Add one cup of water or broth and lock on the lid.
Cook for 7 minutes and use the quick-release or natural-release method.
Serve the cabbage as a side dish to your favorite meal.
Here's a how-to food video for how to make cabbage in the Instant Pot pressure cooker!
Questions about making cabbage in the Instant Pot pressure cooker
Can I use a 6-quart pressure cooker for this cooked cabbage recipe?
Yes, but remember to never fill the bowl over the "max" line.
What is the total time from start to finish for this recipe?
The cooking time is only 7 minutes, but you do need to allow at least 8-10 minutes for the pot to come up to pressure. So, from start to finish, it takes about 20 minutes to cook cabbage in a pressure cooker.
Can I steam cabbage in a pressure cooker?
Well, that's kind of what happens here, but you'll need to use the stainless steel insert to keep the cabbage from touching the liquid. I don't recommend this method. Follow my recipe below instead for better results.
Can I use water instead of broth?
Yes, but your cooked cabbage made in the pressure cooker will have a lot more flavor if you use broth.
Can I make this recipe vegan?
Yes, just use vegetable broth instead of bone broth.
Will this cooked cabbage recipe make my kitchen stink?
You likely won't smell the cabbage cooking, but you will get the odor of cooked cabbage when you release the pressure and/or open the lid.
Can I cook the cabbage for less time to leave it with a firmer texture?
Yes! I would recommend cutting the time at pressure to 3-4 minutes for a firmer texture to your cooked cabbage.
Could I pressure cook a whole cabbage without chopping it?
Yes, I'm sure you can! But, I haven't tried it and chopping the cabbage at least into wedges will ensure that it gets cooked through.
Items recommended for this Instant Pot Pressure Cooker Cooked Cabbage recipe (some affiliate links included):
Here's the printable Instant Pot pressure cooker cabbage recipe:
Print
Pressure Cooker Cooked Cabbage
---
Author:

Prep Time:

5 minutes

Cook Time:

7 minutes

Total Time:

12 minutes

Yield:

4

Category:

Side dish

Method:

pressure cooker

Cuisine:

healthy, gluten-free, paleo
Description
An easy vegetable side dish made in the pressure cooker.
---
Ingredients
1 head green or red cabbage, chopped roughly
1 teaspoon each dried oregano and dried thyme
1 cup vegetable broth, bone broth, or water
salt and pepper, to taste
---
Instructions
Combine the cabbage, herbs, broth, and salt and pepper to the bowl of an 8- or 10-quart electric pressure cooker.
Lock the lid and bring to high pressure. Cook for 7 minutes and quick-release or let the pressure come down naturally.
Serve hot and refrigerate or freeze any leftovers.
Notes
To keep the recipe to only three ingredients, choose one of the dried herbs. Salt and pepper are to taste.
Pin this easy cabbage recipe to your Pinterest Instant Pot board to save it!
READ NEXT: PRESSURE COOKER SWEET POTATO MASH
Don't miss a recipe! Join my weekly newsletter list to get all the latest news and recipe links delivered directly to your inbox.
Sign up now and unsubscribe at any time. I will never sell your name or spam you, I promise!