This post may contain affiliate links which won't change your price but will share some commission.
I hope you enjoy this round-up of my healthy Instant Pot Chicken recipes! You'll find recipes for soups, stews, and more. I think you'll find that these easy recipes are perfect for meal prepping or for weeknight meals.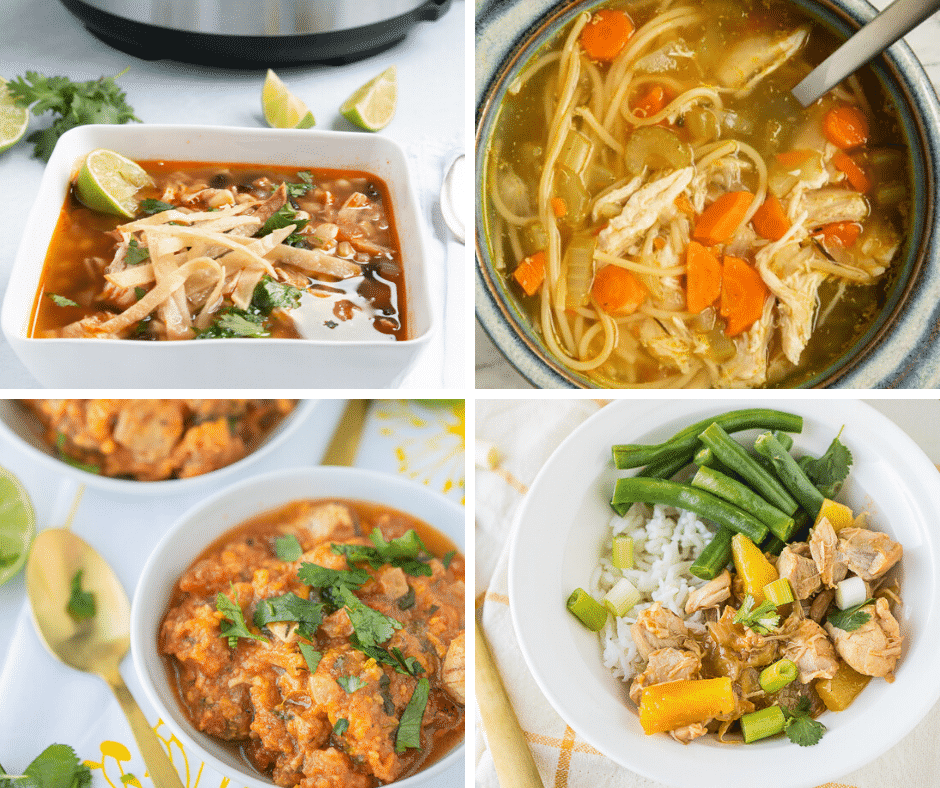 Easy Chicken Dinners
Cooking chicken that is moist and full of flavor has never been easier than using the Instant Pot. I recommend getting the 6-quart version if you don't have one yet. The possibilities are endless for making healthy and delicious gluten-free and dairy-free meals.
I think you'll find that there's something for everyone in this epic round-up of Instant Pot chicken recipes. Now onto the food!
And, check out my full listing of healthy Instant Pot recipes that are all gluten free and dairy free.
Also, don't miss my other recipe round-ups of Vegan Instant Pot recipes and Instant Pot Soup recipes.
Instant Pot Chicken Recipes
This round-up includes my favorite easy and healthy Instant Pot Chicken Recipes that are all gluten-free and dairy-free. Use this list of recipes to plan your next meal prep or family meal plan. There is something for everyone!
Soups & Stew
Here are my favorite chicken soups and stews made in the Instant Pot.
You are going to love this easy chicken noodle soup recipe all made in the Instant Pot.
This is an easy curry chicken soup recipe that has the flavors of green curry and lots of vegetables.
This gluten-free Chicken Tortilla Soup recipe is an easy winner chicken dinner. Even kids love this one.
This is one of the easiest soups you can make in the Instant Pot. You only need a few ingredients.
This is a great meal prep recipe because it's a whole meal with protein, veggies, and carbs.
This is one of the easiest chicken dishes you can make in the Instant Pot. You essentially only need chicken sweet potatoes, and canned tomatoes.
This delicious stew has both chicken and potatoes, along with nourishing vegetables.
Chicken Dinners
These easy chicken dinner recipes are great for families and busy weeknights.
This delectable chicken dish is a one-pot, 30-minute meal that even kids love.
Everyone loves this Chicken Cacciatore that is full of tomato flavor. Serve it over rice, noodles, or cauliflower rice.
This sweet and sour chicken dish is so incredibly easy to make, yet it tastes amazing.
Noodle lovers rejoice! You can cook noodles in the Instant Pot. This recipe shares how.
Here's how to cook frozen chicken in the Instant Pot. Shred it or slice it once it's cooked to help your meal prep.
Conclusion
I hope you enjoyed this Instant Pot chicken recipe round-up, featuring meals that are simple, healthy, and all gluten-free and dairy-free. Are you hungry yet? I know I am! Let me know which of the recipes you end up trying, or if you have a favorite that wasn't included here.
If you like this post, consider following me on social media so we can stay connected. I'm on Facebook, Pinterest, Instagram, and YouTube!