15+ Weight Gain Smoothies (Healthy)
This post may contain affiliate links which won't change your price but will share some commission.
Whether you're recovering from an illness or just need to put on weight, you'll love this round-up of the best Healthy Weight Gain Smoothies. Learn tips to increase body fat using blended drinks with a variety of ingredients.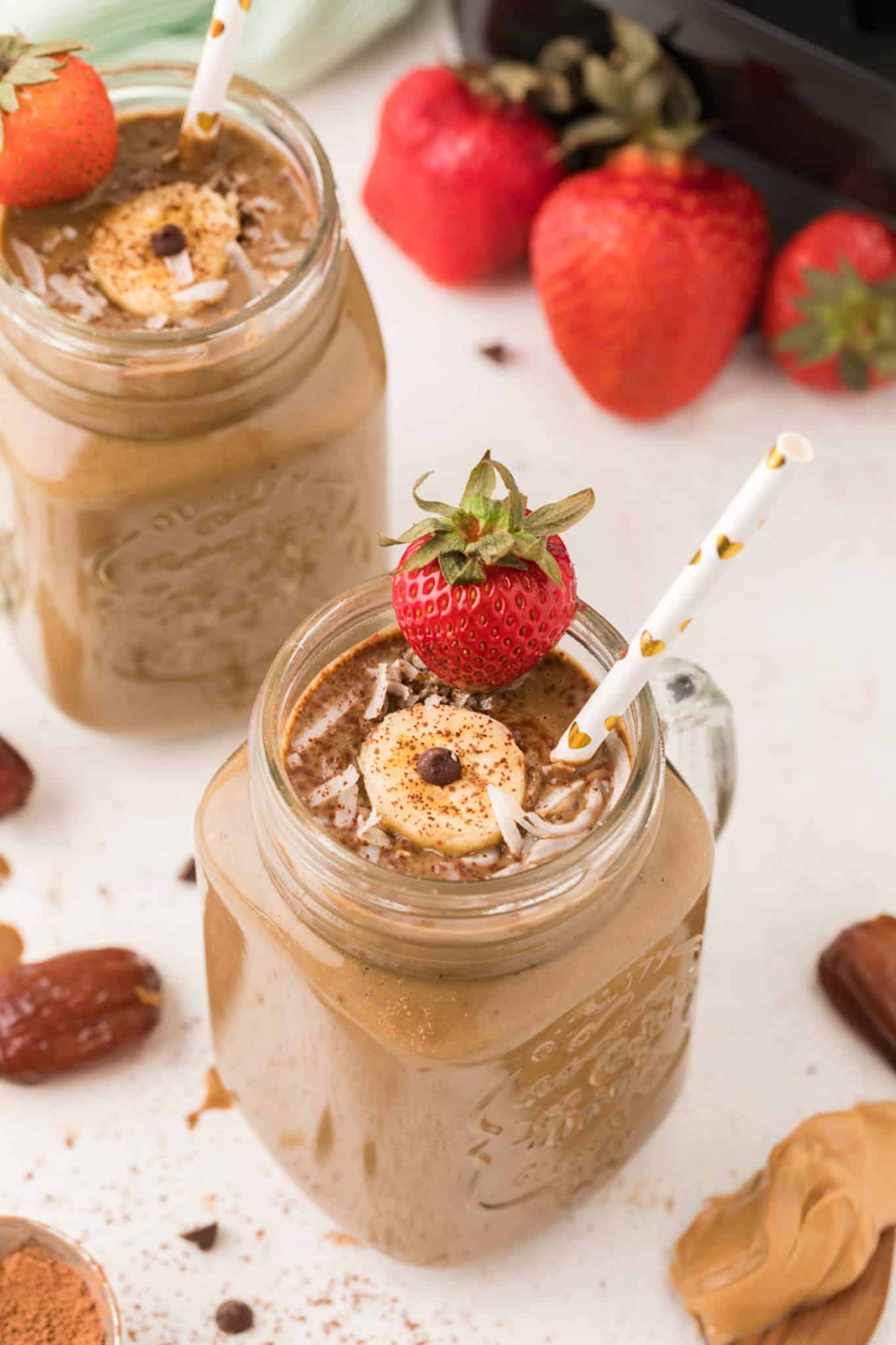 What are Smoothies?
Smoothies are blended drinks made using a variety of ingredients. Most smoothie recipes call for a liquid base, frozen fruit, and then extra add-ins for flavor and nutrition. See my full index of healthy smoothies for recipes.
Weight gain smoothies put an emphasis on calorie-rich ingredients that can increase the calorie content of one smoothie to 1,000 kcal or more. This round-up of healthy weight gain smoothies should give you lots of inspiration to put on extra pounds.
See my full article on the health benefits of green smoothies.
Reasons to Gain Weight
Whether you're recovering from an acute illness, chronic disease, eating disorder, or something else, there are many reasons why someone would want to gain weight.
Just as when you need to lose weight, it's best to gain weight slowly and carefully. You don't want to overload your digestive system with too much fiber or calories. Eating too much in one sitting can make you feel unwell.
Please consult with your doctor or healthcare provider if you have specific questions about the best way to gain weight.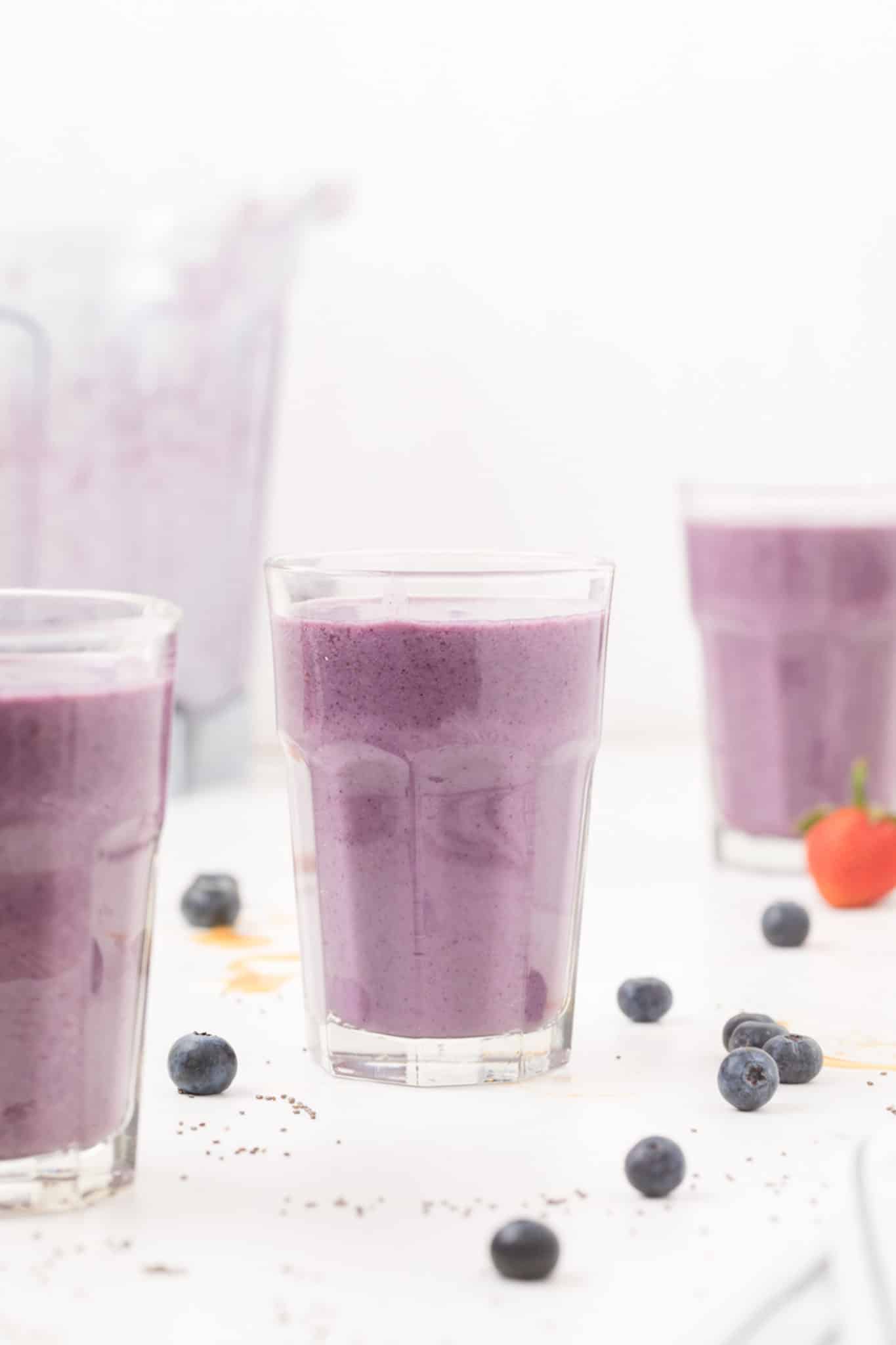 Weight Gain Ingredients
Smoothies are a great way to get more calories since they are blended. It would be difficult to actually chew the amount of fruits and veggies that are blended into a smoothie. But, thanks to the powerful blades of most blenders, the ingredients get pulverized into a creamy mixture that is easy to drink and digest.
Some ingredients that are part of weight gain smoothies include:
Coconut milk: use full-fat canned coconut milk for the most calories and fat. A benefit of coconut milk is that it is naturally a little sweet without any sugar. Coconut milk is an excellent base for a weight gain smoothie.
Whole milk: if you aren't dairy-intolerant, you can use whole milk as the base of your weight gain smoothie. Whole milk contains lots of nutrition including vitamins and minerals. You can also use whole milk yogurts in your smoothies or smoothie bowls.
Protein powder: you can balance the nutrition of any smoothie by including a scoop or two of protein powder. But, buyer beware as not all protein powders are created equal. For a list of quality products, check out my round-up of the best paleo protein powders or the best protein powders for pregnancy.
Avocado: one of the very best ingredients to add to a smoothie is sliced avocado. If you are trying to gain weight, you can use up to a whole avocado in your smoothie. Avocado adds richness, creaminess, and tons of nutrition.
You can even use frozen avocado if you don't want to keep fresh ones on hand. Learn how to freeze ripe avocado. See my Avocado Chocolate Smoothie recipe.
Chia seeds and hemp seeds can be added to help thicken up a smoothie and to add calories and healthy fats. These plant-based ingredients also contain lots of nutrition and are great to include in any weight gain smoothie.
Nut butters and seed butters are more amazing ingredients that include lots of fat and calories. Just be sure to read the labels on your jar to make sure they don't contain hydrogenated oils or added sugars. Look for natural peanut butter, almond butter, and pumpkin seed butters.
Cream cheese or vegan cream cheese can make any smoothie taste like a cheesecake. The tartness of the cream cheese helps balance fruit flavors and adds a ton of richness (and calories). See my recipe for my Vegan Cheesecake Smoothie.
Dates are a great calorie-rich ingredient to add natural sweetness to any smoothie. I use dates in my Kale Berry Smoothie to help mask the taste of the kale.
Coconut oil can help add fat and calories to your smoothie.
Top your smoothie with homemade granola to add texture and more calories.
You can also check out my round-up of the Best Cancer Fighting Smoothies for more ingredient inspiration.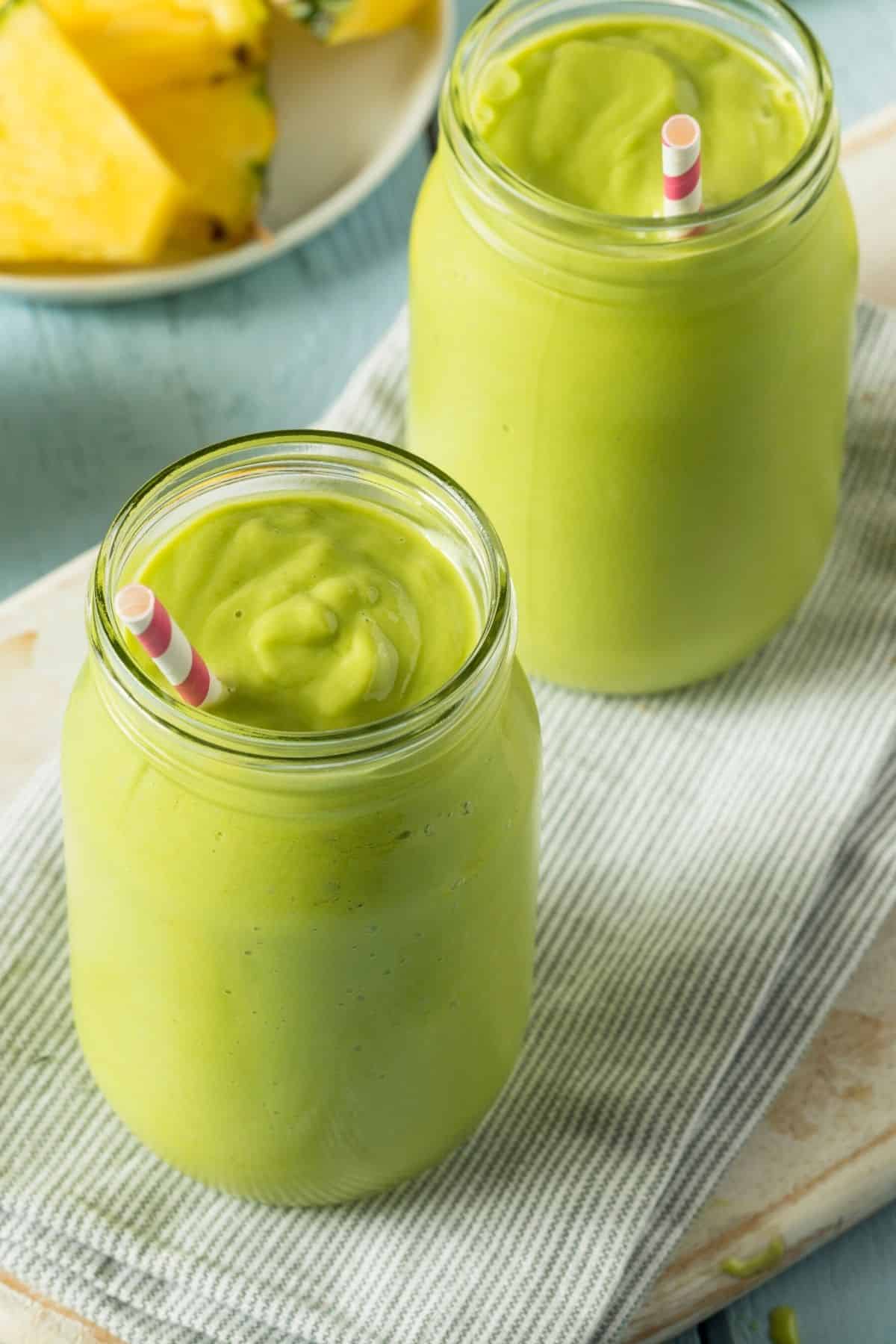 Ingredients to Avoid
To keep your best health in mind, avoid most packaged smoothies or smoothie mixes. They usually contain preservatives and lots of additives. Other ingredients to avoid in weight gain smoothies include too many added sugars and oils like vegetable oils.
Best Blender to Use
Ideally, you would have a high speed blender like a Blendtec or a Vitamix in your kitchen to help you create the creamiest, most delicious and healthy weight gain smoothies right at home.
Investing in a quality blender is a good decision. You'll save money by making your own smoothies instead of buying them, and you'll have much more control over the quality of the ingredients.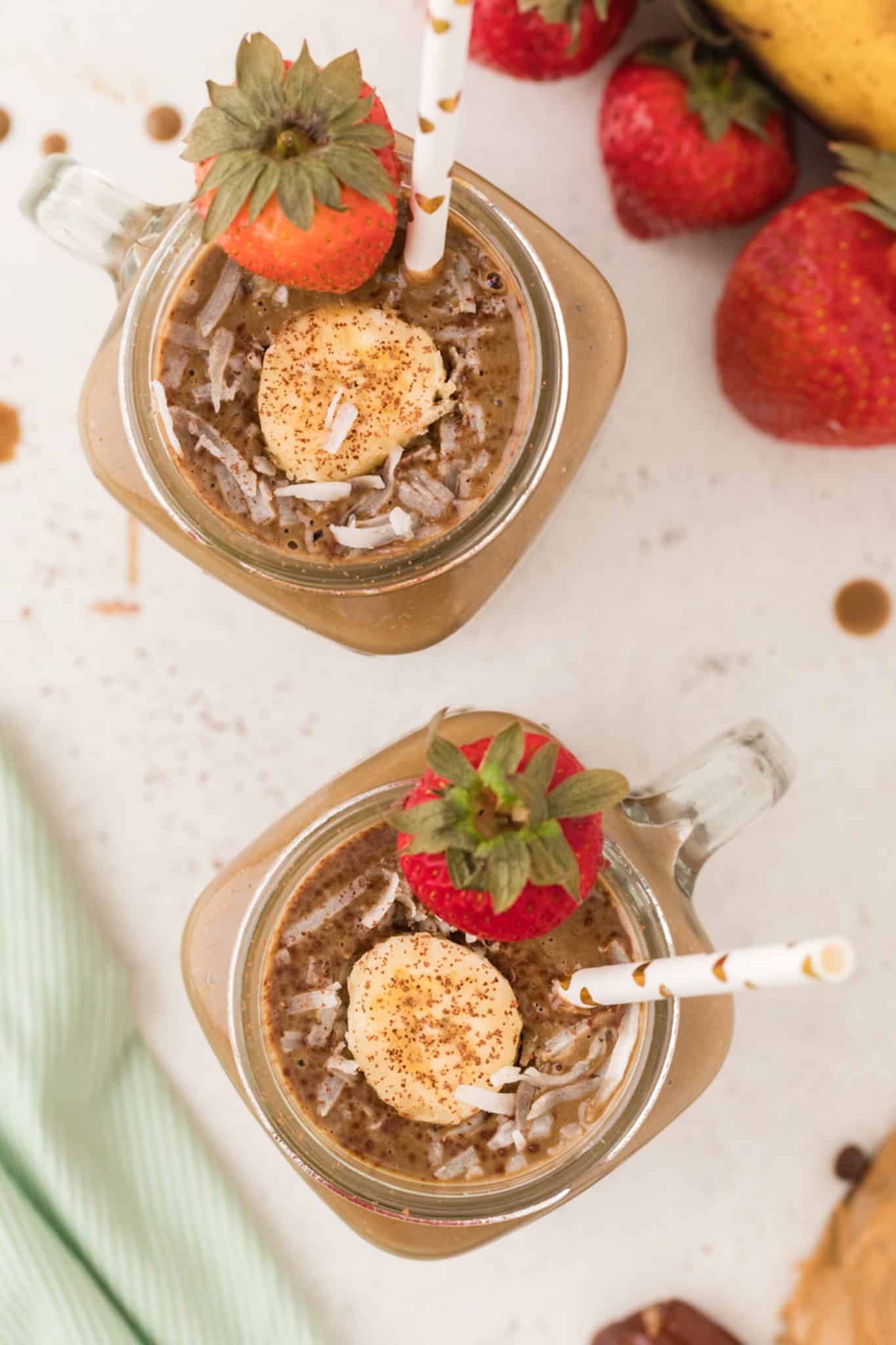 Best Weight Gain Smoothies
Here's a round-up or the best healthy weight gain smoothies.
Best Weight Gain Smoothies
Use this list to find weight gain smoothie recipes to meet your needs. You can always adapt the smoothies with some of the calorie-rich ingredients mentioned above.
More Smoothie Resources You Might Like
If you like this post, consider following me on social media so we can stay connected. I'm on Facebook, Pinterest, Instagram, and YouTube!
Note: this post is for informational purposes only and is not intended as medical advice. Please consult your healthcare provider for recommendations related to your individual situation.
This post may contain affiliate links which won't change your price but will share some commission. We are participant in the Amazon Services LLC Associates Program, an affiliate advertising program designed to provide a means for us to earn fees by linking to Amazon.com and affiliated sites.