25+ Best Dairy-Free Smoothies
This post may contain affiliate links which won't change your price but will share some commission.
This post includes the very best Dairy-Free Smoothies, including recipes for green smoothies, fruit smoothies, protein smoothies and more. Scroll to find your next favorite non-dairy smoothie recipe.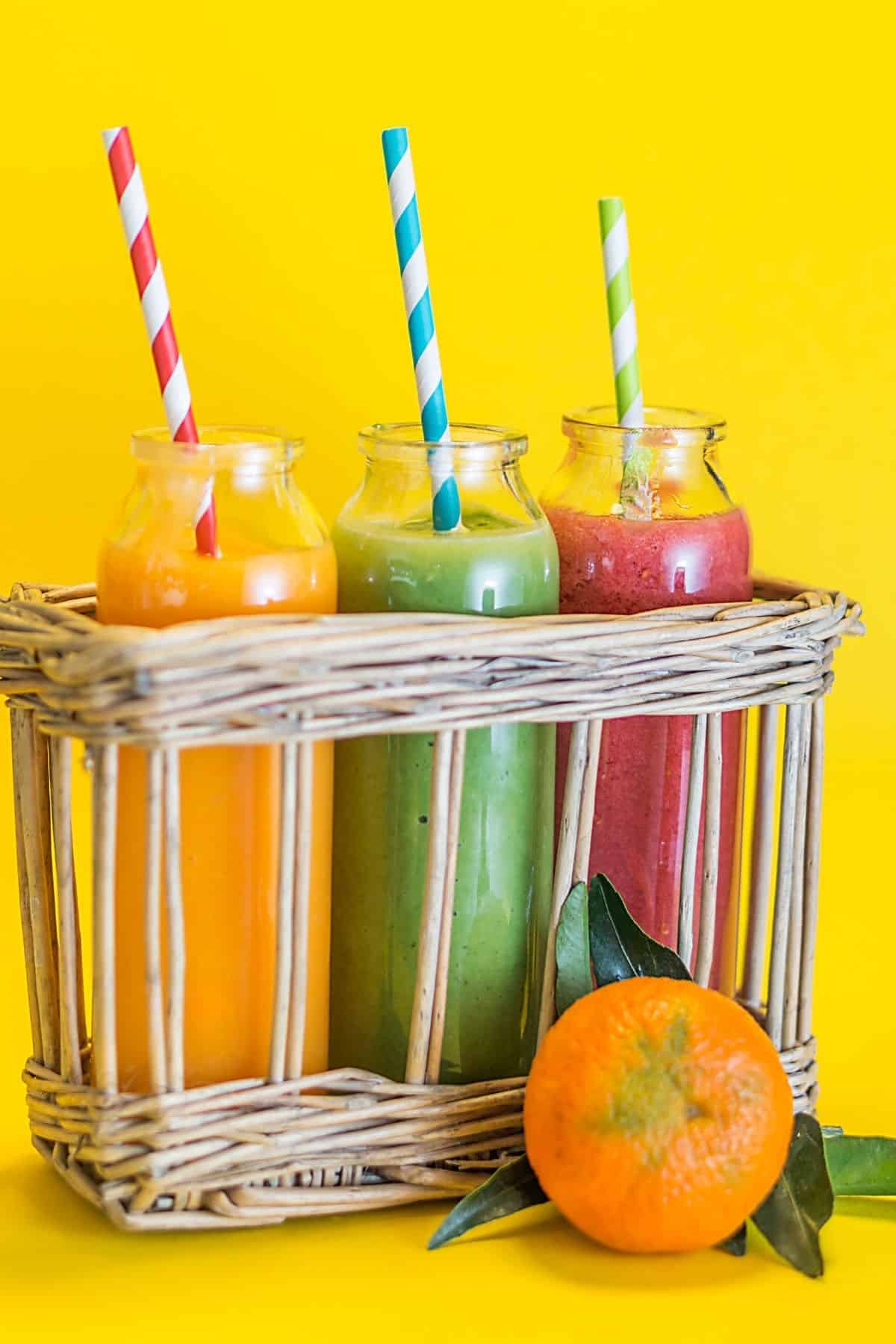 What could be better than starting the day off with a nutritious and totally yummy breakfast smoothie? They are great for energy levels in the morning or as a post-workout snack.
If you're new to making smoothies or even if you're already an expert, you might want to check out these delicious recipes that are a great way for fueling a busy day.
And, best of all, all of these 25+ recipes are made with no dairy, meaning that they are lactose-free, non-dairy, and vegan-friendly. So, whether you have a dairy allergy, dairy intolerance, or you are avoiding it for other reasons, you can trust this list of recipes.
Most of these delicious drinks are also vegan-friendly meaning that they can be a plant-based smoothie to fit with a plant-based diet. They are also great for a dairy-free breastfeeding diet.
Best Dairy-Free Smoothie Ingredients
Even though traditional smoothies include ingredients like milk or yogurt, you can actually create a creamy texture including dairy-free ingredients. Some of the best whole food ingredients include:
Hemp seeds
Coconut milk
Chia seeds
Fresh fruit (especially bananas, pears, and mango)
Oat milk
Coconut water
Soy milk
Hemp milk
Cashew milk
Dairy-free yogurt
Avocado
Almond butter
Your favorite dairy-free milk
Recipe FAQs
What do you need to make a healthy smoothie?
I highly recommend investing in a high-speed blender if you're going to be making a lot of smoothies. I like both the Vitamix and Blendtec blenders. They will last you for years and you won't regret the investment. A high-speed blender will blend even the toughest of greens into a delicious, creamy drink.
Are smoothies actually healthy?
In general, yes. Of course, there are some people who don't do well with smoothies, especially ones that are too high in fruit. Learn more about the health benefits of green smoothies.
Can you make a smoothie in advance?
Believe it or not, you can make smoothies in advance, but they will start to degrade after about 2 days. A better way to prepare smoothies in advance is to make prepared smoothie packs, and then just blend with almond milk or water when you're ready to drink your smoothie.
Can smoothies help with weight loss?
Yes, as long as you are careful about measuring out ingredients and not going overboard with drinking too much. For instance, it would be easy to drink a 500 calorie smoothie in just a few minutes if you're not careful. So, I recommend following a recipe, using a spoon to drink your smoothie (this helps you slow down and develop more digestive enzymes to digest the smoothie), and monitoring your weight to make sure you're not gaining weight.

For someone who usually has a fast food breakfast or something very unhealthy, drinking a breakfast smoothie will likely aid with weight loss, since there is a ton of healthy nutrition in smoothies. All of the recipes included in this round-up are healthy and nutritious, and can likely aid in weight loss.

But, to be sure, please do check with your healthcare provider to make sure smoothies are right for you and your health goals.
How can I add protein to my breakfast smoothie?
I like using protein powders. Check out my list of the best paleo protein powders. And, if you're pregnant, be sure to check out my list of the best protein powders for pregnancy.

If you're on a dairy-free diet, skip any whey protein powders as they will contain dairy.
Best Breakfast Smoothie Recipes
If you're looking to up your game and have a healthier breakfast, then you're going to want to check out this collection of the best healthy dairy-free smoothie recipes.
I've been making smoothies for the better part of 10 years, and I've perfected the art of finding the balance between healthy and delicious. All of these smoothies are non-dairy and vegan-friendly. Enjoy!!!
More Smoothie Resources You Might Like
Conclusions
No matter what type of diet you're on, you're sure to find a delicious and healthy smoothie idea from this round-up. Each recipe is dairy-free, gluten-free, and full of nutrition and flavor.
If you like this post, consider following me on social media so we can stay connected. I'm on Facebook, Pinterest, Instagram, and YouTube!
This post may contain affiliate links which won't change your price but will share some commission. We are participant in the Amazon Services LLC Associates Program, an affiliate advertising program designed to provide a means for us to earn fees by linking to Amazon.com and affiliated sites.