Vegan Charcuterie Board
This post may contain affiliate links which won't change your price but will share some commission.
Celebrate healthy and plant-based snack foods with these ideas for creating a Vegan Charcuterie Board. Serve this yummy snack tray at holidays, parties, or any type of gathering with friends or family.
Charcuterie Board Ideas
While the French word "charcuterie" refers to a collection of meats, its meaning has become a lot more casual these days. Now when you use the term "charcuterie board," it can really just mean a collection of finger foods.
You absolutely do not have to include meat or any type of animal products when putting together a charcuterie board.
When making a vegetarian or vegan charcuterie board, you would eliminate traditional items like cured meats, meat products, cheeses, and pates.
Instead, you'll want to include foods like:
vegan cheeses,
hummus (homemade or prepared),
vegetables like carrots, celery, jicama, cherry tomatoes, cucumber, bell peppers, broccoli, cauliflower, etc.
roasted chickpeas,
dairy-free dips,
olives or tapenade,
pretzels,
nuts or seeds,
fruits like apple slices,
pita bread,
and more!
Making your own vegan charcuterie board means that you can be very creative and include whole food options that you and your friends will like. It's a great option for your next party.
If you or your friends have the additional need to be gluten-free, then that's no problem either. For a vegan and gluten-free charcuterie board, simply make sure that any bread products like pita or pretzels are certified gluten-free.
See my list of the best gluten-free and dairy-free snacks or my full list of what to eat with hummus.
You also don't need to be a chef to make a delicious snack board. You can simply go to your local grocery store and find pre-cut vegetables, prepared dairy-free dips or vegan cheeses, vegan meats, and jarred roasted nuts or seeds. Pick items that sound good to you.
If you have friends who are both vegan and vegetarian, you can make a vegetarian charcuterie board with hard and soft cheeses but make it separate from the vegan version.
If you want to make your own vegan cheeses or snacks, you can try recipes like my Oil-Free Hummus, Cashew Hummus, Air Fryer Ranch Chickpeas, or Garlic Roasted Chickpeas.
Don't forget drinks when you're having a party. I highly suggest making mocktails or a punch like my Non-Alcoholic Holiday Punch, Pomegranate Mocktail, or my Cucumber Ginger Lemon Water.
Vegan Fruit Charcuterie Ideas
You can get really creative with your boards and give them themes. For instance, you could do a Halloween snack board or a fruit snack board.
Use the freshest fruits in season and serve them with a dairy-free coconut yogurt sweetened with maple syrup. You don't even have to include small items on a board, just use small bowls instead.
For an epic vegan charcuterie board, include an assortment of fresh fruit and raw veggies.
Try my recipes for Vegan Pumpkin Fluff or Fruit Kabobs to go along with a fruit board or vegan snack board.
FAQs
Can I assemble my charcuterie board days in advance?
The best way to prepare a charcuterie board ahead of time is to chop all the vegetables and store them in airtight containers in the refrigerator. You can also prepare any hummus or dips and store them the same way. Then, on the day of serving, assemble all of the ingredients and lay them out on your board.
What is the best type of board to use for a snack board?
You can use your largest cutting board as the base of your charcuterie board. Just make sure it's clean and dry. You can also use a large dinner plate or platter for your background. For prepared dips or hummus, transfer them to a pretty bowl and place it on the tray.

Include a small board or separate wooden board if you have both a vegetarian board and a vegan cheese board to avoid the items being mixed. You may also need a separate grazing board just for gluten-free folks as well.
What are the best vegan cheeses?
There are some fabulous vegan cheese that you can buy in the refrigerator section of your local grocery store. Be sure to read the labels if you have any nut allergies as they are often made with a base of nuts like cashews or almonds.

You may wish to include labels on your vegan cheese board so your guests know what ingredients are included.
No matter the type of plant-based charcuterie board you create, it's a great way to offer snacks to guests during the holiday season, dinner parties, or on special occasions.
A good rule of thumb is to allow for about a cup of food items per guest.
More Great Vegan Party Recipes You Might Like
Don't Miss These Plant-Based Recipes!
Print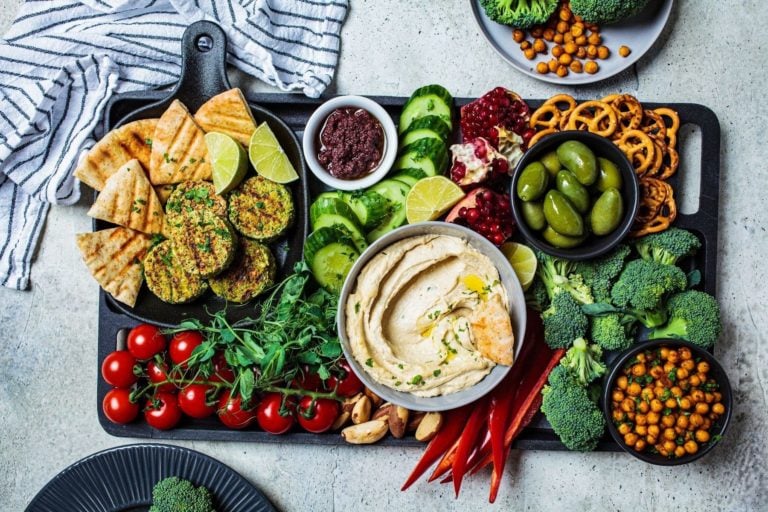 Vegan Charcuterie Board
Celebrate healthy and plant-based snack foods with these ideas for creating a Vegan Charcuterie Board. Serve this yummy snack tray at holidays, parties, or any type of gathering with friends or family.
Total Time: 45 minutes
Yield: 6 1x
1 5–ounce container prepared vegan cheese dip or dairy-free dip
1 red bell pepper, sliced
1 pound baby carrots, drained
1 cucumber, sliced
1 pint baby tomatoes
1 cup broccoli florets
1 6.5–ounce container gluten-free and vegan crackers
Instructions
Chop your vegetables into bite-sized pieces.
Layer the vegetables and any snacks like crackers or nuts on a large cutting board or dinner plate.
Transfer any prepared dips or hummus to a small serving bowl and add it to the board.
Serve immediately.
Notes
If you are having a large gathering, you can double or triple this recipe.
If you want to prepare your board ahead of time, chop the vegetables and keep them in an airtight container. Then, just before serving, lay the vegetables and any other items to the board so they are fresh.
Feel free to get creative with your board and include items like roasted vegetables, roasted chickpeas, pita bread, chips, nuts and seeds, olives, or whatever plant-based snacks you like.
Nutrition
Serving Size:
Calories: 240
Sugar: 4.6 g
Sodium: 418.8 mg
Fat: 10.9 g
Saturated Fat: 5.5 g
Carbohydrates: 29.9 g
Fiber: 2.7 g
Protein: 6.6 g
Cholesterol: 21.3 mg
Keywords: vegan snack tray ideas, vegetarian charcuterie board, vegan charcuterie ideas
If you like this post, consider following me on social media so we can stay connected. I'm on Facebook, Pinterest, Instagram, and YouTube!
This post may contain affiliate links which won't change your price but will share some commission. We are participant in the Amazon Services LLC Associates Program, an affiliate advertising program designed to provide a means for us to earn fees by linking to Amazon.com and affiliated sites.