This post may contain affiliate links which won't change your price but will share some commission.
Last Updated on
I've had several e-mails lately from people who are just embarking on Dr. Fuhrman's Eat to Live plan. Here is a listing of my favorite Eat to Live, nutritarian recipes that I created that are all oil-free, vegan, and plant-based.
For those of you who are wondering what "good food" encompasses on a plan that doesn't use salt, oils or added sugars, here are some of my favorite nutritarian smoothies, juices, salads, and soups. These all meet the guidelines set for Eat to Live recipes.
Eat to Live Smoothies:
Eat to Live Juices:
Lunch is generally a very large salad using romaine lettuce with lots of chopped, raw vegetables on top. I also add a small handful of raw nuts or seeds, some avocado and sometimes some microwaved frozen asparagus. Fat in the diet is certainly important, but I choose to use whole-food fats like avocados, nuts and seeds. I make sure that I always have an avocado or cashew-based dressing for my daily salads.
Eat to Live Salads & Dressings:
I like to have "dessert" after lunch and dinner which is almost always fruit-based. My favorite after-lunch treat is to blend one-half of a frozen banana with homemade almond milk, another half cup of frozen fruit like strawberries or peaches, one serving of leafy greens like raw kale and a dash of vanilla extract. It is surprisingly satisfying.
Eat to Live Desserts:
Dinner in my household varies. I try to make a bean and vegetable blended soup at least once a week.
Eat to Live Soups:
I also love to make bean or tofu burgers or other types of stews with leafy greens. My after-dinner dessert is almost always fresh fruit of some kind. I try to eat dinner around 6 p.m. so I stop eating a good three hours before bedtime.
So that's it, an outline of how I eat, plus a listing of my favorite Eat to Live recipes. I followed Dr. Fuhrman's plan for about a year and a half and it provided me with a very easy way to lose excess weight, maintain a healthy weight and feel nourished, healthy and satisfied.
Check out my recipe page for my complete list categorized by meal.
Pin this post for later!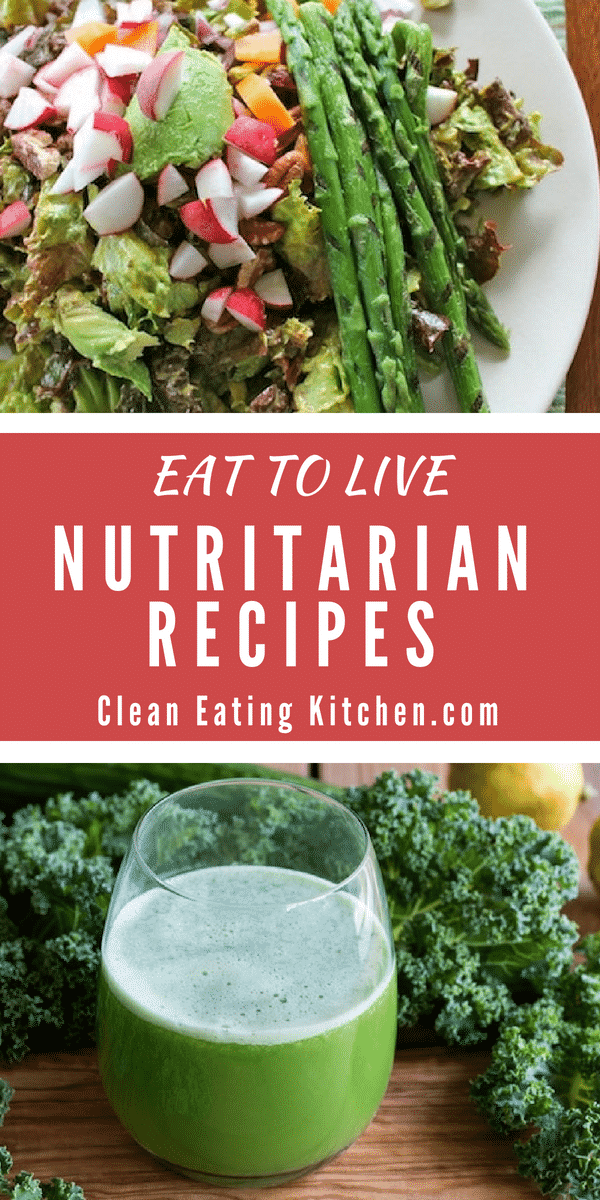 Got more questions? Shoot me an e-mail at carrieATcleaneatingkitchenDOTcom or leave a comment. I love hearing from people who read my blog, it is the most rewarding aspect of what I do here.